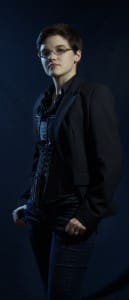 Tell us about yourself and how many books you have written.
I'm an English teacher and a writer, meaning I keep very busy. My hobbies include writing, reading, web design, roleplaying (tabletop), and watching movies. I have always been a huge nerd, a Hermione Granger who locks on to hobbies with dedications, enthusiasm, and a little bit of obsession.
I have published five novels, but numbers six and seven are in various stages for publication by summer of 2014. My first novel, Olympia Heights: The Pantheon, is part of a four-book series that I will be finishing this winter.
What is the name of your latest book and what inspired it?
My latest book, Rescue OR, Royer Goldhawk's Remarkable Journal, is an American steampunk fantasy adventure. For over a decade I had this idea for a story about what happens when someone tries to harness magic for themselves. The hero was an intellectual, but over time he evolved in my head until that was his handicap; Royer is so firmly rooted in logic that he has a hard time with magic and emotions.
Eventually, as steampunk started to rise and become something I was learning about, I shifted the idea of my story to a new setting and plotted it out. Royer's saga is incomplete, however. The second novel (which should complete the journey) will be out in 2014.
Do you have any unusual writing habits?
I don't think my habits are unusual, though I have always been trying to find ways to incorporate technology into my organization. I write my plot points on cards and arrange them and then I outlined. When I write, I do not let myself quit because I feel uninspired. I force myself through it. When I do this, I find some of my better writing comes out because it is unclouded by the delusions of grandeur that sometimes "inspiration" makes us feel. Lately I have worked with a few cloud softwares (Google Drive and Evernote) to be able to write in different settings. I bought a notecard app for my iPad so I could do my notecard plot arrangements without wasting paper and covering my floor in cards for my dogs to walk on.
What authors, or books have influenced you?
JK Rowling and Harry Potter will always be credited for my love of fantasy. I try to take inspiration from Rowling and Tolkein with my incorporation of mythology into my magical worlds. Neil Gaiman is a huge influence of mine, too. He has some wonderful things to say about memory and childhood, and he's delightfully creepy and witty when he wants to be.
What are you working on now?
I am finishing the last Olympia Heights novel. The book is in the later stages of revisions, so hopefully, soon, I'll be able to move into proofreading. It's the end of an era for me, but recently I decided that I want to do a comic alternate-universe reboot with some slight changes to character and big changes to plot. More titans, more monsters, more fun. I have an artist already working on character designs, so Olympia Heights will live on.
What is your best method or website when it comes to promoting your books?
I find that reviews are the best tool for selling books. Amazon reviews. Getting people to actually write those reviews takes a little more effort, and I'm still fine-tuning that process, but I generally sell more books when my reviews grow.
Do you have any advice for new authors?
You will need to give a lot of books away to get reviews and sell more books. Don't be so caught up in "but what if my book gets pirated" that you don't send out eARCs.
What is the best advice you have ever heard?
Be real on social media. I can't tell you how many talented authors I have unfollowed on Twitter because they were doing nothing but posting the same promotional tweet for their book multiple times a day. Interact, post content, and when you've earned the attention of your followers, post self-promotion sparingly.
What are you reading now?
I am in the middle of a closer re-read of Romeo and Juliet so that I can teach it next week.
What's next for you as a writer?
After I finish the second Royer Goldhawk, I'll be working on a comic adaptation of Olympia Heights.
If you were going to be stranded on a desert island and allowed to take 3 or 4 books with you what books would you bring?
The Ocean at the End of the Lane, Harry Potter and the Deathly Hallows, The Complete Works of William Shakespeare, and Metamorphosis
Author Websites and Profiles
Amy Leigh Strickland Website
Amy Leigh Strickland Amazon Profile
Amy Leigh Strickland's Social Media Links
Goodreads Profile
Facebook Profile
Twitter Account
Pinterest Account