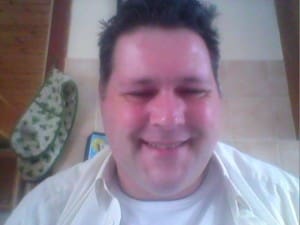 Tell us about yourself and how many books you have written.
Hi all. I'm Andy, an indie author. I am a psychiatric nurse by profession, and married with 2 daughters. I'm loving every minute of my life as a new author.
I lead a quiet life with my family in Ireland, though I love being around people. I love to study people – especially quirky, unusual types. It must be the author in me – looking for ideas and the like.
I love art, especially bright and bold coloured stuff! I love everything medieval (watch out for the fantasy novel I hope to be publishing sometime this year).
We're animal lovers here at the Marmion Zoo! Three stray cats are keeping us busy. There's only one cat we can't allow into the house, Tommy, as he… well I'll leave that to your imagination!
What is the name of your latest book and what inspired it?
My book's called Angelic Thinking. Trying to overcome depression was what made me investigate the neuroscientific principles ontained in the book, together with an unexpected experience with angels.
A friend of mine suggested I have a special hosting of the archangels which I did. The next day I could feel their resence in the house and knew my depression had lifted. I twas trult miraculous as I'd been battling with it for nearly thirty years.
I work with the angels in so many different ways now, including reading people's angel cards and having healing services. But this book itched to get written. The angels helped me every step of the way including the title. It incorporates both the neuroscientific side of self-help and how the angels can help if we're open to it. I also appreciated this as a psychiatric nurse.
Do you have any unusual writing habits?
Not unusual as such. I like to write in a conversational style which I learnt as a copywriter. I like to use appropriate humour too.
What authors, or books have influenced you?
Think and Grow Rich by Napolean Hill, the Bible, the Barchestere Chronicles by Anthony Trollope (unfortunate name – see what I mean about the humour!), The Hobit and The Lord of The Rings by JRR Tolkein.
I have to say though that every book Ive read has influenced me to a certain extent as they've become a little piece of me one by one, helping me become the person I am today.
What are you working on now?
I am in the middle of eriting my second book – Angelic Mindfulness. I hope to have it ready for publication at the end of April.
Like my first title, I show how the angels can help us use Mindfulness techniques to greater effect. I'm training as a mindfulness instructor at the moment and am quite excited about all this.
What is your best method or website when it comes to promoting your books?
I must admit, I don't have a website per se when it comes to publishing and promoting my books. I use the blog page on my angel website to do this at www.angelsdancenow.weebly.com.
I also use Twitter and Facebook to do this. I'll have to review this though (scratches his head).
Do you have any advice for new authors?
I'm a newbie myself so can't give any definitive advice to other new authors. However, I think self-belief is paramount. Procrastination has been my biggest blockage, but I just jumped in, and – hey presto!
What is the best advice you have ever heard?
The best advice I acted on was getting a mentor to help me. Luckily, I'm with an organisation which helps network marketers for free (Mentoring For Free). It was with them that I learnt a lot of how to avoid and deal with the headache stuff.
What are you reading now?
I'm reading the Great Gatsby at the moment.
What's next for you as a writer?
I'll continue to write books of the Angelic Guidance Series. But I hope to start publishing my novels soon. They're a bit long I think for Kindle so am considering splitting them into three parts each. I'm not sure how to do this exactly. Anyone have ideas?
If you were going to be stranded on a desert island and allowed to take 3 or 4 books with you what books would you bring?
I'd bring the Bible, Think and Grow Rich by Napolean Hill, The Hobbit by JRR Tolkein and Angels in My Hair by Lorna Byrne.
Author Websites and Profiles
Andrew Marmion Website
Andrew Marmion Amazon Profile
Andrew Marmion Author Profile on Smashwords
Andrew Marmion's Social Media Links
Goodreads Profile
Facebook Profile
Twitter Account
Pinterest Account