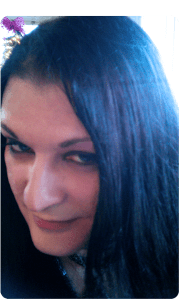 Tell us about yourself and how many books you have written.
I'm a lesbian Discordian writer with a penchant for all things awesome, especially PnP RPGs, martial arts, reading, writing, magic, philosophy, video games, and other cool geeky stuff. Only one book out so far, but book two of the series is about 50% finished, and I've done some work on the short story that follows it, too, with many more to come. I also do a good bit of work on co-authoring my wifey's book series, it's a series of stories that's pretty important to me as well.
What is the name of your latest book and what inspired it?
Destiny Abounds. It's inspired by a pen-and-paper RPG I and my wife played for years, along with a few of our favorite sci-fi games and tv shows. It was a ton of fun to put together and to write.
Do you have any unusual writing habits?
Well, my wife and I tend to act out the parts of different characters interacting to make those interactions more real, playing out the characters to an extent. I imagine that's pretty unusual.
What authors, or books have influenced you?
Rothfuss, Sanderson, Simon R. Green, Neil Gaiman, Barbara Ann Wright, Patricia Briggs, and Harry Dresden – er, I mean Jim Butcher. Also a lot of video game and tv stories, too; there's a lot to learn and enjoy there.
What are you working on now?
Book two in the series. :] And co-authoring my wifey's books. And random scenes and outlines for books and projects to come.
What is your best method or website when it comes to promoting your books?
That's something I'm still working out. We're both pretty new to the publishing and promotion stuff. :] Multiple cheaper promotions have worked so far, as we build toward the requirements for some of the bigger fish out there in the promotion world.
Do you have any advice for new authors?
Make the best book you can, and make it something you'd want to see as a reader. Love it. Learn from those out there who have been wildly successful, especially in your genre. Try to do everything you can to make it succeed, but don't sweat the small stuff you can't control, or every little detail. You'll make mistakes, but you'll learn as you go. And don't get tied up trying to market it – your time's better spent making books, once you get the marketing basics down. You're an author, not a publisher/pr person. Unless, well, you actually are one of those things too.
What is the best advice you have ever heard?
"Find the next word." – Neil Gaiman. Look up the whole story, he tells it better than I ever could. I'd be surprised if it doesn't help you, and I'm not even just talking about writing.
What are you reading now?
I happen to be in between books at the moment, trying to choose. Currently got a lot of recent recommendations from other authors and friends piling up, but having a hard time with my book hangover from the Slow Regard of Silent Things by Rothfuss.
What's next for you as a writer?
Book two. And then I have tons of other series ideas past that, some of them with work already done on them. Then there's my co-authoring with my wife on her series…
If you were going to be stranded on a desert island and allowed to take 3 or 4 books with you what books would you bring?
At least one that details how to make a boat out of books.
Author Websites and Profiles
Annathesa Darksbane Website
Annathesa Darksbane Amazon Profile
Annathesa Darksbane's Social Media Links
Goodreads Profile
Facebook Profile
Twitter Account