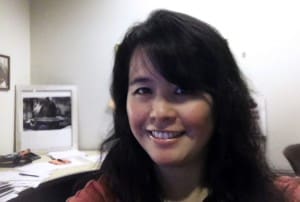 Tell us about yourself and how many books you have written.
My latest work is Doubt, Book 1 of the Among Us Trilogy which will be released on November 13, 2013. Among Us is a book series about a group of outcasts (online gamers) who band together to investigate who or what is behind the catastrophic events happening around the world. My previous novel, Almost a Turkish Soap Opera, was adapted into a screenplay and later produced into an award winning feature film and web series and was my directorial debut. My other works include: Gathering Dust – a collection of poems, Salha's Secrets to Middle Eastern Cooking Cookbook published by AR Publishing Inc. and Teach Yourself Great Web Design in a Week, published by Sams.net (a division of Macmillan Publishing).
I have been scribbling poetry, short stories, cartoons ever since I was in Kindergarten. In grade school, I started making my own satirical audio shows, based on my cartoon stories, which focused on a multicultural, multi-generational family's every day trials and experiences in Canada. The stories were based on my own family life where two different cultural traditions always made for drama at home between my parents, my aunts and uncles, grandparents and cousins. I recorded the weekly shows on my ghetto blaster at home, acting out the voices of all the characters. I shared the audio cassettes with friends and family who enjoyed them so much, they encouraged me to make more. This creativity developed into my desire to participate in theatre and drama in highschool and later in community theatre. Along the journey, I had to get a real job to pay the bills so I endeavoured into the land of the Internet when it was still basically text based discussion boards. Excited about the potential opportunities to broadcast independently, I became an early pioneer of web designers where I explored the opportunities to stretch my creative wings on the World Wide Web. It wasn't long until Sams.net, a division of Macmillan Publishing, approached me to write a book about web design. I took on the offer and in less than 8 months, I was officially published. I remember being so proud to see Teach Yourself Great Web Design, with my name on the cover, sitting on a book shelf at my local Chapters store. Since then, I have published the novel Almost a Turkish Soap Opera which was adapted into an award winning feature film and web series and also my directorial debut.
So now someone asks me how I would label myself? In short, I am a web designer/project manager by day; and a writer, filmmaker, blogger and mother by night. I continue to enjoy learning about other cultures and languages. I entertain myself by watching my favourite Turkish soap operas or TV series online either dubbed in Arabic or subtitled in English.
What is the name of your latest book and what inspired it?
I wrote the first chapter after I woke up from a dream with a vivid image of the beginning of the end of the world. It was so clear in my mind that it frightened me. The only thing that gave me hope was that in the same dream, there was a group of young people who risked their lives banding together to try and save the world. Perhaps my dream was inspired by what I've seen in the news where young people around the world are fighting back against their governments' oppressive policies. This wave of 'Truth Seekers' is evident with the recent "Arab Spring" and other youth led revolutionary protests and peaceful activism against governments who resort to terror and bloodshed to suppress their voices. The book is also a tribute to Aaron Swartz, an internet prodigy who was 'behind some of the Internet's defining moments, soaring to heights that many developers only dream of–CNN' and an activist. His activism led him into hot water with the FBI when he was arrested and later indicted by a federal grand jury 'on charges of wire fraud, computer fraud, unlawfully obtaining information from a protected computer and recklessly damaging a protected computer' [wikipedia]. His fight for the truth and justice was ended when he was found dead in his apartment on January 11 2013. His father Robert Swartz said, "[Aaron] was killed by the government, and MIT betrayed all of its basic principles."
At that time, I was shaping out who would be the hero of my story and I decided that I wanted someone like Aaron, intelligent beyond his years, courageous and a seeker of truth and justice. My book Doubt is a tribute to Aaron's memory and also an inspiration for all young people to uphold Aaron's determination that all of us can use our talents to help make the world a better place. I also was inspired by Harry Fear's fearless coverage of the conflict in the Middle East. Both Aaron and Harry are real truth seekers which were my main inspirations for the main character Harry Doubt.
"[Aaron] used his prodigious skills as a programmer and technologist not to enrich himself but to make the Internet and the world a fairer, better place." – Remember Aaron Swartz
I have taken this same theme of Truth Seeking and applied it to the fictional story 'Doubt'.
Do you have any unusual writing habits?
A hard part about writing the book was juggling writing, filmmaking, my full time job and motherhood all at the same time. It is always challenging to get the kids in bed by 8 o'clock every night so that I can have some alone time to focus on writing.
In order for me to get my creative juices flowing is to listen to music or watch my favourite TV shows on Netflix. I can't write in pure silence and I'm not sure why.
What authors, or books have influenced you?
My favourite authors are Anita Daimant- author of the Red Tent, Khaled Hosseini -author of The Kite Runner, Amy Tan – author of The Joy Luck Club, Cassandra Clare – author of the Mortal Instruments series, Kelley Armstrong – author of Omens, Malka Marom -author of Sulha, George Jonas -author of Vengeance.
Here are more favourite authors:
Cid Andrenelli – The Burqa Master
Owen Choi – Tendrils of Life
LGA McIntyre – Lies of Lesser Gods series
W.B. Miller – Kyrathaba Rising
Khaled Talib – Smokescreen
Kathleen McMahon – Descent
What are you working on now?
I'm working on book 2 of the Among Us Trilogy. My developmental editor Josefina Rosado and I are busy storyboarding the story. But alas, the book launch for book 1 keeps slowing us down.
What is your best method or website when it comes to promoting your books?
Promoting my books is usually either from my blog http://www.anne-raevasquez.com or from the official book website http://www.amongus.ca .
I personally don't like promoting although I know it is an evil necessity. I tweet a lot and have fun twitter conversations. My developmental editor is going to help me reach out to schools and groups to gain their interest. I will also be doing a book launch and virtual book tour.
Do you have any advice for new authors?
Believe in yourself and your work first and foremost. If you don't believe, no one else will either.
Talk about your work even before you start writing. Talking and sharing, building your online presence will help build your audience. There is no point launching your book if no one is following you or interested.
When you are finished your final draft, send it out to professional editors. Find a reputable one who charges a reasonable rate.
Don't stop writing. When your readers like your work, they will be hungry for more.
Enjoy yourself. Life is too short not to.
What is the best advice you have ever heard?
"There are rules to the game but I don't believe that we need to be bound by them. If it feels appropriate to follow the rules, then by all means, follow them. If it feels better to break the rules, be creative and do it."
This is the advice I give to myself all the time.
What are you reading now?
The Chamber, Twin Worlds trilogy Vol.I by Dominic H. King – When an unstoppable evil force known only as 'the Reaper' seeks to break into Kal's world, his life becomes intrinsically linked to that of Daine, a ruthless female assassin. Boy and girl must face challenges both together and apart if Kal is to save his father who lies in a chamber far away, and Daine is to discover why she has been called away from everything she has ever known.
What's next for you as a writer?
I want to eventually make the Among Us Trilogy into a feature film just as I did with my first novel Almost a Turkish Soap Opera.
I also plan to to take a few months off to hibernate and do nothing but bake, cook, eat, sleep and watch my favourite Turkish soap operas and Sci/fi TV series on Netflix.
What is your favorite book of all time?
Vengeance by George Jonas – this book was made into a feature film by Stephen Spielberg. The movie version was called "Munich." The story is from the point of view of Avner, an ex-mossad agent who revealed the secret assignments he and other agents committed on behalf of their country.
Author Websites and Profiles
Anne-Rae Vasquez Website
Anne-Rae Vasquez Amazon Profile
Anne-Rae Vasquez Author Profile on Smashwords
Anne-Rae Vasquez's Social Media Links
Goodreads Profile
Facebook Profile
Twitter Account
Pinterest Account