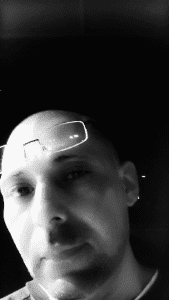 Tell us about yourself and how many books you have written.
HI my name is Anthony I am from a little town outside of Dallas Texas. I have always been a huge fan of horror and thriller my book case is filled with Vincent Price to Clive Barker. I normally right to Deftones or Pantera blasting through my house it helps me with my crafting. I have wrote total books The Corners, And Lulladie which is 4 stories in one love it. And working on one do out soon titled Shedding Skin.
What is the name of your latest book and what inspired it?
The Corners was created out of straight fear. Its everything a good thrill seeking, horror junkie could ask for. I was inspired to write it on my own nightmares .
Do you have any unusual writing habits?
I write to heavy metal music and at 3 am the witching hour. I just seem to write better that way. I write chapter one by chapter no notes and no real ending except when hit the last chapter and it comes to together.
What authors, or books have influenced you?
I really have gotten into a lot of Indy writers but I wouldn't just say one.
What are you working on now?
A shuttering book that I have to walk away from daily it freaks me out sometimes. Its titled Shedding Skin.
What is your best method or website when it comes to promoting your books?
Awesomegang has been great. Thank you guys.
Do you have any advice for new authors?
Decide that writing is what you want and do it. You can't have your feeling hurt easily you have to take criticism and run with it. But never give up.
What is the best advice you have ever heard?
See what you want and don't stop till you get it .
What are you reading now?
The Flip an Indy book love it.
What's next for you as a writer?
My first sci-fi
If you were going to be stranded on a desert island and allowed to take 3 or 4 books with you what books would you bring?
How to survive for dummy's , It , Lost In Paradise.
Author Websites and Profiles
Anthony Vidal Website
Anthony Vidal Amazon Profile
Anthony Vidal's Social Media Links
Facebook Profile
Twitter Account