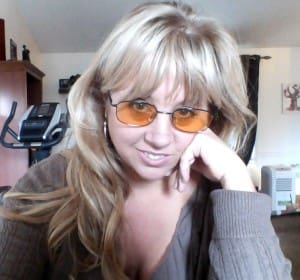 Tell us about yourself and how many books you have written.
I live in the suburbs of Portland, Oregon. A reluctant housewife. It's hard to justify not loading the dishwasher when I sit at the table all day right next to it, typing away. If I ever hit it big I've decided the first thing I'm going to do is to hire a live in maid. I think his name should be Luke. But Drake or Jake could work too.
I've written two books: The Universe is a Very Big Place and my newest book, The Witches of Dark Root.
The Universe is a romantic comedy about a young woman who leaves her life as a carnival worker behind and tries to find love and normalcy in the real world. As you can probably guess, it doesn't work out quite the way she planned and she is confronted with one crazy misadventure after another. The Universe, she learns, has a sense of humor, and it all seems to be at her expense.
The Witches of Dark Root is a bit deeper and darker. It is about a woman named Maggie who was raised to take over her mother's coven in Dark Root, Oregon, the 'most haunted place in the Pacific Northwest'. But Maggie has other dreams for her life and leaves Dark Root to find her own way. Now seven years later she is called back.
The story is primarily about Maggie's relationship with her three sisters and her mother. It just happens to be set against a backdrop of witchery and magic. I love this book because Maggie is a very real character. She is filled with hopes and dreams, but also anger and apathy. She, like many of us, isn't clear on what she wants until the very last page. And even that is a surprise!
What is the name of your latest book and what inspired it?
The Witches of Dark Root just came out on Kindle yesterday (June 4) and should be available in paperback early July. What inspired me to write this was that I was missing my sisters. A decade ago I moved away from them and have been thinking of them a lot lately. I have been remembering the times we had as children, both the good and the bad. I had a big hole in me that only my sisters could fill. So I wrote about four sisters instead.
People have asked me if the characters in the book represent myself and my sisters and the answer is no. We are not witches. Unless you ask our husbands. They might have other ideas. But really, while the girls may not be like my sisters, the feelings that comes up through their interactions: jealousy, envy, love, forgiveness, are all very real and very relatable to anyone who has grown up with a sibling.
I'm very proud of this book and how much of my soul I poured into it. I'm hoping others like it too.
Do you have any unusual writing habits?
I wouldn't say unusual, but maybe compulsive. I write all the time, even when I want to relax. I can't even sleep anymore because stories enter my head and refuse to go away until I get up and play them out on paper. Sometimes they are complete crap. But sometimes there's a gem in there. When I finally have that stroke from sleep deprivation I just hope its all worth it.
What authors, or books have influenced you?
I love Fannie Flagg. I read Fried Green Tomatoes at Whistlestop Café when I was in college and this changed the way I looked at books forever. I even copied her style a little, showing characters how they are now and how they were before and how it all ties together. I also add humor into everything I write. I can't help it. It's a coping mechanism I've passed along to all my characters.
What are you working on now?
I picked up a manuscript I started several years ago called Mama's Not Home. It's a book my writing group told me was too depressing, so I put it down. Now I'm back on it and I love writing it. Yes, there are sad parts, but there is also lots of humor and humanity in it. And hope. I'm big on hope. And it's not that depressing, I swear. You will just have to judge for yourself when it comes out in 2014.
What is your best method or website when it comes to promoting your books?
I'm really digging Goodreads right now. Also, I write a (mostly humorous) blog about my life. I have a following because of that. It's all about relating to people.
Do you have any advice for new authors?
Just write. Don't listen to what others say or that voice in your head that says you can't do it. Just move your fingers across the keyboard and write whatever is in your head. Some of it won't be good, but that's okay. Because some of it will be amazing.
Also, finish what you start, even if you think it's not your best work. Then show people. Every story needs a home. Some people will get it and some won't . That's not your problem. Just keep going.
What is the best advice you have ever heard?
It's non-writing related advice but here it goes: Love is a gift, not an expectation.
An old boyfriend told me that. Yeah, I was probably being a bit too clingy, but in that moment I got so much. And this is a message I try to infuse in all my stories. Unconditional love is what can save us. It's also the hardest thing in the world to accomplish.
What are you reading now?
I've been working on On the Road. What a great read. Loving the feel and buzz of the book. I tried not to read it too much when I was writing because I tend to write like the authors I'm reading. But now that I'm on a bit of a writing break I can pick it back up.
What's next for you as a writer?
More books! I have two written. Hoping by this time next year to have two more done. It's an exciting time to be a novelist.
What is your favorite book of all time?
I'm a sucker for a good love story. To me, Gone With the Wind was the greatest romance of all time. Scarlett was such an interesting character and though I didn't always like her, I willingly followed her story for a million and a half pages. And I was just fifteen when I read it. When a book is that good it sticks with you for life.
Author Websites and Profiles
April Aasheim Website
April Aasheim Amazon Profile
April Aasheim's Social Media Links
Goodreads Profile
Facebook Profile
Twitter Account