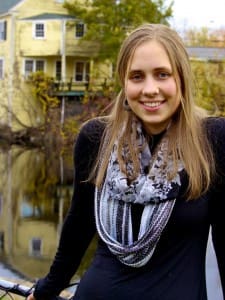 Tell us about yourself and how many books you have written.
I am the author of three books currently, The Wounded World, The Clock Winked, and the Lonely Whelk. I write science fiction, and love to read authors like Terry Pratchett, Douglas Adams, Jim Butcher, and Tamora Pierce.
I live in NH with three cats, one of whom is a kitten and an absolute spaz. He attacks walls for no apparent reason and likes to try to ride the two older cats like a horse.
What is the name of your latest book and what inspired it?
My most recent book is The Wounded World, and it is actually the first book I ever started writing, though it took me quite a while to get through it. I had this idea for another universe that I wanted to create, and I designed the book to give my reader a clear example of my universe. I did, of course, end up rewriting (from scratch) three times, not to mention the countless full-manuscript edits that followed.
I like to tell people that I love the whole process of writing, from initial idea to having a published book, but let me tell you: when I get into the thick of it, sometimes I really just want to dig a hole, bury my legs, and say, "I'm sorry but I can't work on my book because I'm stuck."
Do you have any unusual writing habits?
I like to write with my legs propped up on the radiator. I also sometimes need to have crackers and cheese to munch on while I'm working (and when I say "cheese" I actually mean "cheese whiz," which we all know is not actual cheese).
What authors, or books have influenced you?
My number one author that I adore is Terry Pratchett. He writes light-hearted humorous fiction set in Discworld. He's also been knighted by the Queen, which is amazing. I find his books engaging and entertaining, and I love the way he satires society and life in general. I am also a big fan of Douglas Adams, Jim Butcher, Tamora Pierce, and wide variety of other science fiction and fantasy authors.
What are you working on now?
I'm working on my fourth novel, titled "The Fall of the Flighters." In it, my character stumbles into another world that is in the midst of societal chaos, and he, an alien to them, has to help them resolve their crisis.
It's my hardest book so far, because my main character suffers from bipolar disorder, and while he's been cheerful in the other books, in this one he is definitely not.
What is your best method or website when it comes to promoting your books?
Well, I think my website is pretty slick (www.arielesieling.com), but I get most of my sales by doing promotions all over the place. Email blasts, blog tours, and social media are extremely helpful tools. I have also been doing a lot of in-person events; my favorite is going to different Comic Cons. At the next one I will dressed as Kailee from Firefly, and my two colleagues will be Mal and Jayne. It's going to be fun.
Do you have any advice for new authors?
Don't do what they tell you. Writing is an art form, and each and every person expresses and interacts with their art differently. Just because one person does it one way, doesn't mean you have to do it that way too. The only way you can truly fail is to not do anything at all, or to lick the swingset in January.
What is the best advice you have ever heard?
Don't lick the swing set in January.
What are you reading now?
A bunch of things. Armageddon Reef by David Weber, Metamorphoses by Ovid, and Book of the Cosmos edited by Dennis Danielson.
What's next for you as a writer?
To write another book. And then another one after that. And maybe a short story or two. I'm only a writer when I'm writing, so if I want to be a writer, I had better write. I also want to visit Scotland and go to space. Mars, if possible. But I would be happy with the Moon. Or just a trip to the upper atmosphere, like Virgin Galactic is doing.
If you were going to be stranded on a desert island and allowed to take 3 or 4 books with you what books would you bring?
Definitely the Book of the Cosmos by Dennis Danielson and I would probably memorize it during my down times. Possibly Emily of New Moon by L.M. Montgomery as it's comfort reading material for me. Small Boat Building by H.W. Patterson seems like a pretty good idea, although if the island is a desert, my chances of finding trees would be minimal. And finally, the phone book, so I would have lots of material for starting fires.
Author Websites and Profiles
Ariele Sieling Website
Ariele Sieling Amazon Profile
Ariele Sieling Author Profile on Smashwords
Ariele Sieling's Social Media Links
Goodreads Profile
Facebook Profile
Twitter Account