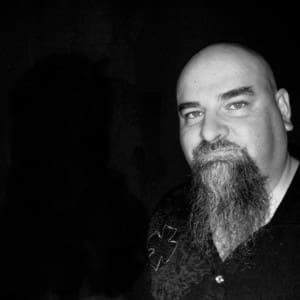 Tell us about yourself and how many books you have written.
I am a Horror author, mostly Zombie fiction. I have over 70 releases currently listed on Amazon and keep adding to it. I also dabble in non-fiction books about Heavy Metal, and have written Steampunk and Thriller stories. I try to spread the ideas and not stick to one formula or subgenre if I can help it.
What is the name of your latest book and what inspired it?
"Tool Shed" is my latest, a traditional horror novella released by Angelic Knight Press. It was inspired by my love of the great Leisure paperback book releases I collected by authors such as Brian Keene, John Everson, Douglas Clegg, Jack Ketchum, etc. I wanted to write a throwback horror story about a man who inherits his grandfather's farm, but there is an evil living under the tool shed.
Do you have any unusual writing habits?
I don't think so, but what writer does? I am a creature of habit, so I have a very specific schedule I adhere to as much as possible and treat it like a job. It's great fun, but it's still a job and I have to take it seriously or it slips back into being a hobby again. And a hobby isn't going to pay my bills.
What authors, or books have influenced you?
I think everything, good or bad, influences you as a writer. My favorite book of all time is "Watership Down," and I grew up reading every Dean Koontz book i could find. When it came to writing about zombies, "The Rising" by Brian Keene was my first introduction to the subgenre. It was amazing.
What are you working on now?
I will be finishing the first draft of "Dying Days 3," my zombie series. Then I have 9 other projects currently open and incomplete on my laptop. Whichever one I am in the mood to work on, I will.
What is your best method or website when it comes to promoting your books?
All of them. It comes and goes. Facebook used to be the top site but with all their ridiculous changes, I only use it to let people know where else I am. Twitter has been very good to me, but I've built a following of 33,000+ so far. My website has a nice steady traffic as well. The best promotion is still word of mouth and having fans that buy everything you release.
Do you have any advice for new authors?
If you are in this to get rich, go play the lottery and save time. If you are in this because you cannot even think of doing anything else but write, even if you might never make a dime on it, then pursue it and give 100% to it. At the end of the day, even if I made nothing on this journey, I'll feel like I gave it my best shot.
What is the best advice you have ever heard?
Write every day no matter what, and mix up what you are writing. Don't force Story A, just go on to Story B until the first one speaks to you again.
What are you reading now?
"Big Man," the autobiography of Clarence Clemons. I love non-fiction. It gives me so many ideas for fiction.
What's next for you as a writer?
Keep writing. Expand my writing from mostly horror and zombie and branch out into other areas (drama, erotica, fantasy, thrillers, crime, humor, etc.) and find my niche.
What is your favorite book of all time?
"Watership Down" s easily my favorite, and I will read it every few years again. I've never done that with any other book.
Author Websites and Profiles
Armand Rosamilia Website
Armand Rosamilia Amazon Profile
Armand Rosamilia's Social Media Links
Goodreads Profile
Facebook Profile
Twitter Account
Pinterest Account