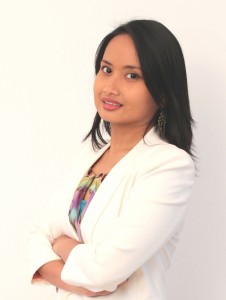 Tell us about yourself and how many books you have written.
Atalia loves to serve by helping people to be a better version of themselves. She is passionate about education, people and life. Having traveled to 50 countries so far has helped her see things from various different points of view. It allows her to put herself in other people's shoes more easily. She values things unseen like culture, rich insight and friendship, more than things that are seen. Atalia has professional experience from over 10 years of consulting entrepreneurs, executives, and professionals of Fortune 500 companies and helping them figure out what they need to make decision for their companies, organizations, life and education. She finds it fascinating that people are all in need of living in a better life and improving their standard of living. There are many ways to do this, but the main one is through having the right education. Her passion for people and love of travelling both created a great desire and urgency deep in her heart to put everything she learned in writing. This is so she can teach you what she has learned, so you don't have to repeat the same mistakes other people have. The idea is to be able to give back to this world. Everyone counts. YOU count. Visit http://onlinelearningmastery.com to get your free gift from Atalia.
What is the name of your latest book and what inspired it?
Online Learning MASTERY: 7 Simple Steps to Your Graduation, Reaching A Higher Level in Life.
I have seen too many people drop out their studies all over the world. This can be prevented and so I wrote a book to help them manage their life, so they can graduate and live the life they have always dreamed of, while at the same time serving the community they live in.
Do you have any unusual writing habits?
Yes, as I am unique 🙂
What authors, or books have influenced you?
I read many books and love all of them, even ones I don't enjoy reading. I like reading autobiographies of great and successful people and these people influence me. Not only through published books but from the internet or news. You will see these names come back in my book, such as Elon Musk, Oprah Winfrey, Mark Zuckerberg, Bill Gates, Sheryl Sandberg, Richard Branson, Larry Page and Sergey Brin to name a few, but also those whose names none of us heard of or I can't even recall. You don't have to be famous to make a profound impact to others.
What are you working on now?
To influence people to graduate even more. To inspire them to live the life they desire. To serve others. I have some projects lining up for this.
What is your best method or website when it comes to promoting your books?
Still have to find out.
Do you have any advice for new authors?
Don't stop!
What is the best advice you have ever heard?
"Do I not destroy my enemies when I make them my friends?"
― Abraham Lincoln
What are you reading now?
Lean In
What's next for you as a writer?
More books, helping others with my knowledge, skills and expertise.
If you were going to be stranded on a desert island and allowed to take 3 or 4 books with you what books would you bring?
4 note books to write on.
Author Websites and Profiles
Atalia Felicia Website
Atalia Felicia Amazon Profile
Atalia Felicia's Social Media Links
Facebook Profile
Twitter Account