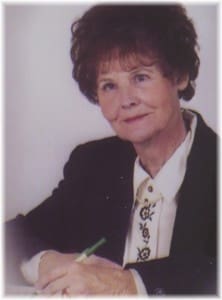 Tell us about yourself and how many books you have written.
I was born in 1932 in Atlanta, Kansas to Scotch, Irish, and English parents. As a child and through high school, I was an avid reader and often was in trouble at school for writing snippets I stuffed in my desk.
After college, I enjoyed a twenty-three year career as an Art Educator. When I retired, I began to write full time. My first novel, Out of Control, was a paranormal suspense.
I met Hazel Hart when I joined a critique group. Some books just happen. Hazel and I decided to co-write a story by taking turns adding a paragraph or two as we sent the manuscript back and forth in e-mail. After a few months, we had close to a hundred pages of a story we called "The Seduction." About this time, the company that had published my e-book stories went out of business. We couldn't let the cover, designed by Gordon Kessler, and the title story of a woman's revenge against bullies who kill her cats go to waste, so we decided to add our co-written story and others to the book in order to make it long enough to publish in paperback form.
But THEN I wrote the story I loved most of all, Nelly of No Man's Land ( historical fiction).
All told, I've written five books.
What is the name of your latest book and what inspired it?
My latest published book is a historical novel. titled NELLY OF NO MAN'S LAND. It involved a lot of research and took two and a half years before it was on the market. The idea for the novel was inspired by both my mother's stories about homesteading in No Man's Land, Oklahoma, and my great-grandmother's recipes for herbal cures—she was a medicine woman.
Within the tattered pages of the old Dr. Chase book my mother passed down to me were my great-grandmother's handwritten recipes for medicines written on the blank pages at the end of chapters. They contained weird ingredients such as sugar of lead, chloroform, sarsaparilla, sulphuric ether and acid, iodide of potash, stillingia, poke root, morphine, to name just a few. Her cures covered diphtheria, blood purifier and liver regulator, piles, worms, and a host of other ailments. With her concoctions, she healed ill and dying patients who had been given up to die by the doctors.
As I considered how I could use the herbal healing in a novel, what story I could tell, I remembered all those family stories my mother told me about homesteading in No Man's Land. As a child, I would beg her to retell the stories, and she would laugh and say, "Oh, you don't want to hear that again." But she always recounted those fascinating tales of digging the dugout, confronting outlaws, and surviving the war between the cattlemen and the settlers. I never tired of hearing about those frightening experiences of what it was like to homestead in that wild and untamed territory.
NELLY OF NO MAN'S LAND takes place in Oklahoma over a two-year period. A pioneer family homesteads in The Strip where they struggle to survive in a lawless territory. Nelly Duncan is a dying woman who battles to regain her health while struggling to resolve the personal pain of her husband's alcohol addiction and infidelity. Through the help of a medicine man, she regains her health there. Then the past returns to haunt her: the handsome peddler she turned to for comfort during her husband's unfaithfulness and who fathered a child her husband thinks is his own reappears.
Do you have any unusual writing habits?
I can't plot a novel. When my fingers touch the keyboard, it's like walking the path with the characters. Even though I have a vague idea of where I want the story to go, I never know what is going to happen. When I reach a certain point, I throw in some kind of obstacle to impede the main character.
It isn't often I get to control someone's life, since I've never been able to control my own. Life is a game of chance. You only think you're in control, but you aren't. Maybe that's why I became a writer. I like to move my characters around like a Kansas tornado, just to see how they land on their feet, see what they're made of.
And of course, I have my cat trained, after hours of trial and error, and he can now 'sit' on command, so I can see what I'm typing on the monitor.
What authors, or books have influenced you?
Books I loved were H. G. Wells, Zane Grey, all the Tarzan series (oops, now you've discovered my age). Oh well . . . and then later I turned to John Sanford, Lisa Jackson, Leonard Bishop, and a host of others. Maybe that's why I love genre hopping.
What are you working on now?
Assisted Dying, my latest novel, is a mystery where a neglected mother becomes a target for a black market organ ring when she enters a rest home. But I'm already thinking of my next book and have it titled without having a plot as yet. VAPORIZED! So follow me through my genre hopping and see what I come up with.
Assisted Dying will be out sometime in 2013.
What is your best method or website when it comes to promoting your books?
Hazel and I have partnered up to promote our books and other indie writers on Keyhole Conversations. We've done author as well as character interviews, art and authors, cooking vlogs on other creative outlets authors enjoy, screenwriters interviews, poetry, and even bloopers. I love creating the graphics, and Hazel and I film vlogs and turn them into mini-movies to post on our blog at http://2tgr.wordpress.com/
Do you have any advice for new authors?
Writing advice:
• Write in a genre you like to read.
• Write every day.
• Rewrite.
• Find a critique partner who will tell you the truth.
• Be willing to accept criticism.
• When proofreading, read your work aloud to catch the most errors.
What is the best advice you have ever heard?
The best advice I ever had came from my sister Betty, who would always say, "This too shall pass," whenever I was going through trouble. Guess what? She was right.
What are you reading now?
I just finished reading a doomsday book, KNOW THY NEIGHBOR, by R. M. Strauhs. The story line is about one urban family's fight to survive a foreign invasion.
What's next for you as a writer?
I've become concerned more about environmental issues, so I'm thinking of writing an apocalyptic tale of terror titled VAPORIZED. It will involve a tremendous amount of research, but then I'm retired, so I can do this!
What is your favorite book of all time?
No one book pops into my mind as my favorite. There are so many wonderful books out there, so many good authors that it would be hard to single out any one book as my favorite. But I sure do love John Sanf'ord's novels.
Author Websites and Profiles
B. J. Myrick Website
B. J. Myrick Amazon Profile