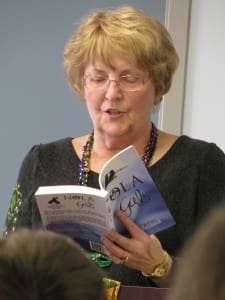 Tell us about yourself and how many books you have written.
I am a retired teacher who finally has time for my own writing after years of mentoring students through their writing. My first novel, "NOLA Gals" was published by Neverland Publishing in January 2015. I have another draft, "Scrubbing Off the Dirt" I wrote years ago about a teen boy whose dad is suffering from cancer related to his service in Vietnam. I may dust that off some day, but first I am writing a sequel to "NOLA Gals." I also have a memoir in the back of my mind. I would also love to see "NOLA Gals" adapted as a play or movie so I'm exploring those possibilities.
What is the name of your latest book and what inspired it?
Watching continual coverage of Hurricane Katrina in 2005 inspired me to write the story of two fictional teens caught up in the aftermath of the worst hurricane ever to hit the coast of the United States. I found the coverage very moving and wanted to write a book that kids could read for two reasons: one, to learn about this storm and its disastrous effects on the lives of thousands of people and two, to practice writing in varying styles as seen in the book that range from narrative to essay to journaling to poetry to speech. When I go in classrooms, the kids always ask how to write extended metaphors like the ones I wrote to describe Hurricanes Katrina and Rita as angry teenagers. On my website: www.nolgals.com I have many photos and student samples to read, along with ideas for more writing for both kids and adults.
Do you have any unusual writing habits?
I write sitting on my couch, my cat, Gracie above my head in the windowsill. I do research by hand in large notebooks, then type drafts on my laptop. I keep a handwritten notebook of the writing progress. I also sketch settings and act out events in the book to make sure they make sense physically. For instance, for the poolside setting at Grace's house in Houston, I first researched the local flora for color and size, and then sketched out what would go where around the pool before writing a word. When the girls escape from the upper bedroom, I acted that all out using chairs. My cat watched intently. and I realized I needed to add a shed for the girls to jump on. It's all about the accuracy an author owes a reader.
What authors, or books have influenced you?
Nancy Drew was my first literary idol Then I moved on to Jane Eyre and the Bronte sisters, especially Emily's "Wuthering Heights." I loved "Rebecca" by Daphne DuMaurier. I still feel the damp winds coming off the Cornish coast at Manderley. mystery all around. My older sister, Mary was my reading mentor and at some point she introduced me to John Updike. I remember reading "Rabbit Run" and stopping cold at the idea that Rabbit, the main character was watching "Mickey Mouse Club" on TV. And so specific detail came into my writing life! Thomas Hardy was huge in my literary life. I love all his novels and have all the movie versions, recently buying the new "Far From the Madding Crowd." Lately, I've fallen in love with the Henry VIII trilogy by Hillary Mantel, "Wolf Hall." I was lucky enough to see two plays based on the books while in London. And what a thrill to spy the author in the lobby signing programs at both performances!
YA writers I read are John Green, Christopher Paul Curtis, Gary Soto (you can't get a better writer to teach kids style) Gary Paulson. I also like "The Hunger Games" and "Divergent" series.
What are you working on now?
The sequel to "NOLA Gals" is in the works. I am in the research stage and just got another book in the mail today to read. I am filling in the gaps from the last nine years of the rebuilding of New Orleans. So many readers have asked for a sequel that I'm going ahead with it. Stay tuned!
What is your best method or website when it comes to promoting your books?
I am a member of about twenty-five writing groups on facebook and new ones pop up every day. Promotion takes many hours a week to do it effectively. Twitter is a great help in keeping titles in the eye. Reader's Gazette runs ads around the clock. Book Goodies is good as is Book Twitter. New Pages also. You have to set a budget. If you want to spend a lot of money there are sites out there who will gladly help. I try to stay under $30 for each. Then there is the whole contest arena. Again they can be expensive, but a shiny sticker on a book cover does draw attention.
Do you have any advice for new authors?
Keep reading as much as you can in your genre and read everything else, too. Don't be afraid to take risks. Try to find a publisher who understands your vision. As for writing groups, listen to their advice, but in the end go with your own inner voice. Be persistent. It takes years sometimes to find your niche in the publishing world. Not everyone (and few are) can be an overnight sensation. And once the reviews start coming in, don't take them too seriously and don't respond to the bad ones.
What is the best advice you have ever heard?
"It is what it is."
What are you reading now?
I just finished "The Martian" by Andy Weir and can't wait for the movie. Next up, besides a stack of Hurricane Katrina books is "The Taming of the Queen" by Philippa Gregory, the story of the last wife of Henry VIII, Katherine Parr. I recently saw the play, "The Last Wife" about her in Stratford, Canada so this is further "research."
What's next for you as a writer?
I will be Writer-in-Residence for two districts this year, working in classes with students and teachers. I hope to preview my sequel with this audience as I write for feedback. I also hope to travel to New Orleans to visit schools there. I have donated some of my royalties to New Orleans schools.
If you were going to be stranded on a desert island and allowed to take 3 or 4 books with you what books would you bring?
Rebecca, Wuthering Heights, Rabbit Run, NOLA Gals
Author Websites and Profiles
Barbara Rebbeck Website
Barbara Rebbeck Amazon Profile
Barbara Rebbeck's Social Media Links
Facebook Profile
Twitter Account