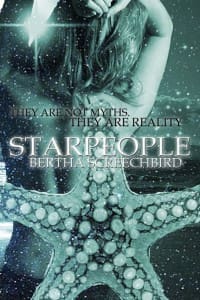 Tell us about yourself and how many books you have written.
I am a new author, and have recently published my first novella, STARPEOPLE. I am currently working on a second novel, NUNS IN SPACE. I write romance in a variety of subgenres––anything from paranormal to sci-fi. My goal is to create stories that are both steamy and humorous. I consider myself to be a funny person and I think this is evident in my style. I hope that I am successful in entertaining readers!
What is the name of your latest book and what inspired it?
My latest book is my aforementioned debut novella, STARPEOPLE, which tells the story of a small ocean-side party town where some people are gifted with the ability to shapeshift into starfishes. I was inspired because I love marine life, and I believe the starfish is such a beautiful creature. I also love stories about shapeshifters, but I have never read a story about people who can turn into starfishes, so I decided I would write one myself!
Do you have any unusual writing habits?
Yes! It may sound strange but I love to write while naked. I find it to be such a liberating feeling and that it helps me rid myself of all my inhibitions. I believe that the human body is a beautiful thing and very inspiring. I am also an artist and I have made paintings by using my boobs. I don't think this is something to be ashamed of. Bodies are beautiful!
What authors, or books have influenced you?
So many! Just to name a few authors I admire: Lisa Desrochers, K. Bromberg, Tracy St. John, Maya Banks, Madeline Sheehan … I could go on and on!
What are you working on now?
Right now I am working on a sci-fi/romance called NUNS IN SPACE, which chronicles the adventures of a futuristic flying convent in outer space.
What is your best method or website when it comes to promoting your books?
I do not currently have a personal website, but I do have a page on Goodreads! https://www.goodreads.com/author/show/7369000.Bertha_Screechbird
Do you have any advice for new authors?
Write whatever brings you joy. Don't let anything hold you back!
What is the best advice you have ever heard?
"Put your head down and work hard. Never wait for things to happen, make them happen for yourself through hard graft and not giving up." – Gordon Ramsay
What are you reading now?
Nothing at the moment.
What's next for you as a writer?
I am currently working on NUNS IN SPACE, which I hope to publish sometime within the next few months.
What is your favorite book of all time?
I can't pick one! There are too many.
Author Websites and Profiles
Bertha Screechbird Amazon Profile
Bertha Screechbird's Social Media Links
Goodreads Profile