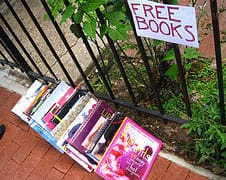 Do you own a Kindle? If so, then you may not know this, but you can actually get free Kindle books. There are plenty of places where you can get free Kindle books, but you should know what the best places are.
If you want to find out where the best places to find free Kindle books from, then I suggest you look over our list of favorite places. They are in no particular order. You may find one better than the other for your liking.
Author Marketing Club
The first site I always check is the Author Marketing club. This site is great as you can easily search through the genre for the type of books you are looking to read. I highly suggest signing up for the daily email. You get free books delivered right to your inbox. Click here to go to the Author Marketing Club.
BookGoodies
Great list of free eBooks that is updated daily. You can find many of the top author listed here. Another site that you may want to subscribe to their email newsletter. How can you go wrong with a site with both Books and Goodies in the title. Click here to go to Bookgoodies.
Amazon
Are you new to the Kindle? If so, then the last place you probably expect to find free Kindle books is at Amazon.com. However, Amazon does have free books for the Kindle. In matter of fact, Amazon has hundreds of books for the Kindle available, and searching them is very easy to do. All you need to do is go to Amazon and search for free Kindle books in the category of your choice. When it comes to websites that offer free books for the Kindle, then Amazon is the best place to go to. Click here to go to Amazon
Pixel Of Ink
Pixel Of Ink is also a great website that you can go to and get free books for your device. Pixel Of Ink has very large selection of books for the Kindle, and this is one of the reasons why Pixel Of Ink is one of the best sites to go to when you are trying to get free books. Pixel Of Ink may not be as popular as Amazon, nor do they have as many Kindle books available, but the site does get many new titles on a daily basis. You can subscribe to the site, and then you will receive updates on when they receive new books. Click here to go to Pixel of Ink.
Overdrive
This is a very unique website that offers free Kindle books that you can loan. This means that you actually do not get to own the books that you get. Think of Overdrive as a public library. When you get a book from the library, then you have to return it by a due date. When you get a Kindle book from Overdrive, then the book will remain on your Kindle until a specific date. Once the "due date" arrives, the book will automatically be removed from your Kindle. Don't worry though because most of the books you get from Overdrive, you get to keep for a few weeks, which means that you will have plenty of time to read it. It is worth noting that your public library will need to have a subscription to Overdrive, but many libraries do, so the chances are you will be able to use the website with no problems at all. Click here to go to Overdrive.
BookLending
If you cannot use OverDrive, then you will be able to use BookLending. This particular website is also a unique site that allows you to obtain free Kindle books. Essentially, you are borrowing and lending books on this website. There are many Kindle users who turn to BookLending when they want to get free books for their Kindle, which is great news for you. It is great news because it means that the chances are very good that you will find a book that interests you. All you need to do is register with the site, which is completely free to do, and then you will be able to lend and borrow books. Click here to go to Booklending.
eReadIQ
This is one of the best sites to get Kindle books that do not cost a thing. What makes this site slightly different than many of other sites is that it updates its free Kindle books on an hourly basis. Most sites will only update their listings once per day or just a few times per day. You can also filter results by newest titles, the amount of reviews that a book has received, how many thumbs up a book has received, author and even file size. The filtering system on eReadIQ is one of the best filtering systems, so finding a good book for the Kindle is extremely easy to do. Click here to go to eReadIQ.
Hundred Zeros
Just like the previously mentioned site, Hundred Zeros list of free Kindle books is updated every single hour. Thanks to the clean layout of the site, finding books is easy. The site is available to use by people located in the USA, UK, India, France, Italy and Canada too name a few of the countries that the site is available in. The search feature is basic, so all you need to do is enter a search term and see if any results show up. This site may not be the best site to use, due to the fact that only people in certain countries can use it, but if you are able to use the site, then you will love it. Click here to go to Hundred Zeros.
Power Reads
This website is packed with many free books for the Kindle, but virtually all of the free books are non-fiction, so if you are a fan of non-fiction books, then this may be the best website to use. Whether you are looking for a book that falls into the category of business, marketing, history, health, motivation, advice or productive, then you will find it on Power Reads. The site is updated regularly, so make sure to check it on a daily basis. Click here to go to Power Reads.
ManyBooks
ManyBooks.net is perhaps the most useful website to use when you want to find free books for your Kindle device. Think of this website as a search engine, such as Google or Yahoo. Once you enter a search term into the search box, a bunch of results for free books for the Kindle will be shown to you. Basically, ManyBooks searches allover the Internet for free Kindle books. You will love how easy this site is to use, and you will also love how quick the site finds free Kindle books. Click here to go to Manybooks.
Feel free to share this list with your friends and let them know how they can get free eBooks.