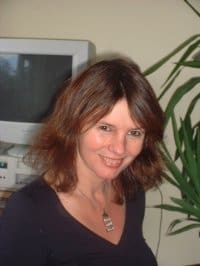 Tell us about yourself and how many books you have written.
I'm an ex-Playboy croupier and Cambridge post-graduate, who has ended up writing books full-time in south-west France. In between, I've taught English in Crete, Seychelles and numerous pubs and cafes around the world. The most boring job I did was working for a firm of solicitors as a legal secretary – my boss paid me the minimum wage, took away my Tippex and used words I didn't know the shorthand for, so I left to work for the data centre manager at British Leyland, at a time when more cars were being smuggled out of the gates in bits than sold to the public and the salary for secretaries was three times that of a legal secretary. Imparting this final, crushing information to my Lamborghini-driving boss was a sweet moment. He had called me into his office, smugly offered me a generous pay-rise (10%) and fallen off his swivel chair. The strangest job I ever had, and the most manic, was working for a bin-liner company in New Bond Street. There's not much I don't know about high-tensile, medium gauge refuse sacks. The office was tiny and the sales staff were on the phone all day long, chatting up potential customers and making me wish that MP3 players had been invented. The atmosphere oozed. If that's what you had to do to sell a plastic bag, I wanted out.
So, books. Two humorous memoirs and three mysteries (on the psychological side), all available on (where else?) Amazon. Should I put them on other distributing sites? Answers on a postcard, please. I think I've read them all about ten times. Must be someone else's turn by now, surely.
What is the name of your latest book and what inspired it?
I've just released 'An Accidental Killing'. Like most of my books, the characters drive the plot. I like to build characters who are flawed, who have different personas – as people do in real life. I'm not interested in one-dimensional creations, or masses of characters who all seem the same and whose names you can't be bothered to remember.
This particular book is set in France, in an imaginary village, with fictional characters – I had to be very careful about that! Don't want my friends and neighbours galloping down the Impasse, shoving legal papers through my letter-box. I know the region well, so the setting, although fictional, is authentic, with lots of detail you will recognise if you know anything about French life.
I normally like to include a baddie and I really loved writing Claude's character – he is evil, but not entirely. He has redeeming qualities and has squandered his chances in life largely as a result of circumstance. That's not to say you will like him any better.
Do you have any unusual writing habits?
Good question. I jump around a lot. Not physically, but mentally. At the moment, I am working on four books, various genres, various stages. Today I finished the second draft of 'Stranded in the Seychelles' which is a sequel to 'Bunny on a Bike', then I put some towels in the tumble drier, said hello to my son, made a cup of tea, watched him watch Junior Master Chef (watching your kids is probably a mother thing), then wrote a couple of chapters of my newest idea for a sci-fi, and I don't really even like sci-fi, apart from 'Oryx and Crake' by Margaret Atwood, and 'The Martian Chronicles' by Isac Asimov, and Ray Bradbury's 'Fahrenheit 451', and … well, maybe I do like sci-fi.
Back to habits. I like my online dictionary open at all times (terrible speller), but tend to steer clear of the thesaurus (too many adjectives is a schoolgirl error in writing – I am still looking for the cure). I get side-tracked – researching stuff, cross-referencing information, emailing friends for their opinions and finally coming up with an essential sentence or two for my book. I drink water, tea and more water while writing. I occasionally lie down on the bed and fall asleep whilst thinking about plot or character development. No minimum daily word-counts. Don't like them.
What authors, or books have influenced you?
I have been told that some of my writing is reminiscent of Margaret Atwood's style, but that was by a close friend who loves me a lot. (Cat's Eye is one of my favourite books ever – so far). I've read every book by Ms Atwood and I even asked her to have I look at one of mine years ago. As far as I know, she was out of the office at the time, which was probably a good job for both of us. My first attempts at writing were painfully introspective. More influences – I could read David Mitchell till the cows come home (dialogue and voice). Love 'Fingersmith' by Sarah Waters (elegant, intricate plot), but didn't like 'The Night Watch' (took against a couple of the characters). I read lots of books at the same time, including French authors – just finished Hubert Haddad's 'Le Peintre d'Eventail' – breathtaking. He's on YouTube – ignore the madness and listen. Just started 'Bridget Jones's Diary' (admiring technique, loving 'fuckwittage', coveting diary genre), and about to start 'The Thirteenth Tale' by Diane Setterfield – recommended by a friend as being similar in style to one of my books, so I thought I'd check it out before tuning up my trumpet.
Every time I read something brilliant (all books have at least some brilliance) I am influenced. It's impossible not to be. A great read often sets me off on a new idea for a storyline or a character and I have to get writing. I'm convince that I draw on all the books I've ever read, all the films I've ever watched that have moved me or changed the world just a little
What are you working on now?
Ah. I think I already answered that one. Oops. In case you missed it – 'Stranded in the Seychelles' is a memoir, humorous, fast-moving and gently satirical. Third in the series of Bev and Carol adventures, ('One Summer in France', 'Bunny on a Bike').
What is your best method or website when it comes to promoting your books?
The million dollar question! Obviously, yours… Honestly? No idea. I'm still trying to work it out. There are free sites, ridiculously expensive sites and everything in between. But who knows where the sales come from? Certainly not me. I don't promote often – probably five times in almost 18 months. Got one coming up, though. 'One Summer in France' on 20th and 21st November – you've got it on your schedule, for which I thank you!
Promoting is a difficult job – I don't like to bully my friends, so I've got a separate author page, just created. I tweet a bit, too much sometimes, or not for days on end, and I like to put posts on my blog when I have a good idea, hoping to attract new readers and link up with like-minded authors. I am always surprised by how helpful other writers are and I like to reciprocate when I can, with honesty and integrity, ideally. There is no doubt that having a network of friends on Twitter, Facebook, personal blogs etc. is an immeasurable help to promoting your books. The danger is, however, that you end up promoting mainly to each other! The best method would definitely be to get your Awesome Gang to do it all for me. How much?
Do you have any advice for new authors?
Ready to cringe? 'Don't run before you can walk!' Ready for another? 'There's no such thing as good writing. Only good rewriting.' Robert Graves.
If I had to give my own personal advice, it would be 'Listen to the experts, who have written successful books. Books that a lot of people have read and enjoyed.' That's not to say that, if you are not earning a good living writing, your writing is not successful. What I mean is that, taking advice from experienced writers who have achieved some degree of notoriety, is a great place to start.
This is what Margaret Atwood advises:
"I never give advice to writers of the rule kind because as soon as you make some rules for writing, another writer is going to come along who breaks all of those rules and produces a brilliant piece of work. The only advice I give to writers is as follows, number one: read a lot. Number two: make judgments about what you read. I like this, I don't like that, this I feels succeeds; that I feel doesn't. Question yourself as to why. And third, I recommend that they read a book called The Gift, it's by Louis Hyde. It's not about how to write, it's about the gift aspect of writing, which is why they will not necessarily make lots of money doing it. Why there is no pension plan."
She has some other equally useful ideas here on: http://www.thewritingcode.com/pages/transcripts/atwood.html#atwood8
What is the best advice you have ever heard?
'Don't do it, if you don't enjoy it.'
What are you reading now?
Oh, dear! Already answered that one, too.
What's next for you as a writer?
Who knows? If you'd told me I'd be writing science fiction a couple of months ago, I would have laughed. I'll do anything that inspires me. On a more practical note, I'll be formatting another of my books for paperback soon, as I am gradually working out how bookshops operate and now have copies available in HyperU in Saintes, where there is an almost imperceptible level of interest from the expat circle. As my mortgage advisor told me once, 'Slowly, slowly, catchy monkey.' Don't you just love him?
If you were going to be stranded on a desert island and allowed to take 3 or 4 books with you what books would you bring?
Caught me, just as I was about to leave! Impossible to answer. Let's see. Collected works of Shakespeare (no apologies for this one), Robert Frost's poetry (soul food), can I have the Malory Towers series by Enid Blyton (unless someone has made them illegal)? And one more… umm…I know, a hardback copy of 'The Children's Bible' I had in 1964 (for the pictures and the nostalgia of my grandparents' quiet lounge with its large table and the all-pervading smell of polish, Brasso and woodsmoke).
Author Websites and Profiles
Bev Spicer Website
Bev Spicer Amazon Profile
Bev Spicer's Social Media Links
Goodreads Profile
Facebook Profile
Twitter Account