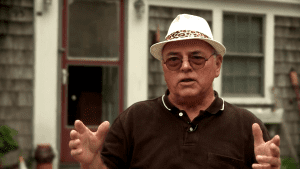 Tell us about yourself and how many books you have written.
After decades as a newspaper editor, reporter, newscaster, and disc jockey, I had some stories piled up that I wanted to tell. That led to the first of six books that I have on Kindle. My most popular work is based on my real life experience of seeing and talking with a hairy swamp creature one dark night. I blogged about it and that led to me being featured in the award winning film, The Bridgewater Triangle Documentary. Discovery channel interviewed me in a featured segment of Monsters and Mysteries in America, Season two, Episode one. Eventually I wrote a brief account of the eerie sighting as part of the book, The Creature From the Bridgewater Triangle.
What is the name of your latest book and what inspired it?
Jimmy Catfish – The Beginning and The End, was born after I wrote the novella, Swamp Tales – Horrors from the Hockomock Swamp and the Marshes of Cape Cod. The most popular story in the book was the tale of an unfortunate boy that people called 'Catfish' for his uncanny resemblance to the bottom dwelling, stinging scavenger fish. I felt compelled to flesh out the yarn, so I took the 4,000 word short story and called it The End, and then wrote a 45,000 word prequel leading up to the original short story.
Do you have any unusual writing habits?
I don't really write as much as observe, and then tell about what I saw, or imagined. In my book, "Crossing the Musical Color Line", I share details of great musicians, some famous and some not, that I was lucky enough to know or have met during a long broadcasting career. The subjects include one of the first men to break the color barrier in 1940s jazz; 'The Human Juke Box'; 'The King of the Malls'; and the story of a gangly man who showed up at my studio one morning in the Northernmost town of the 48 states, with a trunk full of 45 rpm records that he had self financed. I was the first DJ to play his song and it went on to become one of the top selling 'trucking' tunes of all times. The singer just kept peddling those 45s out of his trunk 'till he got all the way to Nashville.
For my 'Creature' book, I merely told what I saw. Since I still am not really comfortable speaking about the scariest moment of my life, I started to detail stories of imagined creatures. I found that I was much more at ease with imaginary bad things, than real ones!
What authors, or books have influenced you?
'Black Like Me', was one of the most powerful books that I read as a young man and it gave me a perspective that has helped me navigate successfully through nearly all 48 adjacent states as well as a few countries.
If I could literally take over and inhabit the body and mind of a great author, who would it be?
The answer is either Stuart Woods or Lee Child. I like Lee Child's books slightly more than Stuart's; but between the two, it seems that Mr. Woods had the more adventurous and exciting life.
What are you working on now?
I was going to do a prequel to the prequel of Jimmy Catfish. But one cloudless morning, I was daydreaming at the top of the prison like, stone tower on Scargo Hill in Dennis. It's the highest point on Cape Cod. As I was peering across the ocean, able to see Provincetown more than 20 miles distant, my mind began to link the landing of the Europeans there in the 1600s to a mythical princess from Dennis who filled a dried up lake, with just her tears. The idea began to expand to thoughts of telling the stories of four legendary women who lived 100 years apart – from 1600 to 1900. Three of the women are ghosts. The fourth; the Indian (Native American) Princess is not a haunt, but a gentle spirit. The lake she filled with tears still exists in Dennis on Cape Cod. Tourists and locals alike have been known to to say they have felt a warm, loving presence when they at at Princess Scargo's Lake. I hope they will get the same feeling when this book of legendary women is published.
What is your best method or website when it comes to promoting your books?
I have not yet begun promoting my books. I believe that people who have seen me on Destination America or in the Bridgewater Triangle Documentary are the purchasers of my work.
Do you have any advice for new authors?
Read.
What is the best advice you have ever heard?
Read.
What are you reading now?
Max Brand – an absolute genius from the early 1900s who wrote Westerns at a blistering pace.
What's next for you as a writer?
When I was younger I wondered how ideas came to writers. Now I have more ideas than time available. So, just as in walking, I will simply put one foot (book) forward and then the next.
If you were going to be stranded on a desert island and allowed to take 3 or 4 books with you what books would you bring?
I would certainly take one book by Stephen King, not that I like them all that much; but they are so long that I'm pretty sure I would be rescued before I finish the book. (That comment was intended to be humorous and should in no way be construed as any kind of a slam, slight, or disrespect to Mr. King.)
But…..just in case it's going to be a long, long time before I get rescued; I think I will take four books by Mr. King!
Author Websites and Profiles
Bill Russo Website
Bill Russo Amazon Profile
Bill Russo's Social Media Links
Facebook Profile