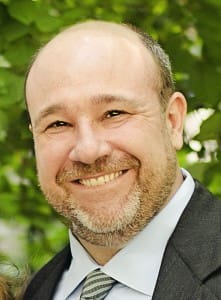 Tell us about yourself and how many books you have written.
I was born and raised in Trenton, New Jersey, before heading off to Duke University to study mechanical engineering. After spending some time working as an engineer in Maryland, I changed course and enrolled in the University of Michigan Law School. For the past fourteen years, I've represented banks and hedge funds as a transactional attorney in private practice in New York. I live in Manhattan with his wife, Erinn, and my two daughters, Maureen and Madeleine. So far, Peripheral Involvement is the only book I've written, but I'm working hard to change that.
What is the name of your latest book and what inspired it?
The book is called Peripheral Involvement, and it's meant to have sort of a double meaning. The main character gets entangled in a crime, but he's only indirectly involved, at the very edge of the plot. The title is primarily a description of his relationship to those events, but it also refers to his feelings about his level of engagement in his career and his everyday life, which he's spurred to examine when questions about the crime re-surface fifteen years later.
Do you have any unusual writing habits?
I'm not sure that it's all that unusual, but I tend to do all my writing late at night, after everyone else in my house goes to bed. Between work and family, it's usually the only time that I'm able to find. Because of that limited schedule, I tend to work very slowly, and my novels are very long-term projects. It's frustrating. sometimes, but it does have the benefit of giving me quite a bit of time for reflection. I tend to come up with ideas throughout the day and then work them out on paper in the wee hours.
What authors, or books have influenced you?
Joseph Heller's Catch-22, for sure – I love his sense of humor and the way he deals with absurdity. Hunter S. Thompson, for similar reasons (although his work is obviously very different). Dostoevsky, Sartre, Joseph Conrad… many, many more.
What are you working on now?
I've been working on a second novel for almost a year, a noir-ish mystery, and I'm very excited about it. It's not a sequel to Peripheral Involvement – it's a completely different story with a new cast of characters. It takes place in the Florida Keys, and it involves a disgraced ex-televangelist, his daughter, and a wealthy, old-money New York family. I've been working much faster than I did on the last one, but I still have to fit my writing in around my day job, so there are limits on how much I can do at a time. The first draft is probably about three-quarters of the way there, and I'm hoping to get through the rest of it by the end of the summer.
What is your best method or website when it comes to promoting your books?
That's the challenge I've been grappling with since I released the book in February. I've done a lot on Facebook and by directly contacting people, but that only gets me as far as friends and some friends of friends. I've encouraged (begged) all of them to spread the word as much as they can. I've also started a website where readers can learn more about me, follow my blog and (hopefully) have their interest piqued, and I just did two giveaways on Goodreads to try to get some attention there. I've reached out to book bloggers and reviewers, and gotten a little traction there, but my biggest hope is that people who enjoy Peripheral Involvement will tell a few friends about it and it'll continue to gather steam by word of mouth.
Do you have any advice for new authors?
Nothing earth-shattering, really, but I would urge any new author to resist the feeling that you have to have an entire story plotted out before you begin writing. Just come up with an idea for a character, and an interesting scene or two, and start running with it. Maybe it won't go anywhere, but maybe it will. If you wait until you've got the entire plot outlined in your head, you might never get started.
What is the best advice you have ever heard?
It has to be Elmore Leonard's line: "Try to leave out the parts that readers tend to skip." I try to follow that advice as best I can.
What are you reading now?
I'm embarrassed to admit how little time I make for reading these days. I just finished (and very much enjoyed) a non-fiction book written by a friend, Phil Johnston, called True South, which contrasts the leadership styles employed by Robert Scott and Roald Amundsen in their competing 1912 polar expeditions. On the fiction side, I'm reading John LeCarre's Tinker, Tailor, Soldier, Spy (yes, I understand that I'm about forty years late to that party). I'm also planning on reaidng the Game of Thrones series, at some point.
What's next for you as a writer?
My immediate goal is to finish my second novel. Beyond that, I've always wanted to try to write something more humorous, so maybe I'll turn to that next. I've given it some thought in the past, but haven't quite been able to settle on an idea. I figure that the world is full of things that are begging to made fun of, so I'm hoping it'll come to me eventually.
Also, I never really envisioned a sequel to Peripheral Involvement, but enough people have brought it up that I've started to think about it. I'm not sure yet that it's something I'll pursue, but it's definitely on my radar.
If you were going to be stranded on a desert island and allowed to take 3 or 4 books with you what books would you bring?
A collection of Plato's dialogues, Joseph Heller's Catch-22, Hunter S. Thompson's Fear and Loathing in Las Vegas and Robert L. Stevenson's Treasure Island (to get into the spirit of things).
Author Websites and Profiles
Bob Waldner Website
Bob Waldner Amazon Profile
Bob Waldner Author Profile on Smashwords
Bob Waldner's Social Media Links
Goodreads Profile