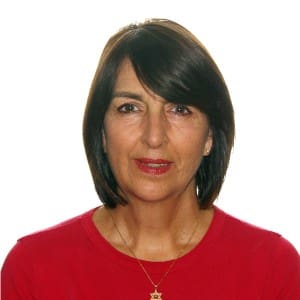 Tell us about yourself and how many books you have written.
My first book was "She Does Not Fear the Snow," my story of coming to faith in a Jerusalem church where, as a Jew, I thought I wasn't supposed to be. It was a Munce 2012 prizewinner and became an Amazon #1 bestseller. I came to faith in the Land of Israel and was blessed with a new husband of faith, like biblical Ruth. The title is inspired by Proverbs 31, a line from the description of the attributes of a good woman. It seemed an especially good fit for my title because my husband is a Canadian: actually, though, it's a bit of a fib. I am afraid of the snow.
What is the name of your latest book and what inspired it?
My latest book is "Love Triangles, Discovering Jesus the Jew in Today's Israel". Is is kind of a sequel to "She Does Not Fear the Snow" since it deals with the two years Butch, my husband, and I spent in Israel, following our marriage. It was a time full of joys in meeting Jesus in every stunning landscape but also challenges, since Israel does not like its Jews who believe in Jesus.
Do you have any unusual writing habits?
The most unusual thing about my writing I think is that I think I may have created a new genre: investigative memoir. This is the genre I attribute to "Love Triangles, Discovering Jesus the Jew in Today's Israel" because I've interviewed many other people for their stories and researched a lot of history. The memoir is as much a reflection of my interests as of my story.
What authors, or books have influenced you?
My approach to creative non-fiction has been influenced by Laura Hillenbrand's "Seabiscuit". I have discerned strands of investigative memoir in Susan Orlean's "The Orchid Thief". My favorite memoir is Derek Prince's "Appointment in Jerusalem".
What are you working on now?
Right now, I am in launch mode for "Love Triangles" which is all-consuming. I have a fiction book about Israel waiting in the wings. It's set in 1950 and is inspired by a story of Solomon in the Bible. Two mothers claim a baby and he has to decide which one the child belongs to. In my story, a girl who thinks her British Mum is her mother suddenly learns that she is the daughter of a Holocaust survivor who is now living in Israel.
What is your best method or website when it comes to promoting your books?
The thing that worked best for me to publicize "She Does Not Fear the Snow" was making it free on Kindle. Awesome Gang offered a lot of information that helped to promote that offer.
Do you have any advice for new authors?
Books are like building blocks. With every subsequent release, we learn more.
What is the best advice you have ever heard?
Do not skimp on editing. Get someone really good to support you. I'm not just talking about proof reading but sorting out clumsy phrasing, confusing statements, repetitions etc.
What are you reading now?
Huge pile of pleasurable reads on my bedside table that I hope to get to in a month or so. Reading marketing books as of this moment, such as Jeff Walker's "Launch".
What's next for you as a writer?
Maybe the fiction project mentioned above or maybe another faith-based book. I have a lot of ideas in holding patterns.
If you were going to be stranded on a desert island and allowed to take 3 or 4 books with you what books would you bring?
The Bible of course. I never tire of that. My all-time favorite novel is Daphne duMaurier's "Rebecca" which I even forgive its shortcomings because it's so wonderfully atmospheric. What are the shortcomings? The primary scene where the murder is described is reported to the narrator rather than told by her. There are allusions to a) a stage after the show and b) sailing on a boat that would have been outside of the experience of the narrator but that Daphne du Maurier knew well.
Author Websites and Profiles
Bobbie Ann Cole Website
Bobbie Ann Cole Amazon Profile
Bobbie Ann Cole's Social Media Links
Goodreads Profile
Facebook Profile
Twitter Account
---
Author Interview Series
To discover a new author, check out our Featured Authors page. We have some of the best authors around. They are just waiting for you to discover them. If you enjoyed this writer's interview feel free to share it using the buttons below. Sharing is caring!
If you are an author and want to be interviewed just fill out out Author Interview page. After submitting we will send it out in our newsletters and social media channels that are filled with readers looking to discover new books to read.
If you are looking for a new book to read check out our Featured Books Page.