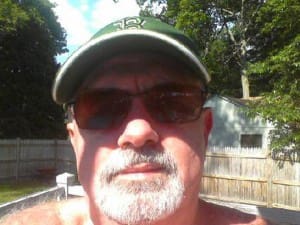 Tell us about yourself and how many books you have written.
I'm also a music journalist and have had over 300 articles printed in online and print guitar magazines over the past decade. So, although fiction is my favorite subject to write, much of my time has been devoted to the other area. I like meeting successful people, so interviewing famous and up-and-coming guitar players often puts my fiction writing on the back burner for a while. I've interviewed over 70 famous guitar players, from Warren Haynes, Joe Bonamassa, Joe Satriani, Gary Moore, Eric Johnson, John Patrucci, and Steve Lukather, to Ronnie Earl, Walter Trout, John Mayall, Steve Cropper, Robin Trower, and many more. But I've since changed burners and placed music journalism on the back one. I've also many published short stories, but my recently published first novel is the writing project of the moment.
What is the name of your latest book and what inspired it?
My novel is titled "The Three Doors." I've been a horror buff most of my life, so putting together a scary story of my own has been a goal for a while. Another goal was to write the scariest book ever written. I'm not sure if I'll ever reach that one, but the novel seems to be scaring many people who read it.
Writers seem to generally agree on the idea that the best and easiest way to start a story is to first comprise a beginning, a middle, and an end. The rest is all about filling in the between areas with important information and situations that connect those three things. In doing this, I was inspired by many different stories and writers, but much of the inspiration for this story and its sections can be attributed to my love and adoration for these four stories especially: Dickens' Christmas Carol, The Wizard of Oz, The Exorcist, and Stanley Kubrick's Eyes Wide Shut. I didn't take anything literally from those stories, as mine is all original, but the fact that it contains a haunted castle holding unfortunate captives, a wicked cult Master, devilish manifestations and possessed individuals, and an ending that can't be revealed here leads one to understand what I mean.
Do you have any unusual writing habits?
I'm retired from the railroad in Boston, Massachusetts, and my children are now grown up; so, unlike many writers, I'm lucky enough to have some flexible time for my writing. But with that said, I like to sit down at my desk and pc with the intention to enter my fantasy worlds between 8AM and 1PM. I usually write non-stop between those hours, though I often keep on going for the rest of the day, especially if I'm feeling inspired. But as many writers know, things always get in the way too. After all, life's chores and errands need to be done, house cleaning, food shopping, etc.; so time has to be allotted carefully.
What authors, or books have influenced you?
I'm also an avid reader, which is an essential pastime for any serious author. As I had mentioned, horror is my favorite genre, but I like to mix it up when reading. I like a bit of everything. And besides the books and movies already mentioned, I read a lot of Stephen King, Dean Koontz, John Saul, Anne Rice, Jack Ketchum, Edward Lee, Edgar Allan Poe, Lovecraft, Hemingway, Grisham, Frank Conroy, Tolkien, George RR Martin, Dan Brown, Vonnegut, Hesse, Diane Setterfield, Crichton, Robert Heinlein, Bradbury, Heller, Orson Scott Card, and more. I could go on and on. I like so many of them.
What are you working on now?
My novel "The Three Doors" is basically in the horror genre, but it contains so many other elements as well, like romance, occult, paranormal, fantasy, and religion. It seems to be my area, or areas, so the novel I'm writing now is going in that direction too, yet with maybe less of one or more of those elements and more of one or two. I'll soon be releasing a book of short stories as well.
What is your best method or website when it comes to promoting your books?
I'm beginning to discover a lot of good websites for book promotion lately. You certainly can't knock Amazon for promotion and sales, and places like Smashwords and Barnes & Noble help greatly as well. But I'm finding many great sites for promotion alone, like Goodreads, Kindle Boards, Shelfari, and Writer's Net. Awesome Gang appears to be soaring to the top of my list as well.
Do you have any advice for new authors?
The best advice I have for new authors is to keep writing. That's the only way to become good at it. Plus, the modern age has opened doors for new authors to easily publish their work. But with that said, sometimes it's too easy. What I mean is that although technology has made it easy to get published, the biggest mistake one can make is to jump right into publishing unprepared. Make sure your book looks professional, in all areas, formatting, grammar, and story flow. Take your writing seriously. I can't stress how important good grammar is; sentence structure, spelling, using the correct word. Make sure the flow is interesting and readable. Rewrite and rewrite again.
What is the best advice you have ever heard?
Practice makes perfect. Write, write, and write some more.
What are you reading now?
Right now I'm midway through "The Cove," by Ron Rash. It's an endearing story about Carolina mountain folk in the World War One era. Rash is an expert at scene setting and making it appear as though the reader is in the room with his characters, or sitting upon a rocking chair on the front porch of the ranch house. I just finished reading "City Infernal" by Edward Lee. It's Lee's visual of a contemporary Hell. So, as you can see, I go from one extreme to the other.
What's next for you as a writer?
I'll continue writing for sure. I hope to publish a book of short stories soon, and finish my next novel as well. I have a couple of others in mind too. Plus, I'll fit in some more music journalism when I can.
What is your favorite book of all time?
I have a few favorite books of all time. One is "Something Happened," by Joseph Heller. Another is "Body & Soul," by Frank Conroy. A recent favorite is Stephen King's "11-22-63." I love everything by Poe and Lovecraft.
Author Websites and Profiles
Brian D Holland Website
Brian D Holland Amazon Profile
Brian D Holland Author Profile Other Bookseller
Brian D Holland's Social Media Links
Goodreads Profile
---
Author Interview Series
To discover a new author, check out our Featured Authors page. We have some of the best authors around. They are just waiting for you to discover them. If you enjoyed this writer's interview feel free to share it using the buttons below. Sharing is caring!
If you are an author and want to be interviewed just fill out out Author Interview page. After submitting we will send it out in our newsletters and social media channels that are filled with readers looking to discover new books to read.
If you are looking for a new book to read check out our Featured Books Page.