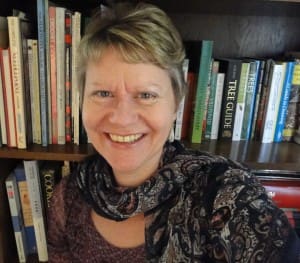 Tell us about yourself and how many books you have written.
Now, what can I tell you about myself? Well, I live in Bulgaria with my husband and son. I'm from the UK. And the more I live abroad, the more English I feel! But living in this part of the world has its advantages. For I love trees – and there are some wonderful trees here. I also love books, medieval manuscripts, and researching my family history – and I can read and research everything I need online. Isn't that wonderful? I also love languages, words and their origins… and reading. And now I've finished my first book.
What is the name of your latest book and what inspired it?
My novel is called The Mazer. A mazer is a medieval ceremonial cup made of wood and decorated with precious metal and stone. But this wasn't the original inspiration behind the book. No – it was just one word which caught my attention one day as I was browsing an online version of an old English herbal – one of those medieval manuscripts showing the classification of plants.
The word that made me sit up was a herb called southernwood. And being somewhat of a tree-lover, I began to imagine a place with the same name – Southernwood. There would be Northernwood, too, of course. And Easternwood – and Westernwood! And so my island was born, and other woods and fields and rivers appeared in my mind and I drew my map, and imagined who lived there and what problems faced my islanders. What was the conflict? What would be my story?
Do you have any unusual writing habits?
One writing habit I have found to be of tremendous use is listening to music. (I am sure that this is not an unusual writing habit, but if you want to try your hand at writing a huge but difficult scene, I think this will help you.) Classical music is best. Or movie soundtracks – those rousing, orchestral monsters that make you shudder in your slippers as you're bashing out words on your keyboard and crying into your cup of tea as you shake your head over the terrible decision your character has just made.
What authors, or books have influenced you?
I have read many books by many authors but I am not sure how much they have influenced me. Oscar Wilde's short stories spring to mind – his tale of The Selfish Giant is one that I imagine very vividly. Edgar Allan Poe's A Descent Into the Maelstrom was terrifying. I loved it! The Secret Garden by Frances Hodgson Burnett is a simple tale in many ways, yet wonderous, too. Narnia, Harry Potter, The Lord of the Rings… what wonderful stories, what fabulous settings. These authors open a door to other worlds, worlds I can visit again and again through the written word.
What are you working on now?
I am writing my next book. It will continue the story of the island of Southernwood. The Mazer is not currently classed as a "series." This is because there is no second book. (Or third, although I believe there will be at least three books about the Island of Southernwood.) But when my second book is written, I shall declare The Mazer to be the first of a series 🙂
What is your best method or website when it comes to promoting your books?
I am new to book promotion. I am a fairly quiet person, not at all used to blowing my own trumpet. I have found, however, that being myself is the best method when "marketing" my book. I cannot say, "Here, read this! What an amazing novel!" But I can say, "Here is my book. I am so happy about it. I love this story. Would you like to find out about it? Find out about my ideas, the places that inspired me, the funny things that happened as I wrote, the trees I met, the skies I saw, the sunsets that made me understand more about my world and what happened there?"
Do you have any advice for new authors?
I do have advice for new authors. And that is: do not worry about following anyone's advice. Because you will probably try it, give up on it, do your own thing, then realize that you should have followed their advice in the first place. But – experience is golden. Do your own thing. Write *your* story. Don't follow a formula. Give a part of yourself to the world – in words. You'll be glad you did.
What is the best advice you have ever heard?
"Write the best and most original book you can."
What are you reading now?
I am reading three books at the moment.
I have just acquired Collins Tree Guide – a field guide to the trees of Britain and Europe. It is amazing. The Hungarian Oak. The Hornbeams and Hophornbeams. And the Paper-bark Birch.
My next book is called Crochet, Tatting, Teneriffe Lace…. etc… edited by Helen Crosier and published in 1953. Because I am a sucker for crochet and braidwork. As well as vintage books.
And on my Kindle (at last!) I am about to start reading Resurrection by Arwen Elys Dayton.
What's next for you as a writer?
What's next? Planning my next book. I have scenes in my mind. I know what happens. It's just a question of something called Hard Graft. Ouch!
If you were going to be stranded on a desert island and allowed to take 3 or 4 books with you what books would you bring?
I would bring one of my tree reference books.
I'd bring a Bible.
And probably Lord of the Rings.
Oh – and my Chambers English Dictionary. And Brewer's Dictionary of Phrase and Fable. And Roget's Thesaurus.
I never was very good with numbers 😉
Author Websites and Profiles
C.K. Nolan Website
C.K. Nolan Amazon Profile
C.K. Nolan's Social Media Links
Facebook Profile
Twitter Account