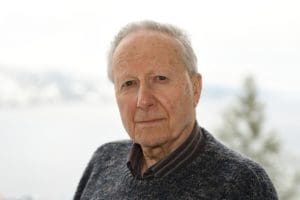 Tell us about yourself and how many books you have written.
My life and career have changed several times. I was born in Edmonton, awarded the Rutherford Gold Medal in English for my BA in English Honours,; have an MA in English (Shakespeare), both from the University of Alberta. I have taught at three different universities in English, Philosophy, and Theatre; trained as an actor at the Royal Academy of Dramatic Art in London; later went to the Laban Art of Movement Studio and Ecole Jacques Lecoq, and have acted and directed professionally in Canada and acted in England. Because of Company One Theatre, which I created, I was invited to teach at the National Theatre School for three years.
What has the above to do with my writing? When I was in the Department of Drama at the University of Alberta in the '90s, inspired by my wife's Norwegian ancestry, I wrote a play about Henrik Ibsen and his wife Suzanna called The Eagle and the Tiger—their nicknames for each other. But in studying Ibsen, I found that until he was forty, he had written in poetry—plays, poems, even letters—and so I decided to write the play poetically. But you don't just start to write poetry; I had to learn the craft, and I wrote all sorts of occasional poetry for weddings, births, deaths, occasions, and then other poetry, and then wrote the play. And I have continued to write poetry ever since.
Books I have written or have poetry in A Weathering of Years
On the River of Time:
Book One: Odysseus
Book Two: Spenser
Book Three: Archer (forthcoming)
Recollections of Malcolm Forsyth
Other works: six children's poems set to music by Malcolm Forsyth
Commission for a poem for Forsyth's Ballad of Canada
What is the name of your latest book and what inspired it?
Spenser: Book Two of the trilogy On the River of Time
The inspiration for this book—and the other books of the epic trilogy—took place twenty-seven years ago. My son and I were touring the Fringe festivals on the prairies with a one-man production of the first two books of the Iliad, translated by the English poet Christopher Logue as Kings. We had just arrived in Winnipeg when I discovered that I had run out of science fiction to read. I went to an old bookstore near the Fringe and by accident discovered The Collected Poems of Edmund Spenser, and a forty-year-old tinge of guilt afflicted me—I had bits of Spenser's poetry when I was in English Honours, but had avoided as much of his epic The Fairie Queene as I could manage. And so I bought the book and I read the epic. But I also read his biography and discovered to my horror that when he was writing the epic, which deals with the virtues, simultaneously he was writing a treatise essentially advocating the genocide of the Irish. Here was one of the greatest English poets, speaking with the tongue of angels, who was holding the virtues and genocide in his mind together.
And the last twenty-seven years have been spent trying to figure out why, and how to write about it. The poetic epic trilogy is what has been created as a result. The three books cover 3,000 years, from the time of Odysseus to the last four months of Spenser's life in the sixteenth century, to Ray Archer, and actor/director of this century, and their journeys and struggles. Odysseus was published several years ago, and Spenser is the latest one published. The third is still in draft.
Do you have any unusual writing habits?
Oh yes. I do have a desk. But I have written in hotel rooms; in bedrooms where I stay in my children's houses; on their kitchen and dining room tables; on a bench outside a restaurant at Disney World, waiting for my family to come; in the stands, while watching my grandchildren skateboard; on the ledge of a window in the vestibule of a cinema. When the need is there, you fulfill it.
What authors, or books have influenced you?
Shakespeare, of course. But there was one incident when I was a teen that I have never forgotten. It was a week or so before I wrote my Grade XII provincial exams, and I happened to read a play by George Bernard Shaw. It astonished me with the power and imagination of his language, of his sense of irony, and of his extraordinary gift for words. I was enchanted by the beauty of the words, the power of the vision, and I immediately got and read, night and day, all fifty-four of his plays. I don't know how I passed the exams. But it taught me the beauty of the sound of words, their arrangement, what they sprang in the mind. And that has stayed with me to this day.
I can't say what other authors or their books have influenced me. Over the past thirty years, I have read more poetry, from the Greeks up to the present, and before that, I was deeply affected by the plays of Sean O'Casey and Bertolt Brecht and Ibsen, and the poetry of Yeats and Seamus Heaney.
What are you working on now?
On the third book of the trilogy, Archer. This one has been the hardest to write. In the first part, Archer takes his company across the country performing King Lear in a mask, and while he goes he finishes making notes for a huge production that will portray the entire history of this country; in the second part, the work is finished and performed again across the country; and in the third, it is invited to be performed in Irish festivals, where things happen. It is almost finished. A few revisions, some possible cuts, and it is done.
What is your best method or website when it comes to promoting your books?
I do have a website (www.carlhare.ca) and a Facebook page. I also do readings for Book Clubs and other organizations.
Do you have any advice for new authors?
Whatever your idiom, work in its craft until imagination can have a form in which to express.
Let your eyes watch, your ears hear, taste, smell, touch. Be sensitive to your inner self. Explore deeply that about which you wish to speak. Work until you can find your own voice, which may not come at first, but be patient.
What is the best advice you have ever heard?
It was not something I heard, but something I saw. I had written a paragraph to introduce an essay. My professor, using his red pen, stroked out most of the words to expose the one sentence that was needed there.
What are you reading now?
Between the many other things enveloping my life, The Greek Poets: Homer to the Present.
What's next for you as a writer?
I have three books at various stages of completion.
Sleepywing and other poems for younger children is waiting for my artist to finish the wonderful pictures he has created for the poems.
Crannies of my Folded Days is a book by my wife about a Norwegian immigrant family on a prairie farm that I am editing.
Clara: Life, Death, Love is a book about my late wife and our lives.
If you were going to be stranded on a desert island and allowed to take 3 or 4 books with you what books would you bring?
Shakespeare's Plays and Poems, and whatever I fancied before I was stranded.
Author Websites and Profiles
Carl Hare Website
Carl Hare Amazon Profile
Carl Hare's Social Media Links
Goodreads Profile
Facebook Profile
Twitter Account