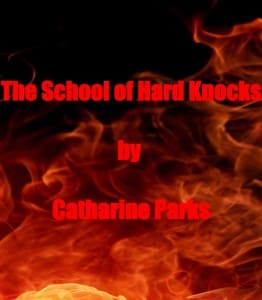 Tell us about yourself and how many books you have written.
I live in Niagara Falls, Ontario about 10 minutes away from the falls. I am an artist, singer-songwriter, writer and love to read.
My love of words started in early childhood when I would make up fictitious words and songs. I have been a songwriter since being gifted in 1983, and have recorded several songs of her own as well as the song, Proud to be Canadian in 1991.
I write from life and true experiences, usually with a supernatural twist. On January 25, 2007, my first devotional, A Glimpse of the Cross, on the Mustard Seed Ministries Site was published; it is based on a vision. Cliffhanger(Over the Cliff) was published in November 2007 in Fate Magazine, a short story come true forewarned by a dream. Ms. Parks writes based on dreams that come true, or real life experiences.
What is the name of your latest book and what inspired it?
More lessons from the School of Hard Knocks, Volume 2. Just more awesome supernatural stories that are true.
Do you have any unusual writing habits?
Not that I know of.
What authors, or books have influenced you?
I love Christine Feehan's books.
What are you working on now?
I am working on a book with my sister called 'Deliverance from Evil' it has been in the making 10 years now.
What is your best method or website when it comes to promoting your books?
Don't have any best method yet, still doing research in promoting my books.
Do you have any advice for new authors?
Never give up, no matter how long it takes, keep persevering, and it will pay off. Keeping a journal is one of the best things you can do, you never know when you can make material out of what you saw, heard or experienced on any particular day.
What is the best advice you have ever heard?
Write down awesome and unusual things you have heard. You never know when you can use it.
What are you reading now?
Kathy Reich's Break no Bones. I just finished reading a couple of James Patterson books who is a fantastic author.
What's next for you as a writer?
To finish my book, Deliverance from Evil. I am also presently working on my 3rd e-book called For Shattered Souls.
If you were going to be stranded on a desert island and allowed to take 3 or 4 books with you what books would you bring?
Any Christine Feehan book.
James Patterson
My manuscript I am presently working on – Deliverance From Evil.
My manuscript I am presently working on – For Shattered Souls.
Author Websites and Profiles
Catharine Parks Amazon Profile
Catharine Parks's Social Media Links
Facebook Profile