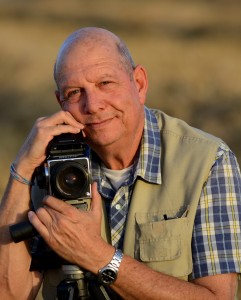 Tell us about yourself and how many books you have written.
I live with my family in Kibbutz Shiller in Israel, where I was born in 1945. I continued my parent's legacy by staying at the same place as they do. They came to this Kibbutz in 1937 after a last-minute escape from Nazi Germany.
For many years I've been documenting the events and lifestyle of the Kibbutz while developing my artistic skills. My work has been focused on photography of the nature landscapes of Israel, industrial environment and the interaction of people with technology. I have presented my work in many galleries in Israel and the United States. I have also lectured on these subjects under the general title "You Create Your Image". In 2000 I won first prize in the "International Competition for Nature and Landscape Photography" which was held in Israel that year. In 1997 I have authored a book titled "I'll Take You There" which presents the nature landscapes of Israel. It has become one of the most popular photo books in Israel. Since 2002 I serve as a member of Bezalel Academy of Arts and design- board of trustees in Jerusalem.
What is the name of your latest book and what inspired it?
My latest book "Israel, Photography Paths" summarizes all my art work of the last 3 decades. This album captures the Israeli landscapes, industrial environment, people in their work places, families in different life style, portraits and more. The chapters of text that follow the pictures, tells my thoughts about photography.
Usually people are attached to their environment. I believe that the way I look at natural, as well as agricultural landscape, is influenced by the kibbutz way of life. Where I was born and where I live, the open spaces and cultivated fields I see when I open my window, driving on dusty roads, the way the fields change their colors from season to season, the farming cycle and crop collection schedules. I evoke images from the distant past – manual cotton picking after school, picking potatoes and peanuts out of the earth – and wonder, how did all these images and experiences affect my artwork in the present? Did they somehow pave the way to how I would express myself and create in future years?
Do you have any unusual writing habits?
My writing naturally follows my photographs to complement the impression of the viewer. It comes from the deep of my inner, expressing my feeling about the subject I was dealing with.
What authors, or books have influenced you?
In addition to photography books of different artist, I find great interest in History and wars of the 20th century. Authors like Hans Fallada, Andrew Nagorski and Paullina Simons are my favorites, as well as classic authors like Ayn Rand (The Fountainhead)
What are you working on now?
I keep going with a new photography project, which I hope will lead to a new book.
What is your best method or website when it comes to promoting your books?
In my opinion, the best way to promote the book is by Social Media, especially in mine and my friend's facebook pages.
Do you have any advice for new authors?
Follow your intuition and write from the bottom of your soul.
What is the best advice you have ever heard?
Be yourself and play your own role in the world.
What are you reading now?
I'm reading a book by the author Amos Oz: "A tale of love and darkness"
What's next for you as a writer?
Taking pictures for a new project in order and eventually publish a new book.
If you were going to be stranded on a desert island and allowed to take 3 or 4 books with you what books would you bring?
I would take these books: "The Bronze Horseman" by Paullina Simons, "The Greatest Battle" by Andrew Nagorski, "La Chambre Calaire" (Thoughts of Photography) by Roland Barthes and "The Second World War" by Antony Beevor.
Author Websites and Profiles
Chanan Getraide Website
Chanan Getraide Amazon Profile
Chanan Getraide's Social Media Links
Facebook Profile
Twitter Account