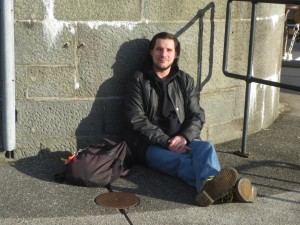 Tell us about yourself and how many books you have written.
Charlie is a British author who has written a series of mystery and suspense novels which span a period of time from 1855 – 1906 each based upon a real life curiosity in the history of the world. His stories are noted both for their darkness and their historical accuracy.
Born in Essex and raised in Cornwall, Charlie found his true home in Bristol – a city which will feature as the backdrop to a future series of books to begin later this year.
I've written 5 books in all
The Devils Walk
The Monster of Berkeley Square
1888 – A Jack the Ripper novel
The Ruins of San Francisco
and the first in what I hope will be a series of for "Bristol Mysteries"
Gallows Humour
What is the name of your latest book and what inspired it?
Gallows Humour was be released on the 10th of April, 2015 and is the first in an ongoing series (four books have been plotted so far, with an option to go on if they prove popular with readers.) In many ways this is entirely new territory for me, not least of all because this is the very first novel I have written set in modern times; and the first one set entirely in my home city of Bristol.
I had been thinking about creating an amateur detective character for some time, mostly because crime fiction is a genre I have always enjoyed but also because there is something about the structure of crafting a mystery that greatly appealed to me. Of my past four books, three at least are at their heart murder mysteries (1888, being the most obvious, of course) so it wasn't entirely breaking new ground to go for the all out traditional detective route but In a world full of amateur sleuths, I wanted to try for something different that while not entirely breaking the mould, might at least give it a little dent.
The idea for Franklin Gallow came to me one afternoon last year when I was going for a walk along the harbour side in Bristol as a break from finishing the final chapters of The Ruins of San Francisco. Whenever one book is coming to a close, I am always on the lookout for a different story to tell – my brain has always worked like this for as long as I can remember being able to think; at any one time I am tossing an idea about in my head and trying to give it some shape and if I have no ideas, I go back to one of the multitudes of old stories that I have been playing about with since my teenage years. This time it felt different though; I had simply never been struck by an idea as vividly and as fully formed as Franklin Gallow as I was that afternoon; as if the man himself had taken up residence inside my head and had started unpacking his suitcase after saying to me, "I suppose I shall be living in here from now on."
At first I didn't know him as Franklin, but his surname was always Gallow to me and admittedly, when he first appeared he was a crime scene photographer; it would take another couple of hours before he had become an undertaker (or a funeral director, as he would be quick to correct you) and it was by that time I knew where he lived and how he dressed; I knew he had red hair that was turning a touch grey and above all else, I knew that as he turned forty, he was reevaluating his life and realising that he had spent too much of it solely among the dead.
Franklin was soon accompanied by a teenage apprentice named Rowan (after a girl in my college Drama class, whose name I had squirreled away in hopes of using one day – just as "Kendrick" was nabbed from a friend of mine for The Ruins of San Francisco.) it was quickly apparent that Rowan Kaplan would be just as important to the story as her boss and would prove every bit his equal in smarts and nosiness; in fact, if I were to tally up chapters that had one or the other as their focus, Rowan Kaplan, the resourceful, constantly underestimated assistant to Franklin Gallow could well have ended up owning the majority of the story. Initially she was to be a kind of semi-goth with pale skin, raven hair and an unhealthy preoccupation with death, but I quickly learned that such a stark looking person would be essentially unemployable at a funeral home where morbidity is to be hidden at all costs.
Rowan therefore became a very different kind of girl. Instead of pasty white of skin, she became black (a fact which plays very little role in the first book, but is almost central to the second one.) Instead of being fascinated by death, she is a young woman who once lived a very comfortable upper working/lower middle class life that was torn asunder by such a huge tragedy her family has yet to even begin recovering from it – a crime that would be solved in the fourth book of the series (yes, I have been doing a lot of planning!)
Do you have any unusual writing habits?
I love to write perched on the dockside in Bristol watching the World and the boats go by. Bristol is a wonderful city – the second largest in the south of the UK after London – and is vibrant, exciting and a perfect backdrop to my new novel.
What authors, or books have influenced you?
It probably goes without saying that I love Bristol, but I shall say it nevertheless, I LOVE Bristol. I first arrived here in 2000 to attend UWE (The University of the West of England) and despite my first reaction to stepping out of the car and into this new city was to vomit into a hedgerow with utter terror at leaving home, I very quickly learned that it wasn't just city living that worked for me, but this city worked for me. For a boy who grew up in rural Cornwall, I had always imagined myself to be a country mouse but it was only after moving here that I discovered that I was truly a town mouse at heart. I love this city for its architecture, its strange shape means a gorge rips the city in two and how seven hills shape the terrain of this urban sprawl.
What are you working on now?
I'm working on the second book in the "Bristol Mysteries" series
Author Websites and Profiles
Charlie Revelle-Smith Website
Charlie Revelle-Smith Amazon Profile
Charlie Revelle-Smith's Social Media Links
Facebook Profile
Twitter Account