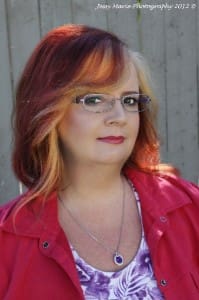 Tell us about yourself and how many books you have written.
I'm an international bestselling Canadian author who loves to say, "I kill people off for a living!" You can imagine the looks I get from people. Sometimes I'll tell them, "Fictitiously, of course. I'm an author." Sometimes I won't say anything; I'll let them wonder…
I have 12 ebooks and 9 paperbacks, plus my work is featured in a variety of anthologies.
Submerged, my latest novel, is a psychological suspense thriller with a hint of supernatural, and it promises to leave you breathless. But I am probably best known for Children of the Fog, a supernatural suspense thriller that has sold over 60,000 copies and made Amazon's Top 100 bestsellers list (#4 in overall list) multiple times out of nearly 2 million ebooks; and Whale Song (and Whale Song: School Edition), a much-loved, inspiring family tale with a hint of mystery, which is now available in its third edition–plus a school edition with a discussion guide.
My other titles include: The River, Divine Intervention, Divine Justice, Divine Duo, Skeletons in the Closet & Other Creepy Stories, Remote Control (novelette), and Lancelot's Lady (pen name: Cherish D'Angelo), plus one non-fiction work: How I Made Over $42,000 in 1 Month Selling My Kindle eBooks.
Booklist calls me "a big hit in Canada…a name to reckon with south of the border."
Born in Vancouver, BC, I was a "military brat" and a "military wife" who has lived all across Canada and in Bermuda. I now reside in Edmonton, AB, with my husband Marc and our Pomeranian Princess, Chai.
I am represented by Erica Spellman-Silverman from Trident Media Group.
My links:
http://www.cherylktardif.com
http://www.cherylktardif.blogspot.com
https://www.facebook.com/pages/Cheryl-Kaye-Tardif-novels/29769736630
What is the name of your latest book and what inspired it?
My most recent novel is SUBMERGED, a psychological suspense thriller with a supernatural twist that will leave you breathless. It was inspired by my fear of being trapped in a submerged vehicle. Glub, glub! I've since discovered that I am not the only one with this fear.
Do you have any unusual writing habits?
I write for about half of the year; the rest is spent publishing other people's books at Imajin Books, my company.
What authors, or books have influenced you?
Stephen King, Dean Koontz, JD Robb, John Saul, James Patterson and far too many others have influenced my writing greatly. I am an avid reader of all of them!
What are you working on now?
Book 3 in the Divine series – DIVINE SANCTUARY. This time Jasi McLellan and her covert team of psychic investigators are investigating a suspicious death at Sanctuary, a cult colony in BC, Canada.
What is your best method or website when it comes to promoting your books?
Amazon – http://www.amazon.com/Cheryl-Kaye-Tardif/e/B002C4V542
My website also helps: http://www.cherylktardif.com
Do you have any advice for new authors?
Read, write, edit, edit, edit. Then learn the business of publishing and expect to work hard and invest in your career.
What is the best advice you have ever heard?
"Don't worry if it gets published. Write it for yourself. Write it because you have to." This came from a friend, and her words started my career as a novelist.
"Dare to Dream…and Dream BIG!" That's mine. 🙂 Feel free to borrow it.
What are you reading now?
This interview?? LOL. Right now I'm in publish mode at Imajin Books so I don't have a book on the go.
What's next for you as a writer?
The New York Times and USA Today bestsellers lists! Seriously, that's my goal for August. 🙂
What is your favorite book of all time?
The Mists of Avalon! And Misery. It's a tie.
Author Websites and Profiles
Cheryl Kaye Tardif Website
Cheryl Kaye Tardif Amazon Profile
Cheryl Kaye Tardif Author Profile on Smashwords
Cheryl Kaye Tardif's Social Media Links
Goodreads Profile
Facebook Profile
Twitter Account
Pinterest Account