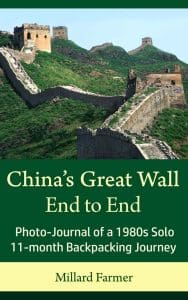 About China's Great Wall End to End by Millard Farmer
"China's Great Wall End to End" is the true story of a 1980s solo journey, hiking across China on top of the Great Wall. A continual battle of triumphs and jubilation over misery and misfortune, this photo journal documents this "Seventh Wonder of the World" like never before.
Even though China had just opened its borders to tourism, most of this 4000-mile adventure was "Out of Bounds" for foreigners. Freedom often hinged on hiding from a vigilant Chinese regime, however, that didn't prevent being captured, detained, and penalized over and over.
What began as a one-week trek turned into an extreme eleven-month challenge following this ancient Wall through the heartland of China.
150 original images featuring the Great Wall as it crosses China and vanishes in the Gobi Desert are included.
Confucius once said, "Determination make a wise man do foolish things."
Buy the book, and follow the author on social media:
Learn more about the writer. Visit the Author's Website.
Like the Authors Facebook Fan Page.

Author Bio:
A 1960s Viet Nam War combat field medic turned photojournalist, Millard Farmer has circled the globe for fifty years searching for untold adventure. In the mid-1980s he set out on a non-stop, 10-year, 150,000-mile bicycle journey, photo-documenting nearly 40 countries. His fascination for what comes next has always been the propelling force that has carried him across five of our seven continents.