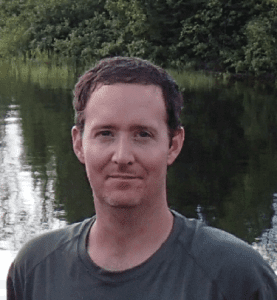 Tell us about yourself and how many books you have written.
I am an author of Young Adult Action/Adventure/Thriller novels who lives around St. Louis, Missouri. My debut novel was published by a small press in February 2013. Editing is almost done on a second unrelated book, and the sequel to my first published book is nearing completion.
What is the name of your latest book and what inspired it?
Fugitives from Northwoods is the book that was released in February. Like everything else I tend to write, it is strongly based in the great outdoors. I take my insipiration for the settings in all my books from sunlight & moonlight, still water & running water, and magnificent forests.
Fugitives has a darker, dystopian dimension to it. It's a future, crumbled America, but Freedom/Liberty shine through like a beacon of hope.
Do you have any unusual writing habits?
Not particularly. I write when I have free time, mostly weeknights and weekends.
What authors, or books have influenced you?
Ayn Rand's Atlas Shrugged. The liberty theme shines brightly.
The Hunger Games. It's how action/adventure/dystopian should be written. First person, personal, with deep emotions.
I also really appreciate how older Science Fiction like H.G. Wells is still relevant 100 years later.
What are you working on now?
The sequel to Fugitives from Northwoods, and another book, Game Changer, which is about a float trip gone terribly wrong. I like to think of Game Changer as Deliverance for kids.
What is your best method or website when it comes to promoting your books?
Still trying to figure that out. I'm hoping Goodreads will be key. Up to now it's been Facebook, and I've recently started to Tweet.
Do you have any advice for new authors?
Be persisent and believe in yourself. Find an honest critique group, hone your craft, prepare to be rejected (many times)…and never give up.
What is the best advice you have ever heard?
Whatever is worth doing…is worth doing well.
What are you reading now?
Nothing commercial at the moment. I'm mostly sharing reads with my edit group – some wonderfully talented, but currently unpublished, authors.
What's next for you as a writer?
Continue to learn, to improve, and ultimately to succeed. Fugitives from Northwoods has exceeded my expectations for a debut novel, and I feel like the sequel is even better.
What is your favorite book of all time?
Wow, tough one. I 'd say Atlas Shrugged or Catching Fire. The Hunger Games as a close third. Mockingjay was a bit of a disappointment.
Author Websites and Profiles
Chris Bostic Website
Chris Bostic Amazon Profile
Chris Bostic Author Profile Other Bookseller
Chris Bostic's Social Media Links
Goodreads Profile
Facebook Profile
Twitter Account