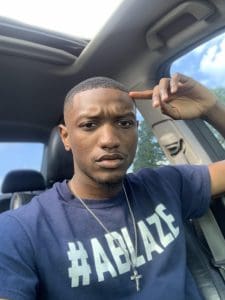 Tell us about yourself and how many books you have written.
I am a first-time author who loves telling exciting magical stories centered around African Americans and rooted in Christian themes. I enjoy reading, playing games like Assassin's Creed, and hanging out with my girlfriend. Through his stories, he desires to push his readers to question societal norms. I have written one novel and one novella.
What is the name of your latest book and what inspired it?
Spirit Warriors. I wanted to tell compelling stories in the fantasy realm that was centered around african Americans because I didn't see many as I read fantasy growing up. Also, I wanted a story that was about more than just young love, swords, and magic but that questioned societal norms and challenged beliefs.
Do you have any unusual writing habits?
I love to listen to music really loud because it helps me visualize what I am writing. I also like to be outside during certain scenes so when I'm describing the sunshine or the wind I can feel it.
What authors, or books have influenced you?
Cinda Williams Chima, Walter Dean Myers, Sherrilyn Kenyon, Brandon Sanderson, George RR Martin, N.K. Jemisin, and Tomi Adeyemi
What are you working on now?
I am working on book 2 of Secrets of A Hidden Realm, the book after Spirit Warriors. I am also working on a screenplay for a movie that I want to produce called Doohman. It is centered around a young black boy who struggles with the meaning of manhood.
What is your best method or website when it comes to promoting your books?
Facebook and Amazon ads.
Do you have any advice for new authors?
Write the story you want to read.
What is the best advice you have ever heard?
Never give up on your dream.
What are you reading now?
I am currently reading The Fifth Season, Good profit, and The principle of the Path. I would say attempting to read as I have just recently published by book and am extremely busy with it.
What's next for you as a writer?
I want to push out my next book before the end of the year and continue promoting Spirit Warriors.
If you were going to be stranded on a desert island and allowed to take 3 or 4 books with you what books would you bring?
I would bring the entire Seven Realm series. I never get tired of reading it.
Author Websites and Profiles
Chris C Howard Website
Chris C Howard Amazon Profile
Chris C Howard's Social Media Links
Goodreads Profile
Facebook Profile
Twitter Account