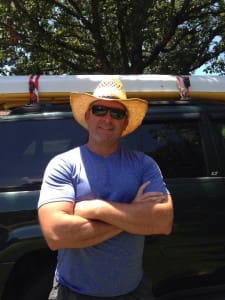 Tell us about yourself and how many books you have written.
I am an avid adventurer and ultrarunning author. I divide my time between Florida, Arkansas and California where I train for 100 mile Ultramarathons. I have completed over 68 races, including 18 marathon's and 12 Ultramarathons and am planning a Transcontinental Run across the United States from Los Angeles to New York City in 2016. I have kayaked the Mississippi River solo, and biked across the state of Florida. When I'm not outdoors, I am producing and directing a documentary film about adventure and writing. I have two sci-fi novels on Amazon and have completed twelve others that I am publishing this year. I love good craft beer and meeting with reading clubs and running clubs, especially if the aforementioned beer is offered.
What is the name of your latest book and what inspired it?
My next book is called SPANNER, a YA novel about a young boy who builds a time machine that transports him back to fight with Joan of Arc. I envision it as a series of books combining my love of history, and adventure. I used a Kickstarter campaign to launch this book with good results, and hope to continue the crowdfunding success model for the next book, and to produce a pilot from SPANNER.
Do you have any unusual writing habits?
I remember reading that Daniel Dafoe had to be tied to his chair by a servant every morning with only his hand free to write. I'm glad I'm not quite that bad, but I do have to turn off all distractions and find a nice quiet place to finish up projects. In the beginning, I can work anywhere, and I like to start with a pen and notepad first. I think the tactile feeling of writing allows me to just free flow, and there's an intimacy that's hard to get with a keyboard. I transfer it all into a document and expand or cut from there.
What authors, or books have influenced you?
Writer's read, and I'm a life long reader. Have you ever seen that quote, "When I get paid, I buy books and with whatever's left, I pay rent, groceries, etc." I feel like that sometimes. I have a bookshelf of books to be read and I keep adding to them. I read one or two books per week, hitting fiction and non-fiction alike. Of course you can list all the greats and I'll claim them as influences, but I have fun with Kevin Hearne, or Randy Wayne White every time they release a book. I think J.K. Rowlings is amazing and have had a thrill each time one of my children starts the series, because I can watch them fall in love with reading.
What are you working on now?
I am in the process of completing a sci-fi thriller called MOON MEN. Several years ago I was pitching scripts in Hollywood and a producer optioned this screenplay. Like a lot of projects though, this one didn't get made, and the rights reverted back to me. I liked the story line and turned it into a novel that will deliver the thrills and adventure of the big screen. I'm very excited about starting the launch in Fall 2015.
What is your best method or website when it comes to promoting your books?
For an indie author, it's all about who you can talk to, and taking action to get your idea in front of people. Great sites like awesomegang.com that allow you to participate in author interviews not only get the word out, but let readers know who you are, and potentially connect with you. Personally I'd like everyone to follow me on Twitter or Facebook and see the adventures I do, and to keep up with what book or project I'm working on next.
Do you have any advice for new authors?
Don't stop. I was working as a younger man in Los Angeles, and just as I was making traction as a writer, getting gigs and paid, I branched out into business ownership. This took over my time, and when my family came along, I stopped promoting myself as a writer. I still wrote, but it languished in desk drawers, notebooks and computer files. After a ten year stint in corporate America, I have to work just a little bit longer to remind the world who I am and what I do, what I hope to do with them.
Don't stop writing, don't stop pushing your work, don't stop promoting yourself, just keep going.
What is the best advice you have ever heard?
I pull from a lot of resources regarding writing and running. Stephen King says eliminate all but the necessary words, and I think that applies. I try to follow that advice. Read Faulkner on writing, or just Google some quotes if you need inspiration. The best advice about writing comes from the world of ultra running: Don't stop. Keep moving forward. Never doubt that you'll finish. "Run, walk crawl if you must, but just don't quit." Dean Karnazes
What are you reading now?
I just spent a weekend in Dallas for a fitness conference, so I picked up 3 books for the plane ride. Veiled by Benedict Jacka, V: Dark Ascension by M.L Brennan and I'm finishing up James Elliot's Fearless. I've got THE RIVER OF DOUBT by Candice Miller on deck to go next, and a couple dozen books downloaded on my Kindle to enjoy.
What's next for you as a writer?
I'm very stoked about the twelve books I'm releasing by the end of this year and look forward to setting up a book tour around the country. As I'm travelling, I plan to finish up a documentary called SUCKING WIND about running the inaugural Daytona 100 Ultramarathon in Florida. This will be my 4th 100 mile race in a year. I plan to write a companion book on running to launch with it. After that, it's preparing for a run across America, which I hope to document with a book, and perhaps a television show. I just hope to keep getting to meet people who like what I'm writing and want to read more of it.
If you were going to be stranded on a desert island and allowed to take 3 or 4 books with you what books would you bring?
This is a tough question to answer! You want something that makes you laugh, long long long so you can pass the time, and good enough to read again and again. The Lord of the Rings, Harry Potter, Great Expectations and How to Survive on a Desert Island. Ok, I made that last one up, but wouldn't that be THE BOOK you'd want on a desert island?!
Author Websites and Profiles
Chris Lowry Website
Chris Lowry Amazon Profile
Chris Lowry Author Profile on Smashwords
Chris Lowry's Social Media Links
Goodreads Profile
Facebook Profile
Twitter Account
Pinterest Account