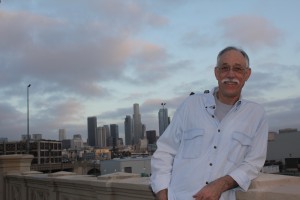 Tell us about yourself and how many books you have written.
I started out in the newspaper business right after college and spent the next 25 years covering everything from local school boards to the return of the hostages from Iran. That last statement probably gives a pretty good clue to my age. But then, when I started in the newspaper business I wrote on a real typewriter. On that you didn't plug in.
I started writing novels and got really lucky and sold my first one. I figure, hey that was easy. Ooops. Well, I've written six books, not counting the ones that are still in the desk drawer. After the first one sold to Walker Published I sold the next two to Harper Collins. Everything was going great except i didn't sell many books. That's a bit of a problem for a publisher. So the next three have been self-published.
I was writing mystery/thrillers and, while I thought they were good, they too languished. Despite good reviews, I didn't sell many. Finally I decided just to entertain myself and write something I really enjoyed.
What is the name of your latest book and what inspired it?
The name of my my latest is Free Booze Tonight. I was at a concert at the Hollywood Bowl one night and the first line popped into my head. The next night I started writing the book, no knowing where it was going. But by the time I was finished with the first chapter I knew the name.
Do you have any unusual writing habits?
I've found that for me the most productive way to write is to go to a coffee shop near my house on a Sunday afternoon when there are a bunch of people coming and going and sit and write for a few hours. Then I spent the rest of the week rewriting what I wrote on SUnday.
What authors, or books have influenced you?
Wow, where to start? Michael Connelly, Carl Hiaasen, Elmore Leonard, Ross Thomas, Lee Child, John Steinbeck, Daniel Woodrell, Kent Haruf. The list just keeps on going and going.
What are you working on now?
I'm just starting another book in the vein of Free Booze Tonight. It's called Born Every Minute. My goal again is to entertain myself and make myself laugh. If I can do that, I think the reader will enjoy it, too.
What is your best method or website when it comes to promoting your books?
I've tried a lot of things but so far the best method seems to be going to friends, family and acquaintances and asking them to help spread the word. I've had good reviews from independent reviews and that helps too. To tell the truth, though, I'm still looking for the silver bullet on this one.
Do you have any advice for new authors?
First, I'd say don't give up. Second, try to set your ego aside and look at your work objectively or listen to those who offer advice. Weigh it and either take it or reject it. Always remember, it's about the reader it's not about you. Third, read everything you can in a wide range of books. Make sure you're engaged. If the material doesn't grab you, or keep you engaged, odds are the reader won't care much either. Finally, remember that as frustrating and hard as writing can be, it should be fun. If you're not enjoying this, perhaps you should step back for a week or two.
What is the best advice you have ever heard?
Start each scene as late as possible.
What are you reading now?
I just finished In The Garden of Beasts and am now reading "The Survivor" by Gregg Hurwitz.
What's next for you as a writer?
I'm going to try to master the art of blending humor and suspense. Right now my books are one or the other. I'd like to try to blend them.
What is your favorite book of all time?
The Great Gatsby
Author Websites and Profiles
Chuck Freadhoff Website