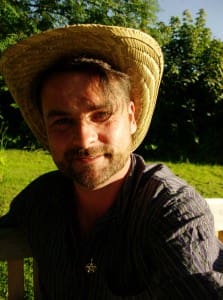 Tell us about yourself and how many books you have written.
My debut novel, 'Of Bodies Changed', has just been published, although I've worked as a journalist, editor and social commentator for many years, mainly writing for LGBT and humanist newspapers and magazines in the UK. I've also had short stories and poetry published in anthologies, but this novel is my first major piece of fiction.
As well as journalism, I also worked in human rights law as a legal representative for people who have fled persecution and sought asylum in the UK. The world has become an incredibly belligerent place in the past few years, and yet there appears to be less sympathy for those who are suffering from the games of the powerful. I left the law and became a writer in the hope that I might be able to make more of a change. Everything I write is concerned with challenging power, of one kind or another.
What is the name of your latest book and what inspired it?
'Of Bodies Changed' is a work of fiction, but it was inspired by my own experiences of living in a monastery as a teenager. It was also a method of mythologising a relationship that ended in my twenties. A friend recently asked me: "is your novel a work of catharsis or provocation?" I would say it's a bit of both.
The title of the book comes from the first line of Ovid's Metamorphoses: 'Of bodies changed to other forms, I sing'. In fact, my book is a modern retelling of some of the Classical myths told in the original Metamorphoses. Each chapter in my novel incorporates a different story as the narrative unfolds.
I think it's hugely important to use ancient stories to help us make sense of problems and challenges in our own lifetimes, otherwise there was no point in these stories being passed down, or in us passing our own stories on. Humanity can't progress without learning from the mistakes of the past. And, to be honest, most of these pagan stories have great poignancy for the human condition. They're often much more relevant than the platitudes of Christian fables.
Do you have any unusual writing habits?
It helps me to have complete silence, to know I won't be disturbed for many hours, preferably days. I dream of having a desk in a shed in a field, surrounded by moat, and a forest around that. Even the cat padding about on a piece of paper (like she is now) can put me back by hours.
I write best at night, when the world is asleep. I lived in the centre of Liverpool for four years and never wrote a word.
When I wrote the first draft of 'Of Bodies Changed', I was living in a very quiet, wooded area of Cambridge. I was working part-time during the day, which gave me the chance to have a structured writing schedule. I would write throughout the night, from 6pm until about 6am, and then get a few hours sleep before going to my part-time job in the afternoon. That was my life for six months. I loved it.
What authors, or books have influenced you?
John Fowles was a great inspiration – although I should confess I still haven't read all of his books. I was besotted by The Magus, but less impressed with The French Lieutenant's Woman. My relationship with favourite authors is complicated. I tend to put them on pedestals, believing they can do no wrong and that everything they produce will be as perfect as the first work of theirs that I read. I never want that honeymoon to end. So, when I was less impressed with French Lieutenant's Woman, I didn't know whether to read any more of Fowles' books. What if I was disappointed again? What if I was wrong to put him on a pedestal? It's a tricky relationship…
The genre I admire the most is Magical Realism. Fairy tales and myths have always been important in human history and prehistory; they enable us to look at and analyse the society in which we live as from a distance, from an oblique angle. It's often impossible for us to objectively see the culture in which we live because we are immersed in it, saturated by it. Certain beliefs and behaviours seem 'natural' or 'common sense' to us purely because we are born into and submerged in a society where such things are commonplace. In a couple of hundred years time, people will undoubtedly look back and question some of the things we unthinkingly accept now.
What Magical Realism often does is to present a world that is almost identical to our own, but which is ruptured or disturbed by something 'unnatural', fantastical, mythological – things that are contrary to 'common sense'. The familiar is de-familiarised and, in the process, we are given a glimpse of our society as an outsider, our viewing-seat is shifted. We are given the gift of time and/or distance to critique ideologies that we would otherwise be oblivious to. In Jeanette Winterson's Oranges Are Not The Only Fruit, an orange 'demon' appears to talk with the protagonist in an otherwise realistic novel. Angela Carter's excellent Nights At the Circus and The Bloody Chamber, Salman Rushdie's Midnight's Children and The Satanic Verses, and Joanne Harris's Chocolate – all of these brilliant Magical Realist novels present a familiar world that is made unfamiliar by the introduction of something fantastical. Magical Realism offers us the rare opportunity to critique our own society as an outsider.
Science Fiction often has this quality too, hence two of my favourite reads of all time are Margaret Atwood's The Handmaid's Tale and Marge Piercy's Woman On The Edge Of Time.
What are you working on now?
At this very moment, I've been given about three days to finish writing a short story for an anthology that's being published in early 2015. Deadlines sterilise my imagination, they immobilise me. When I overcome this terror and finish the short story, I can dive back into the novel I'm currently writing – another contemporary tale about power relationships, tinged with Greek mythology. If I took on religion in 'Of Bodies Changed', then I'm confronting politics in the next novel.
What is your best method or website when it comes to promoting your books?
Word of mouth. Live literature events. Going out into the world at book events, launches, festivals, readings, open mic nights and presenting new work in a living environment. There is something ineffably human about telling stories face-to-face. It goes back to the primal beginnings of civilization. It's how the first poems were produced, it's how literature began. And it also improves the quality of one's writing.
Do you have any advice for new authors?
Write every day – even if it's a diary. Read someone else's writing every day. Go to live literature events as often as possible and read your own work – but, more than that, listen to others. Be humble enough to learn from others. That is all.
What is the best advice you have ever heard?
"If it hurts none, do what you will."
What are you reading now?
Tolstoy's Anna Karenina. I have been reading it for at least two hundred years, it feels, and I will still be reading it in another two hundred. When I finally defeat the great Russian novel, the next book on my shelf is the much-lauded 'Any Other Mouth' by the brilliant Anneliese Mackintosh, which I can't wait to start.
What's next for you as a writer?
If I have my way (i.e. a desk in a shed in the middle of a meadow), then I should be finishing my next novel in nine months' time.
If you were going to be stranded on a desert island and allowed to take 3 or 4 books with you what books would you bring?
The first would have to be Ovid's 'Metamorphoses'; every home should have one.
The second would be the Complete Works of Percy Bysshe Shelley: the greatest English poet.
The third would be James Joyce's 'Ulysses'; pretentious perhaps, but I have owned a copy of this book for two decades and still never read it. Besides, I've recently become an Irish citizen and they won't give me my passport until I pass the Joyce exam.
And finally, Wuthering Heights. Obviously.
Author Websites and Profiles
Cliff James Website
Cliff James's Social Media Links
Goodreads Profile
Facebook Profile
Twitter Account