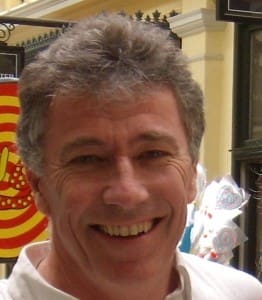 Tell us about yourself and how many books you have written.
I was 18 years old, I'd just left school and got a job in London, working in an insurance company. I was working inside – in an office! My mother thought that was like being CEO of Shell Oil.
I was late one morning, I took a short cut through the church yard to the station to catch my train. I'd just finished reading The Sun Also Rises the night before; and here I was looking at all these gravestones, I remember thinking: Gee, we're not here very long. Better make it count.
So I went home, told my mother I was quitting my job and going to Morocco. She damned near fainted.
After traveling through Spain and Africa, I hitch-hiked across Europe to Sweden to visit a girlfriend I'd met the year before on a football tour. When I finally got back home, I was still restless. After failing to make the grade as a professional football player, I traveled around Asia; my experiences in Bangkok and India later inspired my thriller VENOM, and my adventures in the jungles of the Golden Triangle of Burma and Laos were also filed away for later, the basis of his OPIUM series about the underworld drug trade.
I emigrated to Australia where I helped a mate establish a new advertising agency. We could only afford this derelict building for an office. Once we were pitching to a client during a thunderstorm and the roof flooded. A piece of the ceiling fell down and just missed his head. Fortunately he had a sense of humor. We got the account!
After a couple of years we were doing much better. We could even afford to pay ourselves a wage! But I really wanted to be a writer, not a copywriter. When I told my mate I was leaving to try my luck in the Big Smoke, he offered me 40% of the business. It was 40% of nothing at the time. I saw him a couple of years ago, and he'd just sold the agency for twenty million dollars. I worked out what 40% of that was on a pocket calculator. It's quite a lot of money, apparently.
I went to Sydney and worked in TV and radio and freelanced for many of Australia's leading newspapers and magazines. But he got his dream, publishing forty books under three different names in the UK and US and having my work sold into translation in Brazil, Belgium, the Czech republic, France, Germany, Greece, Hungary, Italy, Korea, Mexico, Poland, Portugal, Romania, Serbia, Slovakia, Spain and Turkey.
I lived for many years in the beautiful Margaret River region in WA, and helped raise two beautiful daughters with my late wife, Helen. While writing, I also worked in the volunteer ambulance service. I'd be at my desk typing, then thirty minutes later I might be crawling into an overturned car or running along a beach with the oxygen for a near drowning. It was an interesting time.
My marriage ended in tragic circumstances, a story I told in 'The Naked Husband,' and its non-fiction sequel, 'The Year We Seized the Day,' written with my good friend, Elizabeth Best.
I travel regularly to research my novels and this quest for authenticity has led me to run with the bulls in Pamplona, pursue tornadoes across Oklahoma and black witches across Mexico, go cage shark diving in South Africa and get tear gassed in a riot in La Paz. (I was actually trying to cycle down the Death Road. In the end I had to abandon the attempt and take the bus down.) I also completed a nine hundred kilometer walk of the Camino in Spain.
A few years ago I stopped writing. I suddenly found I couldn't do it anymore. It was after'The Year We Seized the Day.' I remember standing on a beach in Thailand late one night, and I said to God: 'Okay I've had enough now.'
A week later I was in a Thai hospital, only time in my whole life I've ever been sick, I'd got some sort of tropical infection and I was close to multiple organ failure. I remember praying again (that's twice in one year!): "Hey I didn't know you were listening, Big Guy! I didn't mean it! I have two girls to look out for!"
I survived but when I got home I started drinking too much and I couldn't find my writing mojo. It got ugly there for a while. Thought I'd never write again.
Then he published SILK ROAD, and won a three book contract in London, and my love affair for life and for writing returned. For me, the two things are inseparable. My passion for one infects the other.
My fiction comes from dedicated research and what he calls a quest for Hemingway's ghost; characters with a passion for life, for love and the courage to face down their demons.
When I was walking through that graveyard I made two promises to my gawky 18 year old self; one – that I would not die feeling that I had not lived, and two – that I would follow my siren call to write, no matter where it lead. I feel like so far I have kept that promise and I intend to see it all the way through.
What is the name of your latest book and what inspired it?
ISTANBUL is my Casablanca, a love story set against the byzantine backdrop of one of Asia's most beautiful cities during the Second World War.
'Nick Davis first saw Daniela Simonici in the American Bar of the Athenee Palace Hotel in Bucharest in June of 1940. He couldn't take his eyes off her. The city was full of beautiful women, penniless countesses and fox-furred demi-mondaines looking to be rescued, and until that moment he had spared them only an appreciative glance. But this woman was different . . .'
The story is fiction though the plot – the sabotaging of the peace process in 1944 by Britain's MI6 in order to help Stalin – well, that's all true. And the love story? Let's just say that Nick took a long time to uncover the mystery about the girl. And so did I.
Do you have any unusual writing habits?
When it's time to write my book I sit down and I work very, very hard for very long hours. That's it.
What authors, or books have influenced you?
Every week my Aunty Ivy took the train down from London to visit with us in (what was then) rural Essex, bringing with her a collection of Classics Illustrated comics. She must have picked them up in the markets in London.
There were some Beanos and Victors mixed in, but I threw them out. My treasure was the cartoon versions of some of the world's greatest literature.
I read all of Jules Verne in an afternoon.
It's how my love affair with literature began. By the time I was eight I had read Moby Dick, Doctor Jekyl and Mister Hyde, The Moonstone, The Black Tulip and Ivanhoe, was familiar with most of the major works of Alexandre Dumas (Père), Mark Twain and William Wilkie Collins and had even read most of Homer's Odyssey (although I never found out how it ended because the last page had been ripped out.)
I don't think that back then Aunty Ivy knew she was giving me primers for my future career, for no one in my family had ever used their hands for doing anything other than making pies or fixing corner cupboards.
But those comic books were vital to me. I was an only child and though not particularly bookish – I was then, and still am, a sports tragic – it nurtured in me a thirst for great stories painted on broad canvas.
So Aunty Ivy did not just give me the gift of something to read when it was raining too hard to play football.
Classics Illustrated stirred my nascent imagination and at the same time gave me an undying thirst for travel and for adventure.
These little gems of comics also made me want to time travel, because many of the places I was reading about no longer existed.
The only way I could revisit them was to recreate them in my head. Imagining them onto a page was the next logical step.
When I left school the first thing I did, to the consternation of both my parents, was to go hitch-hiking around Europe.
After all, why go to university? I'd read The Iliad and everything Shakespeare ever wrote by the time I was eight.
After Europe I headed down to Morocco, where me and my mate were the only white faces (then) wandering the Djema El-fna'a, the Place of the Dead, in Marrakech.
Not too long after that I found myself in the middle of a typhoon in the South Java Sea, and wandering the Golden Triangle of Burma, shaking hands with CIA agents and drug smugglers.
All thanks to Aunty Ivy and Classics Illustrated. Wherever she is in heaven, I hope the angels are making her a nice cup of tea.
What are you working on now?
A new romantic historical trilogy set in 1958-1969.
I've almost finished. In September I'm starting a new historical series as an eBook series.
I'm working harder and loving writing more today than I ever have.
What is your best method or website when it comes to promoting your books?
Yours.
Do you have any advice for new authors?
Remember that almost everyone in the western world can write. It's something we are taught to do in school. Word count is nothing.
To be a writer is to take yourself back to a school of another kind and study the crafting of story.
Don't ever stop learning. Study the authors you like, study the authors you don't like. Understand the craft that lies below the words. Learn to see what is not seen. Become a student of story.
What is the best advice you have ever heard?
1. Writer in the morning, businessman in the afternoon.
2. Sit at your desk at nine in the morning and wait for inspiration. If it's not there by ten past, start without it.
What are you reading now?
Carl Ruiz Zafon, The Shadow of the Wind. Madrigal's Key to Spanish. The Heart is a Lonely Hunter, Carson McCullers. The FBI Files on Frank Sinatra (current research) and my sister in law's last email, which is five pages long and which I have bookmarked halfway through.
What's next for you as a writer?
I have a print book coming out in the UK and US next year (under another name) and two new series which will be released online this year. I'll see how they go then make up my mind.
What is your favorite book of all time?
1. THE POISONWOOD BIBLE
2. WORD OF HONOUR
3. WOLF HALL
Author Websites and Profiles
Colin Falconer Website
Colin Falconer Amazon Profile
Colin Falconer's Social Media Links
Goodreads Profile
Facebook Profile
Twitter Account