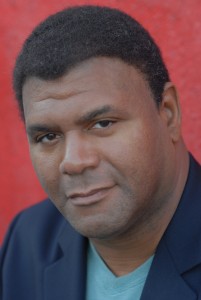 Tell us about yourself and how many books you have written.
A native of Philadelphia, Pennsylvania, I attended the Philadelphia High School for the Creative and Performing Arts (CAPA), enrolling in the school's first year hen it was a fledgling program, where I majored in Creative Writing and minored in Videodrama, becoming an award-winning director of video projects. In addition, I was a founder, writer, and cartoonist for CAPA's newspaper THE PAINTED WORD, for which I eventually became editor-in-chief. Listed in WHO'S WHO AMONG AMERICAN HIGH SCHOOL STUDENTS and commended by the National Honors Society, I graduated with CAPA's second graduating class in 1981.
Attending STANFORD UNIVERSITY in Stanford, California, where I majored in Drama and minored in Dance, I performed in an average of five to six major productions per year. I taught art to autistic, learning-disabled, and educable mentally retarded children at the Peninsula Children's Center in Menlo Park, California, was active in the Stanford University Rape Awareness Program, occasionally wrote for THE STANFORD DAILY, and toured for two years with the BALLET FOLKLORICO DE STANFORD MEXICAN FOLKDANCE COMPANY. I received a Bachelors of Arts Degree in Drama in 1986.
As a performing artist, I have performed in dance productions, touring shows, and Off-Broadway productions of ANTIGONE, THE TRIAL OF SUSAN B. ANTHONY, WE HAVE STORIES TO TELL OF AFRICA, FRATERNITY, NOTES ON 6FINITY, THE AMEN CORNER, and A FEW HOURS IN HELL, making my West Coast theatrical debut as the Duke of Cornwall in KING LEAR with the Pasadena Shakespeare Company in Pasadena, California, following that up as a member of the ensemble cast of the Fountain Theatre/BAND critically-acclaimed production of Rita Dove's THE DARKER FACE OF THE EARTH, then continuing on to the West Coast premiere of the VoxBox Arts Collective original production of JIGSAW. In addition, I have acted in various commercials, industrial films and videos, television shows, and feature films such as WHO SHOT PAT?, PHILADELPHIA, LET'S TALK, THE C-SHIFT, REFLECTIONS AGO, RED HERRING, FIGHTING WORDS, A DAY OF ATONEMENT and STRAIGHT ON 'TIL MORNING.
I am the author of three science fiction novels, TOTENTANZ, THE TAKING OF CYNDRIEL'S HOPE and HUNTER'S MOON, all of which are currently available in print-to-order hardcopy and downloadable e-book through the online content marketplace http://www.lulu.com.
TOTENTANZ
ISBN 1-4116-7793-5
TOTENTANZ tells the story of Hren-Tikaar, a notorious former assassin- thought to be dead- who carries within him enough information to topple a major galactic underworld syndicate, and Galan Rojai, a special Ranger agent with powerful psionic abilities who must transport him to an inquest on the Alliance capitol of Themis. Attacks from without and within, and a chance encounter with a freak wormhole leave these two men stranded on a planet in the middle of nowhere. In a hostile environment and with enemies on the prowl, these two men from opposite sides of the law are going to find that if they are to survive, trust is their only way out.
http://www.lulu.com/content/187915
THE TAKING OF CYNDRIEL'S HOPE
ISBN 978-0-6151-3793-3
In THE TAKING OF CYNDRIEL'S HOPE, which is set ten years prior to the events in TOTENTANZ, the commercial passenger starliner Cyndriel's Hope is hijacked by members of the paramilitary terrorist group The Warriors of the Black Flame. Their leader- Haakem Tigonn- demands the release of other members of the group currently imprisoned in exchange for the Cyndriel's Hope and all aboard her. The clock begins ticking as the terrorist will kill one hostage every hour until their demands are met. One of the passengers- Galan Rojai, a young man with extraordinary gifts- decides to fight back, and with the help of the ship's engineer, does what he can to keep the hijackers at bay and off balance until help can arrive.
http://www.lulu.com/content/571709
HUNTER'S MOON
ISBN 978-0-9765739-0-6
Harrikh was a military leader and a hero on the world of Lonari, until he was condemned for crimes against that world and his people, the Ynan. In his exile, he transformed from pariah to monster, and undertook a life's mission written in blood and fire.
Jan Baker, a young man raised on Earth, is one among many Ynan refugees who were scattered amongst the stars when Harrikh returned to Lonari to fulfill a terrible promise in a single act of unparalleled barbarity.
Valerie Phillips, a young Philadelphia art student, comes to love Jan and provide for him an anchor of reality, while he, in turn, makes her life more surreal than she could have ever imagined.
With their numbers gradually dwindling as Harrikh continues his mission of genocide, the last of the Ynan must fight for the right to exist, and Jan must face his destiny.
http://www.lulu.com/content/paperback-book/hunters-moon/8075083
What is the name of your latest book and what inspired it?
My most recent book on the market is entitled HUNTER'S MOON, and it, like my two previous novels came to me initially in the form of vivid serialized dreams. While much of HUNTER'S MOON takes place within the fictional universe that i had created for the previous novels TOTENTANZ and THE TAKING OF CYNDRIEL'S HOPE, what inspired me to write HUNTER'S MOON was a old but very provocative question that had been in my mind since i was a boy: "What if extraterrestrials have been living on Earth for years and non one ever knew?" However, in addressing that question, I presented a situation in which revelation was inevitable.
Do you have any unusual writing habits?
Like all writers, I keep something to write on and/or with all the time. I do not believe you could call it a habit, but I have been known to dream lucidly and episodically, having dreams that continue over numerous consecutive nights until they tell a complete and reasonably cohesive story. I expand upon, flesh out and edit from there.
What authors, or books have influenced you?
I cut my eyeteeth on STAR TREK, so that got me started watching science fiction. I believe the first science fiction book I ever read was Isaac Asimov's novelization of the movie FANTASTIC VOYAGE. From there, I began reading voraciously. Growing up surrounded by books and having been raised by an English teacher (my mom), taking stabs at writing in what had become my favorite genre of fiction in books, film and television seemed to be a natural fit. To hear my mom say it, my head was always in the stars, and she sometimes would jokingly say that as a baby, I had been left on her front doorstep by a flying saucer. (That statement is actually included on the dedication page of my novel HUNTER'S MOON.)
I was initially inspired by the works of Isaac Asimov, Ray Bradbury, Frank Herbert, Ursula K. LeGuin and Robert A. Heinlein. From there I went back to the original masters- H.G. Wells and Jules Verne, Edgar Allan Poe.
From there, I discovered William Gibson, the man who gave us the subgenre known as cyberpunk.
It was around that time that I discovered writers who showed me that people of color also have a strong voice in a genre that I love: the late, great Octavia Butler, Samuel Delaney, Nalo Hopkinson, Walter Moseley and S.P. Somtow (formerly Somtow Sucharitkul).
Becoming something of a fan of anime and manga, I came to appreciate Japanese storytelling styles and the metaphysical content in many such works.
What are you working on now?
I am currently preparing my fourth novel entitled DARKSPEED ARYDANI for publication, and I am working on two novel projects concurrently. The first, which features characters from TOTENTANZ and THE TAKING OF CYNDRIEL'S HOPE, is entitled A CARGO OF SINNERS. The second is a sequel of sorts to HUNTER'S MOON, and the working title is PARIAH'S LEGACY, WARRIOR'S LIGHT.
What is your best method or website when it comes to promoting your books?
I am promoting my works through Facebook, LinkedIn and Twitter, and I have recently joined Stage 32, Promocave and Goodreads.
Do you have any advice for new authors?
Every work should be a true labor of love. Do your research, when writing, when seeking an outlet for your material, and when marketing said material.
First and foremost, if you're going to write science fiction, you must read lots of science fiction- the classics as well as current material- and read LOTS of hard science.
Learn the art of verisimilitude; that is to say, sounding like you know what you're talking about by creating a fiction that sounds real enough and convincing enough to make the reader willfully suspend any sense of disbelief.
Whether you are writing a single story or a series of stories that take place within the fictional universe that you have created, make sure that the logic is consistent throughout. If you wish to write for part of an established franchise, make sure that the logic is not only consistent but adheres to previously established canon. Changes to internal logic will be noticeable and something like that can throw the reader off and out of the story.
Listen to your characters. They will often tell you where you need to take them in the story.
Don't be afraid to be somewhat sadistic to your protagonists. How that character survives what you throw at them and what they are like when they come out the other side will show the reader what kind of stuff that character is made of.
Learn the rules and conventions of the genre so that if you plan to break them in your writing, you can do so PROPERLY.
What is the best advice you have ever heard?
There was a line from the movie THROW MOMMA FROM THE TRAIN: "A writer writes…always."
What are you reading now?
I am currently Stieg Larsson's Millenium Trilogy- THE GIRL WITH THE DRAGON TATTOO, THE GIRL WHO PLAYED WITH FIRE and THE GIRL WHO KICKED THE HORNET'S NEST.
What's next for you as a writer?
I have recently completed a novella entitled PATHFINDER (I am currently pitching the companion screenplay of the same title). That story will eventually be included with partner story in a volume entitled CRISIS AT ARDAN.
What is your favorite book of all time?
It is hard to pick one particular book as a favorite because there are so many. As previously stated, the very first science fiction novel I had ever read was Isaac Asimov's FANTASTIC VOYAGE. However, the most incredibly intricate and involved novel that i had ever read was Frank Herbert's DUNE.
Author Websites and Profiles
Cory Williams Website
Cory Williams's Social Media Links
Facebook Profile
Twitter Account