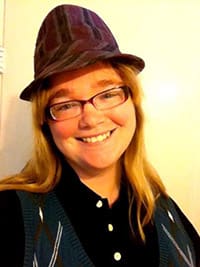 Tell us about yourself and how many books you have written.
I have written two books so far, and am working on a third. My first book, Tea & Sprockets: A Modern American Poetry Book is a collection of fifteen years of poetry. It is a mix of poetry written as a teenager and in my early twenties. The majority of it was written while growing up and attending college in Oklahoma between 1994 and 2005, yet there are also a handful of poems that I wrote during my early years in the bay area in California, where I live now. My second book came about unexpectedly. I started really taking my poetry seriously this year (2013) and focusing on promotion. As I was perusing the poetry news articles online, I kept running across these rather discouraging pieces that said that poetry would never make it in an ebook format. I wanted to publish a book on poetry ebook formatting, a sort of anti-dote to this thinking. Yes, some poems are so complex that one needs to use photoshop to ensure proper placement as an image, but the majority of poems can be published, and with self-publishing, only fear is holding my fellow poets back. That book is called Your Poetry eBook:Quick & Easy Formatting for Kindle, and it just came out in February 2013.
What is the name of your latest book and what inspired it?
My next book which I hope to release before my 30th birthday (June), is entitled Abundant Sparks. My goal is to have another collection of one hundred poems written. With Poetry Month being right now, my output is quite high, so I am about half-way done. There is no better motivator for success than gaining appreciation from others for your work. Tea & Sprockets started doing alright, so I figured it was time for another book. The poetry so far has a few distinct themes. I wouldn't say that it is an outright spiritual poetry book, but I do find myself writing a lot about my own spiritual, Jewish path, both directly and indirectly. I've also dealt with a lot of death and rejection in my life, so mourning and grief continues as a fairly prominent influence on my words. There are also a few light-hearted poems, love poetry, poems that deal with the nature of being a poet, and of course, all of the NaPoWriMo poems from my blog will be included as well.
Do you have any unusual writing habits?
I find myself writing in my head. I don't know if it is unusual, but poetry will come to me when I am unable to pick up a pen. It can be inconvienent at times. If I am on the road, for example, I will start composing outloud and repeating until I have the chance to pull over and write. Sometimes the poems come to me as songs, but not being a musician, I can only write down the lyrics. The hardest part is being at work at my day job, and the words will flood into me, and somehow I have to remember them long enough to get to a point where I can stop and write.
What authors, or books have influenced you?
I am a huge fan of the beat poets. I can get giddy over reading about Ginsberg and Keruoac and their adventures. But I also like transcendentalist philosophy poets such as Thoreau and Emerson. But I also like the more spiritually oriented poets like Rumi, Rabindranath Tagore, and Solomon ibn Gabirol. I read a lot of non-fiction and autobiographies, and listen to a lot of lyrically rich music. Everything in life is an influence for me though, as a lot of my poems reflect some experience in my life.
What are you working on now?
Primarily just the Abundant Sparks book. I may rework some of my old short stories from earlier in life after this.
What is your best method or website when it comes to promoting your books?
I am finding that twitter, Pinterest, and Goodreads bring me the most traffic. I am also huge on the KDP free promos as I wish to gain more readers.
Do you have any advice for new authors?
Keep writing every day. Digest as much language as possible to increase your vocabulary. Take in and observe life around you. Read the greats. Help lift up other authors.
What is the best advice you have ever heard?
Write every day. Ever since I started doing this the need for "inspiration" is less required. Just by doing, I gain motivation.
What are you reading now?
I am reading a lot of books on author marketing, as well as absorbing more poetry from the greats. In general I love reading autobiographies, sociological studies, Jewish texts, and history books.
What's next for you as a writer?
More poetry. That is my focus and my passion.
What is your favorite book of all time?
The hardest question in the world! I have far too many. I will go with Graham Chapman's A Liar's Autobiography. It had a huge influence on me as a teenager and it is hilarious!
Author Websites and Profiles
D.L. Lang Website
D.L. Lang Amazon Profile
D.L. Lang's Social Media Links
Goodreads Profile
Facebook Profile
Twitter Account
Pinterest Account