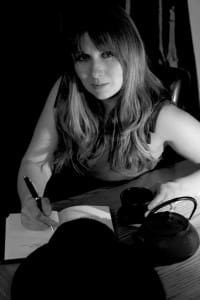 Tell us about yourself and how many books you have written.
My introduction to murder came from Agatha Christie. Her inquisitive Miss Marple, of St Mary Mead, and very Belgian Poirot, with his 'little grey cells', captured my imagination from a young age.
With a passion for the crime genre, my writing includes cosy crime novelettes and short stories. I am currently working on the Blake Hetherington mystery series, the first of which, 'Hats Off To Murder' is now available on Kindle.
I have also published a short story anthology entitled 'Under The Patio'. The anthology includes five grisly tales: four short stories and a flash fiction that can only end one way. 'Under The Patio ', is also currently available as an e-book through Kindle.
What is the name of your latest book and what inspired it?
Hats Off To Murder was inspired by great British detectives, cosy crime writers and a bit of family history.
Whilst researching my family tree I found that my great grandparents were milliners. The more I read the more I was intrigued by the world of hat making and I loved the idea of hats being a window to the wearers soul.
So Blake Hetherington was born, a shrewd and sometimes intolerant widower, but he has a big heart, a true sense of justice and weakness for the damsel in distress. To him hats are a serious busines, he is fascinated by human nature and not content with simply selling hats; he must know his customer.
Do you have any unusual writing habits?
When I was younger I had any number of notebooks full of stories and facts about nature, science and the world around me and that's continued throughout my life. I love a random fact.
I carry various noteooks with me everywhere and will often stop a convesation mid-sentence to write something down that's just inspired me.
More than anything I love people and they often inspire me to write.
What authors, or books have influenced you?
Agatha Christie, Josephine Tey, Arthur Conan Doyle, Peter Robinson, Terry Pratchett (Vimes series of the Discworld books) and Christopher Fowler to name a few.
What are you working on now?
One For The Rook – The second novelette in the Blake Hetherington series.
Blake is growing pumpkins on his beloved allotment when he discovers a body in amongst the vegetables. With a prisoner on the loose and the allotments under threat from protesting ramblers, are any of the plots safe? With the help of Delilah Delibes will he discover the perpetrator before another death occurs? And more importantly, who will win the first prize at the Tuesbury Autumn Show?
What is your best method or website when it comes to promoting your books?
Word of mouth and social networking; it's the best way for me. I use Facebook and Twitter to network with other writers and readers. These sites/pages also redirect them to my blog and website where I can tell people more about my writing.
Do you have any advice for new authors?
Talk to people about your writing, be enthusiastic. Don't go in for the hard sell, but if you're excited about what you do then other people can't help but be interested.
What is the best advice you have ever heard?
Always try to do better, don't try to be perfect.
What are you reading now?
Thud – Terry Pratchett
The Crime Writer's Guide to Police Practice and Procedure – Michael O'Bryne
What's next for you as a writer?
I have plans for several more Blake Heherington mysteries. Eventually I intend to publish the Blake Hetherington mysteries as a print anthology.
I also have the first draft of a novel I wrote some time ago which needs a lot of work, but I hope, will one day be at a stage when I can publish it.
What is your favorite book of all time?
The Murder of Roger Ackroyd – Agatha Christie
Author Websites and Profiles
D S Nelson Website
D S Nelson Amazon Profile
D S Nelson's Social Media Links
Goodreads Profile
Facebook Profile
Twitter Account
Pinterest Account