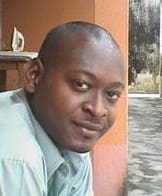 Tell us about yourself and how many books you have written.
I was born in Port Harcourt, Nigeria. Located in the southern end of the country. A very tiresome and non-imaginative place to be, especially if you should ever want to become a writer, or at least someone with a creative mindset. I was a loner growing up. I spent more time looking at what's happening inside of me than of being concerned with wordly stuff. Got a knack for reading a lot of books because when you're my kind of person, it's about the only comfort in life you can get. I enjoyed reading poetry, and I started writing poems to help take the pain off my mind from the strife I witnessed around me. I always thought I was good, but reading works of T.S. Eliot, Wole Soyinka, e.e. cummings made me realize I was paddling the wrong boat. But writing has always stuck with me. It's the last means of magic, to make words form into sentences, and those sentences create moving imagery in your mind like any Hollywood motion picture would is something phenomenal. However I will say that writing aside from being a gift is as well a curse. Matter of fact, all Art is a curse. It's only how you wield it that matters.
What is the name of your latest book and what inspired it?
My latest book is titled 'The Rabbit's Man'. I wrote it ten years ago, at a time when I reckon I was too immature to even consider myself becoming a writer. I'd always been a fan of works by Graham Green and John LeCarre, and always loed their mature sense of story-telling. A German writer was the one who inspired me to write the novel. He wanted me to write something big, because at the time I mostly kept myself toward churning out short stories. He wanted me to write something about the political problems happening in my country, Nigeria. It was only good that I write something in this field, because there's so much happening in the African continent that few people in the western world know about, unless it concerns ethnic and civil wars happening in troubled regions in the continent. I wanted my book to speak a truth, to say that there are stories to be told where I'm from. And they can be told in pretty much the same entertaining tone of voice that plenty of re-nowed writers in the west are known for telling.
Do you have any unusual writing habits?
I usually don't plot or make outlines of my stories. Most times I see myself as a voyeur. I like standing in the background watching my characters play their role like actors on stage. I merely direct them rather subtly to do whatever they're supposed to do. However I do leave room for them to surprise me with their actions. I like to allow my characters room to breathe, but most especially, I don't usually enjoy giving them historical back stories like most Nigerian writers are prone to do.
What authors, or books have influenced you?
James Baldwin's 'Go Tell it On the Mountain'; Wole Soyinka's 'Prison Notes: The Man Died'; John LeCarre's 'Tinker, Tailor, Soldier, Spy' and 'The Tailor of Panama'; Graham Green's 'Our Man in Havana'.
What are you working on now?
I've written and published numerous romance and erotic novels already. I'm currently editing another that's a third episode. It involves a Black-American private investigator who travels to Nigeria in search of a missing young man and ends up getting involved with a ruthless militant army who dabble in white slavery. The work is titled, 'The Story of Thaddeus Black Pt. 1'.
What is your best method or website when it comes to promoting your books?
I enjoy using Twitter and I do regularly showcase excerpts from my books in my various blogs.
Do you have any advice for new authors?
Read as much as you can, and also travel more. See more of the world. It helps to enhance a writer's imagination.
What is the best advice you have ever heard?
Life begins at the end of your comfort zone.
What are you reading now?
Michael Connelly's 'The Last Coyote'.
What's next for you as a writer?
I'm hopping I will get snagged by a literary agent who'll assist me with taking my writing to the next level. As much as I still have plenty of stories to tell, I'd love to find other mediums with which to express them. Other mediums such as plays and movies. I'd love to study film-making. There's plenty of stories that need to be told from Africa. No point waiting for Hollywood to come and do it.
What is your favorite book of all time?
'The Autobiography of Malcolm X'.
Author Websites and Profiles
Damien Dsoul Website
Damien Dsoul Amazon Profile
Damien Dsoul's Social Media Links
Goodreads Profile
Facebook Profile
Twitter Account
Pinterest Account