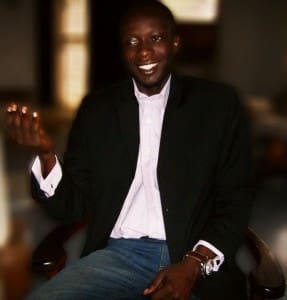 Tell us about yourself and how many books you have written.
I am a Nigerian born I.T Consultant seriously flirting with writing fulltime. The Galadima Conspiracy is my first published work.
What is the name of your latest book and what inspired it?
My latest book The Galadima Conspiracy was actually inspired by the last days of late Nigerian President Musa Yaradua who left his office and was no seen by anybody for several months until his death. During his absence, Nigeria was left without a leader and numerous rumors about what was actually going on filled the airwaves and the papers. Everything seemed so surreal and I thought it made the perfect plot for an espionage thriller.
Do you have any unusual writing habits?
I wouldn't say I have any unusual writing habits. I keep a hard cover note book that I try to carry with me everywhere. I scribble gibberish that only me can understand into it and then I later put it in my computer translating it to actual English.
What authors, or books have influenced you?
One of my biggest influences has to be Sidney Sheldon. I have tried to emulate his writing style as much as possible. More recently, James Patterson and Vince Flynn have also been great inspirations. When writing, I like to take breaks and read Flynn allover again to ensure I'm keeping things close.
What are you working on now?
Strangely, I'm working on two books simultaneously (there is an interesting story there). I'm working more on Givens though which would be the second outing for Leah Givens (the lead character from The Galadima Conspiracy).
What is your best method or website when it comes to promoting your books?
Goodreads has been really wonderful. I only just got into it and I've already met so many wonderful people on it. People willing to help, read, advice and support. I do a bit of Twitter but I must admit, I don't get it completely. Facebook not so much because with Facebook, I'm usually limited to my friends and their friends and many of them are not into books.
Do you have any advice for new authors?
Don't sleep on promotion. Give your book to mentors and find out what they think. And when you d start selling, be sure to reply as many fanmails as possible.
What is the best advice you have ever heard?
My mother's advice to give up everything and write fulltime. I have not done that just yet, but regadless of all the advice about writing and promoting and selling. I wouldn't be writing if it wasn't for my mother.
What are you reading now?
Right now, I'm reading The XI Hour by C.M Okonkwo. I'm also reading Lowlifes by Simon Wood and Forced Move by Mel LeBraun. Three books at once? Yeah. And I'd finish them all this weekend.
What's next for you as a writer?
Completing Givens and then Yahooligans and The Revival.
If you were going to be stranded on a desert island and allowed to take 3 or 4 books with you what books would you bring?
They'd have to be books I wouldn't get tired reading. One would have to be The Bible. Then The Red President by Martin Gross. I'd have to take the entire Alex Cross series as well.
Author Websites and Profiles
Dan Abubakar Website
Dan Abubakar Amazon Profile
Dan Abubakar's Social Media Links
Goodreads Profile
Twitter Account