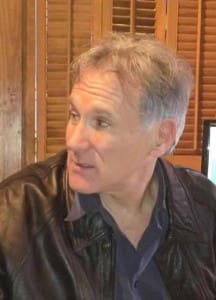 Tell us about yourself and how many books you have written.
Daniel Berenson — that's me — knows kids. He is a long time educator (30 years in the middle grades in North Carolina and one year in England as Fulbright Exchange Teacher). He also knows writing. He is the founder and ruling knucklehead at FREAKY DUDE BOOKS, a website that provides "litterature, videoz, and mooschief" to "kids, teenagers, and maturity-challenged adults." He also has a ranting, raving, and blogging middle schooler named Dr. Crankenfuss who lives in his head. He has written five books:
1) STORIES GUARANTEED TO MAKE YOU SICK (a book that lives down to its name. Humor, horror, and craziness.
2) FIREBUG (an intense literary novel about boys, friendship, and burn survivors)
3) THE CLASSIC BOOK OF MOOSE JOKES FOR KIDS (the first moose joke book in history, every joke illustrated)
4) THE CLASSIC BOOK OF MOOSE JOKES FOR ADULTS (moose jokes that would go over the heads of kids)
5) LOVE THUG (a.k.a. Can't I Do Anything Wrong?) (a romantic comedy aimed at kids aged 10-13)
What is the name of your latest book and what inspired it?
LOVE THUG (a.k.a. Can't I Do Anything Wrong?) is a romantic comedy aimed at young adolescents, particularly guys. It is the book kids need after they outgrow the Wimpy Kid series. It's about love and how stupid people can get when they fall in love with somebody. Anybody who's ever been crazy in love will identify with this book. It was originally inspired by an incident in which a boy tried to get himself suspended from school but he gave up after failing at it.
Do you have any unusual writing habits?
Yes, I write about almost everything in many genres. I write comedy and tragedy, I write prose and poetry. I write and I illustrate. I write from a boy's point of view or a girl's point of view. I'm picky as can be when it comes to language and spend forever editing my books.
What authors, or books have influenced you?
Roald Dahl, Jean Craighead George, Jack London, Katherine Paterson, Lois Lowry, Lois Duncan, Edward Gorey
What are you working on now?
I'm getting ready to publish a book of poetry written by 35 hypothetical adolescents, all in the first person, about their lives. The subjects range from the comic to the tragic, from the silly to the serious. Just kids telling their stories.
What is your best method or website when it comes to promoting your books?
I find that the best way to promote my books is to have people read them. The more people who read them, the more people there are who will like them.
Do you have any advice for new authors?
If someone gives you some critical advice about your writing, they may or may not be right. If two people say it, start listening. If three people say it, do it.
What is the best advice you have ever heard?
Make Way for Ducklings.
What are you reading now?
Enslaved by Ducks, The People's History of the United States, Al Capone Does My Shirts, Twenty Twisted Tales, Albert of Adelaide
What's next for you as a writer?
I will keep publishing books at the rate of two or three per year. I have many books already in the editing stages and many more in my head.
What is your favorite book of all time?
I cannot name one book. There are too many great books to pick just one.
Author Websites and Profiles
Daniel Berenson Website
Daniel Berenson Amazon Profile
Daniel Berenson's Social Media Links
Facebook Profile
Twitter Account