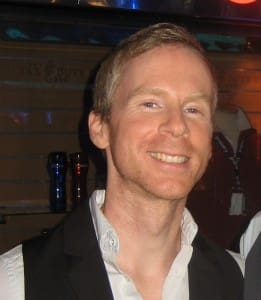 Tell us about yourself and how many books you have written.
You write one short story at the age of 10 about a pit on the moon laden with poisonous hamburgers, and suddenly you're an author. That's the way I saw it when "Murder on the Moon" became an instant hit with my fourth-grade classmates. I'd always been a voracious reader, but upon sharing my little yarn with my friends, I suddenly realized the freedom (and power!) of becoming the storyteller. Over the next few years, I would go on to write several short stories, mostly involving murder mysteries and my schoolmates.
The thrill of whodunits subsided when I discovered the long and (theoretically) rewarding payoffs of the soap operatic style of telling tales, which was followed quickly by my unearthing of the superhero fiction genre (which is just soap operas in spandex).Fast-forward to my last semester at Florida State University, where I was starting to regret my decision to pursue a business management degree instead of something more literary. I had big stories in my head. Instead of second-guessing my educational path, I used my free time to pursue my passion. A few months later, my first novel had arrived in the world—and it wasn't pretty. Like all writers, though, I had to start somewhere.
I went back to the drawing board with my ideas for The Survivors—a contemporary fantasy story about what would happen if real people found themselves empowered with superhuman abilities. But The Survivors wasn't so pretty either. The concept was fun but the execution was rough. It was temporarily shelved while I set out to learn how to be a better and publishable writer. And 10 years later, I think I may have learned a thing or two.
I wrote another novel in the interim years (more on that soon!), but The Survivors will always be my baby. In many ways, the work of an artist is like his or her child. Now my little one's ready to play with the big kids. After the many years of edits and rewrites, I'm proud of the novel it's grown into.
What is the name of your latest book and what inspired it?
THE SURVIVORS is my latest (and also first) published book. The plot revolves around seven strangers impossibly surviving a horrific airplane crash. Afterwards they find themselves changed in remarkable ways. The survivors are endowed with powers that defy explanation.
I've always been intrigued with the paranormal and the idea that human beings have untapped potential inside. I wanted to play with that idea, but not in the traditional "superhero" way. What would really happen if a person could suddenly read minds? How would a person behave if they had unstoppable power? These are the questions I address in THE SURVIVORS.
Do you have any unusual writing habits?
Not particularly. I like to write my daily allotment all in one sitting, but I think that has more to do with my OCD than my writing habits. 🙂
What authors, or books have influenced you?
Ray Bradbury, Sue Grafton, James Patterson, Dean Koontz, John Grisham, Patricia Cornwell, J.K. Rowling, Jan Karon, Tess Gerritsen, so many more.
What are you working on now?
I'm currently prepping a new YA contemporary fantasy. This book REALLY has me excited. It's a fun concept with kooky characters. I don't want to go into too many details, but I was inspired after watching (and then immediately reading) the first Harry Potter. I wanted to create a magical world too, but mine isn't about witches and wizards – honestly, no one will ever top Rowling's take on a wizarding world.
What is your best method or website when it comes to promoting your books?
I'm still feeling that out, but I think www.authormarketingclub.com has some wonderful resources. The forums at KBoards.com are very helpful too.
Do you have any advice for new authors?
Be persistent.
Write every day.
Read every day.
See out critiques that aren't from your mother.
Listen to your critics and learn from them.
Join a writing group or take a writing class at a community college.
Learn the business side to writing – marketing, social media, public relations, etc. are vital.
What is the best advice you have ever heard?
You're not a writer until you've written 1000 pages, so keep writing. The early stuff is usually pretty rough, but you have to get through all of it to uncover the gems. Keep plugging away.
What are you reading now?
Having only just published THE SURVIVORS, I haven't had much time for reading. (I read it about 10 ten times in the last few weeks.) I'm a huge fan of the Game of Thrones TV show, so I'm considering diving into those massive beasts.
What's next for you as a writer?
I'm currently focused on marketing for my current book, THE SURVIVORS. I have another book that is almost ready for publishing, so that's in the pipeline. But I'm VERY eager to start on the second book in THE SURVIVORS series. – I have so many ideas that need to be on paper!
What is your favorite book of all time?
This is an impossible question (for me) to answer. I've had love affairs with so many books over the years. Bunnicula. Tuck Everlasting. Homecoming. To Kill a Mockingbird. A Tale of Two Cities. Fahrenheit 451. The Martian Chronicles. The Grapes of Wrath. Their Eyes were Watching God. Harry Potter series. Lord of the Rings trilogy. I guess I'll have to say Fahrenheit 451 – Ray Bradbury was an absolute genius. His books gave me pause, particularly because they combined the fantastical with the very real.
Author Websites and Profiles
Daniel Harvell Website
Daniel Harvell Amazon Profile
Daniel Harvell's Social Media Links
Goodreads Profile
Facebook Profile
Twitter Account