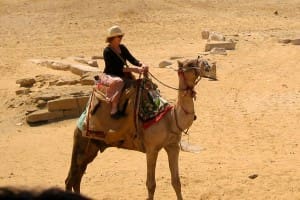 Tell us about yourself and how many books you have written.
Many years ago a young girl left the safety of Canada for adventure in Africa. This was in a generation when young girls didn't go anywhere on their own and certainly not to the "dark continent."
I had to adapt to the climate, the culture, the language, and above all time travel, for most Malians lived the way they always had. Modern conveniences consisted of basic items such as kerosene lanterns and little else.
It was the plight of Malians that inspired my Em and Yves novel series. Since I couldn't wave a magic wand to make life better in Mali, I chose to do that fictitiously. I wrote my books to entertain, but also to offer a different perspective of life and what it could be. The wide warm smiles of Malians stay with me always. I hope that warmth and positive outlook is conveyed in my stories.
I've also published a book of short vignettes, mostly humorous, called Mali to Mexico and Points In Between.
What is the name of your latest book and what inspired it?
Ah, don't have a name for it yet. Often finding the right title is harder than writing the story.
I don't remember how the idea came to me. I can tell you that it's not science fiction this time and it does feature teens.
If you've read any of my books, that won't be a surprise. I was a teacher/principal for many years. I loved working with the kids and learned so much from them. I taught grades 7, 8, and 9 when my own children were young and I credit that experience with helping me know what to do to raise my own son and daughter and guide them through those tough teen years.
Do you have any unusual writing habits?
Well, if you count scribbling on yellow stickies, then I do. I write notes all day, when I'm cooking or watching TV or sitting at red lights. I write notes when I can't sleep at night and get a brainwave. Of course I write them in the dark and, in the morning, discover that I've scribbled so badly I can't read what I've written, or I've scribbled one note on top of another and there's no figuring out what either one is.
What authors, or books have influenced you?
Robert J. Sawyer is my hero. I don't write hard science like he does, but I had the great good fortune to attend a workshop with him. He is generous with sharing all that he knows about writing and is a natural teacher. Without that guidance I could never have developed my writing as I have.
I'm an avid reader and believe that I learn from everything I read. I can't imagine a life without reading.
Perversely, writing has spoiled some books for me. Now that I write myself, I see more clearly the things that contribute to poor writing and those are the books I don't finish.
What are you working on now?
I'm doing the final edit of the book without a name that I mentioned above. Then I'll have it formatted and the cover designed.
What is your best method or website when it comes to promoting your books?
Isn't this the big question for all authors? I certainly haven't found the magic answer.
I have my first book free www.emandyves.com and am trying to build an email list. I'm also posting information about my books in as many places as I can on the Internet and I am doing some paid promotions. I'm hoping these strategies will bring some good results.
Do you have any advice for new authors?
Join a critiquing group. Have a writing partner. You NEED that second pair of eyes that will see the things you miss. If you can afford it hire a substantive editor to help with the plot, characterization, etc and then after you're done, hire the copy editor for the fine tuning of grammar, spelling, sentence structure etc. Do Not publish until your ms is as perfect as it can be. And remember your writing will get better with practice.
What is the best advice you have ever heard?
If you love writing, don't stop, even if your books aren't selling. Books, unlike tomatoes, don't go rotten so you can always market them.
What are you reading now?
Where'd You Go, Bernadette? It's marvelous.
What's next for you as a writer?
Another novel, and I'm guessing there will be teens in the story.
If you were going to be stranded on a desert island and allowed to take 3 or 4 books with you what books would you bring?
Mixed Marriage by Elizabeth Cadell – I laugh out loud every time I read it.
Griffin and Sabine series by Nick Bantock – the books have letters the reader pulls out of the envelopes to read and the art is beautiful.
The Venetian's Wife – also by Nick Bantock. Beautiful writing and mysterious story.
Really, I'd wan't an ereader and a way to charge it.
Author Websites and Profiles
Darlene Jones Website
Darlene Jones Amazon Profile
Darlene Jones Author Profile on Smashwords
Darlene Jones's Social Media Links
Facebook Profile
Twitter Account