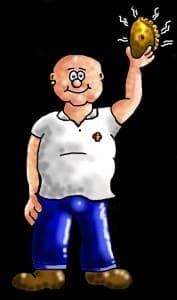 Tell us about yourself and how many books you have written.
Right I started writing this earlier but the kids wanted me to get my old collection of Lego out and before you know it I'm down on the floor building the ultimate spaceship; I don't get distracted easily but when there's Lego about….now where was I? Oh yes, me and my books, I tell you the fire power of that spaceship rocked.
Anyway, I started out as a cartoonist, freelancing to other publications, lots of which were zines and self-published comics giving me the inspiration to embark on my own underground adventure back in 1995. I did this for a good 10 years, hand making my own comic, marketing it and distributing it. The main one was anthology based and therefore I had many contributions from other cartoonists. However I began to produce a spin-off series with my main characters which I enjoyed more as it was a whole story and allowed me to expand on the narrative. I guess this is where the writing began to take my favour as opposed to the art (never was the best draftsman.)
When I met my future wife and I settled down to have to some nippers it was becoming clear that the time consuming hobby would have to be axed. The crazy, psychedelic theme of the comic was something I was growing out of too. So for a few years I sat on my artistically void butt and did nothing save draw the odd Peppa Pig or Mickey Mouse for the kids. Just before this I had made one last comic in which I used a regular contributing cartoonist on my comic to produce the artwork, I purely just wrote it. It seemed I favoured the writing more and more.
When times got hard and I could no longer justify buying books I thought I'd invest in a kindle, one off payment and books for free or cheaply. I was hooked on the little thing and when I realised I could self-publish on it I was hit by the bug a second time.
I had been writing a book with no particular title, just a dream of writing a novel rather than a quick story for a comic for some time, needless to say with no outlet and the prospect of finding a publisher for my, shall we "unusual" style would be a daunting task, I never finished it. So before I began to rework it I thought it best to come up with a quick idea for a shorter book to test the amazon KDP waters with.
That was just over a year ago, I began thinking about all this amazing science going on at CERN, creating a new universe and so on. I figure that if the universe is everything how could one make another? And furthermore if they did how is it possible to have one universe inside the existing one? The night that thrust this hadron collider into action I genuinely worried over the possibility that the new universe would implode the existing one. Then I figure that perhaps it is this one, that someone in the future made this universe in much the same way. My mind boggled beyond boggling, I'm no Brian Cox. They were playing God here and what would become of it if it went wrong, would they hide it. That's when I said to myself, sounds like something Dan Brown might write.
All I needed was an artist to replace Da Vinci and a parody formed. The obviously silly answer to that would be the Mr Men creator Roger Hargreaves. Eureka, The Hargreaves Code was born and my breakthrough in the world of ebooks had seen the light.
Then I went on with reworking the novel I put my mind to many years ago. What started out autobiographical I decided to change it to create a character much like me and gave the story a keen moral ending, twisting it from the general debauchery which holds most of the narrative. I called it "This Night That Night," my second novel.
Keen to release more titles I put together a book of silly, nonsensical poems, many scatological and generally not my best work. My nest work I knew would have better that. I got the idea while reading Bram Stoker and Mary Shelley's obvious classic horrors; I read when the family are watching some trash on TV. The trash on this particular occasion was the terrible, almost horrific, X-Factor. The musical TV talent show made me think of how corrupt the music industry can be, how the emotions of delicate teenage hopefuls were being exploited in the name of entertainment. They are like vampires, I figured, sucking the blood out of them, hence the next horror spoof book, "The Hex Factor."
I encountered troubles with this one; it was a challenge to write. Using many characters as there would be in the show it was tricky to keep the continuity right. I liked it but I received a few bad reviews, the only ones I have had. They pointed out that it needed a rework, they liked the story but it became confusing. Had I bitten off more than I could chew? I can chew quite a bit y'know. However I took it off the virtual shelf shall we say and intend to rework it.
An all-out silly spoof was needed next; I took the simple word play of the Perminator, often used to mock the movie "The Terminator," and decided for the desire to throw in lots of jokes about the 1980s I set the movie in that time in Essex instead of America and use a hairdressing theme. It was simpler than the Hex Factor, but has more scope for gags rather than character driven comedy of the Hex Factor.
Now, all this messing about may have reached a peak. I have had an idea for a very serious, dark sci-fi book but before I started it I wanted to test the water with writing something serious. This is when I put together Saffron. Unlike the others with varying styles of humour, this one has all the comedy drained out and quite the opposite it would seem when I write serious, I write very serious. Saffron is a dark, psychological thriller and even though it's short it has had all good reviews and scared a few people along the way!
What is the name of your latest book and what inspired it?
Oh, my latest, ermm, "work," that has been just put out today as it happens. In my day job I am a delivery driver. Here in the UK the term, white van man, stereotypes us delivery drivers into being the cowboys of the road, erratic driving, excessive road rage and all them lies! And so, I am keen to put the stereotype to rights by taking the scenario out of context and placing in a sci-fi space setting. It began as just that, a short story. However I extended it, creating a real adventure story and life-changing plot for the characters. Now it is longest book I've written and I'm very excited about it, it's called "White Space-Van Man," give it a go, please…
Do you have any unusual writing habits?
I don't think so, just trying to find the time what with three kids! I often record ideas on my phone while driving my work van, is that unusal enough? I find if i try and wait until my nest drop to write it down, more often than not, I forget them!
What authors, or books have influenced you?
I think I have quite an eclectic taste, I like Douglas Adams, Spike Milligan, Ben Elton, but rarely do I read comedy. I like sci-fi like Philip K Dick, Arthur C Clarke. Tolkien and Pratchett, Stephan King. I like classics too, love Don Quixote, Kipling, Bram Stoker and Shelley; I might even go as far as Dickens. I loved Catch 22, Flowers for Algernon, Lord of the Flies, Papillion, Lolita and Clockwork Orange, even Anne Frank's Diary. I also have many influences from comics, Alan Moore, Robert Crumb, Gilbert Shelton and Dudley Watkins. Then what about Hogarth, Gillray and artists like Goya, Beardsley, Hokusai? I could go on forever on this subject, Bob Marley, Walt Disney, stop me when you've had enough. Oh, Oh, I just nearly forgot, the king of comedy, Tex Avery!
What are you working on now?
Well don't think for a second because of Saffron I have given up my crazy sense of humour, I have been working on a story about a small village which is held back from a zombie massacre by a ingenuous idea by the local butcher, it is quite bizarre even by my standards! And also an all-out nutty ride with a title made purely for cashing in purposes, I call it "50 Lampshades of Clay."
What is your best method or website when it comes to promoting your books?
Tricky one, Awesome Gang is Awesome as it says on the tin but there are so many out there now, especially on Facebook. Although I find word of mouth and others recommending your book is the best method. However it is difficult to get people to use their time plugging you, I offer them cake but thankfully they've never really tasted my cooking.
Do you have any advice for new authors?
Don't write comedy, it doesn't suit you.
What is the best advice you have ever heard?
Artist David Lloyd of "V for Vendetta," fame told me how much he loved my comics, "but don't ever think that you will ever make any money or fame out of it," he finished with. It is true, Self-Publishing is a labour of love. Do it only for the love of doing it. If you think you'll be famous or rich you will be sadly disappointed. His words drummed it home. Oh, what a sour point to end with, sorry. If I shout "PASTY!" out it might make it slightly more amusing, you never know.
What are you reading now?
Research, books about vikings for my "Serious" book. I could tell you more but I might have to send you to Valhalla.
What's next for you as a writer?
Bed.
What is your favorite book of all time?
Lord of the things, oh , I mean rings.
Author Websites and Profiles
Darren Worrow Website
Darren Worrow Amazon Profile
Darren Worrow Author Profile
Darren Worrow's Social Media Links
Goodreads Profile
Twitter Account
---
Author Interview Series
To discover a new author, check out our Featured Authors page. We have some of the best authors around. They are just waiting for you to discover them. If you enjoyed this writer's interview feel free to share it using the buttons below. Sharing is caring!
If you are an author and want to be interviewed just fill out out Author Interview page. After submitting we will send it out in our newsletters and social media channels that are filled with readers looking to discover new books to read.
If you are looking for a new book to read check out our Featured Books Page.