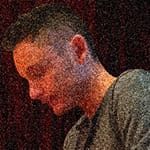 Tell us about yourself and how many books you have written.
Hi, I'm David and I'm 29 years old. I live in Sunderland, England and I have written two books: The Wanderer, which is a full-length post-apocalyptic novel, and Wither, which is a collection of horror short stories. I like to read as much as possible in my spare time and I travel as much as possible.
What is the name of your latest book and what inspired it?
My most recent book is a collection of horror short stories. I get a lot of ideas that I think are interesting but won't, I believe, stretch over a full-length novel. Over the last few years I have written numerous short stories and Wither is a collection of six of my favourites. There are a lot of different inspirations there, most of which pop into my head at the most mundane times of the day. I could be washing the dishes when a news story I read earlier in the day will pop into my mind. I'll mull it over, look at it from a different angle, and from that thought process a story is born. Harsh Lessons, a story from Wither, came around exactly as I've just described. A lot of my ideas come in the dark, whilst I'm waiting to fall asleep. Some nights I'm constantly in and out of bed, flicking on the lights, jotting down ideas.
Do you have any unusual writing habits?
Not really. My biggest problem is motivating myself to sit down and start writing. Often I'll find a hundred different ways to put off starting a story: odd-jobs around the house, shopping, cleaning, making dinner, lying in the bath for an hour-and-a-half. I have a stack of notes sat before me now that include the basic idea for another novel and seedlings for another collection of short stories. When I do get myself down at my PC and get into the flow of things I find that I become absorbed by my task and I actually enjoy myself. Writing is one of my biggest passions, I'm just lazy, I guess!
What authors, or books have influenced you?
I wish I could list a number of literary greats but, alas, I can't. The writers who have influenced me the most have been Stephen King and Michael Crichton. I know they get panned from some quarters but I find their writing styles enjoyable and easy to digest. Reading doesn't have to be a chore and with these two authors it never was for me. If I had to pick one book that has influenced me, I would have to say Cormac McCarthy's The Road. Some of its bleakness has undoubtedly found its way into my own novel The Wanderer.
What are you working on now?
At the moment I'm having a short sabbatical. I just finished Wither a short while ago and have decided to take a short break before I start my next project. When I create a book I spend an inordinate amount of time on it. I want it to be perfectly formatted, I want as few errors as humanly possible in there, I want the cover to look professional and fit the subject matter. Getting all of these things right takes me a hell of a lot of time. I'll usually proofread everything I write at least six or seven times; even if I'm sure there are no more mistakes to spot I'll always find at least one or two changes that need to be made. After all the writing, re-writing, formatting in inDesign, designing the cover and proofreading, I'm fairly burnt out, I'm going to put my feet up for a while and relax, read a few books in the bath and unwind!
What is your best method or website when it comes to promoting your books?
I think your writing does most of the talking. If you can shift a few copies and what you have produced is done to a good standard then the inevitable reviews will follow. I believe that positive reviews have the biggest impact on helping you become successful. I barely advertised my first novel The Wanderer, but it has still spent 180 days or so in the Amazon horror top 100. I got it listed on NovelSpot and gave a short interview to a local magazine yet I've regularly sold decent numbers of the book. I did give 50% of my profits for the first two months to a cancer charity in England. I eventually raised a decent sum of money for them. I'm not sure if this helped raise the profile of my book but the sensation I got when I handed them my donation made me feel great.
Do you have any advice for new authors?
Take pride in your work. Don't rush your books out. Take your time and make sure there are as few errors in your spelling and grammar as possible. People are often reluctant to give indie authors a chance as a lot of the books that get uploaded to Amazon have had minimal proofreading and editing. Don't give these doubters another stick to beat you with, get your book fully up to scratch and prove to them that independent authors can produce high quality, professionally presented work. It's fine if they don't like your story based on its actual merits but it must be disappointing when they give you a terrible review because the presentation and construction is a rushed mess.
What is the best advice you have ever heard?
Make sure everything you do is done to the best of your ability. My old English teacher at school told me that as she returned my creative writing essay back to me for the third time. I was furious at the time but this advice has proven to be true many times over since. That creative writing essay, when it was finally accepted at the fourth attempt, went on to earn me an almost perfect score. 51 marks out of 52, if I remember correctly. In a writing sense everything you produce represents you as a person and a writer. If you release something that you aren't 100% happy with then the only person who will suffer as a result is yourself.
What are you reading now?
I'm currently reading Nightmares and Dreamscapes by Stephen King. I've been on a bit of a short story binge recently, both in a reading and a writing sense. The last book I read was King's Skeleton Crew which is another of his short story collections and my next read will be Dean Koontz's Strange Highways.
What's next for you as a writer?
As I've already said, a short sabbatical and then get cracking on my next project. I'm not sure whether to start on the novel idea first or get some short stories penned to get me back into the swing of things. I'll have to think about that as I take one of those long, relaxing soaks in the tub. I'm sure I'll make my mind up eventually!
What is your favorite book of all time?
Salem's Lot by Stephen King. I've read it four or five times and will do again in the near future. I love the way he paints the demise of that small Maine town, it's so realistic and affecting. Other favourites of mine include: Eaters of the Dead by Michael Crichton, The Road by Cormac McCarthy, American Psycho by Bret Easton Ellis, Fight Club by Chuck Palahniuk, The Book Thief by Markus Zusak, Of Mice and Men by John Steinbeck, The Prestige by Christopher Priest and The Sisters Brothers by Patrick De Witt. I'd recommend all of the above to anyone.
Author Websites and Profiles
David Anderson Website
David Anderson Amazon Profile
David Anderson's Social Media Links
Goodreads Profile
Facebook Profile
Twitter Account