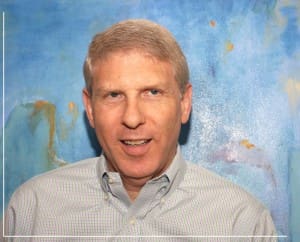 Tell us about yourself and how many books you have written.
I grew up on the streets of the Bronx, a place I left as quickly as I could. For the past couple of decades I have lived in Los Angeles, and the City of Angels has played a key role in all of my writing. L.A. is fascinating, as it is home to an outsized level of wealth, sin, beauty and despair. I also earned a master's degree from USC; my love for the Trojan football team helped spur the creation of my protagonist, Burnside, a former USC football star turned private detective extraordinaire. In total, I've written five books, although only two have been published. My first book was an unholy mess — but it was absolutely critical in the development of my next book, Post Pattern. I learned the importance of plot structure, character arc and foreshadowing, as well as the danger of self-indulgence. Structure is critically important in genre fiction, and especially in the mystery category in which I write. It's a hard lesson to learn but one which is essential in developing a great story.
What is the name of your latest book and what inspired it?
My latest book is called Bubble Screen and it is the third novel in the Burnside series. I don't want to reveal too much about my inspiration for writing this novel because that might give the plot away. In general though, the motivation for writing this book is the same as for all the others. It is simply that I love reading great mysteries and I want to create the same terrific feeling I get when reading a good story. I think that some of the best writing today is coming out of the mystery category. I love putting together a well-written, well paced novel that drops just enough clues to allow the reader to make an intelligent guess as to who is the villain. When the culprit is revealed, I want the reader to sit back and marvel at how the answer makes so much sense. I believe the best mysteries depict the villain hiding in plain sight.
Do you have any unusual writing habits?
I am afflicted with a certain level of attention deficit disorder, so it is sometimes hard for me to focus as intently as I would like. When I'm at my computer, the internet is a temptation, but as Oscar Wilde one said, the only way to get rid of temptation is to yield to it. I admit I move freely back and forth between my writing and surfing the web. To an extent, I realize I may need to spend six hours procrastinating just so I can get one or two solid hours of writing done. But those one or two hours produce some extremely good work. And whether it takes combing through the web for irrelevant bits of trivia or simply daydreaming before I can ease into the writing, I know this is simply part of my process. Forcing myself to sit and stare at the screen does not yield good work.
What authors, or books have influenced you?
I am a fan of great writing, so that includes mainstream fiction and non-fiction. Over the years, I have loved reading the works of novelists such as John Updike, Saul Bellow, Kurt Vonnegut, Charles Bukowski, Pat Conroy, as well as non-fiction authors Studs Terkel, David Rakoff, Joan Didion, and Mike Royko. In the mystery genre, my influences have come primarily from the giants of the field, such as Raymond Chandler, Ross Thomas, Robert B. Parker and Dashiell Hammett as well as some local Los Angeles writers, Les Roberts and Robert Crais, and of course, James Ellroy and Walter Mosley.
What are you working on now?
I will soon be approaching a crossroads in my writing career. Having just finished writing Bubble Screen, I am presently hard at work on a fourth Burnside mystery. But after I finish that one, I am feeling tempted to move on and try something new.  It might be a standalone mystery, or quite possibly even a screenplay. When you live in Los Angeles, the siren call from Hollywood is always nearby. I have a great idea for a film, but movie making is a completely different world, and I'll need to come to grips with that. It is a very collaborative effort, and unlike novel writing, I will have to cede a lot of control.
What is your best method or website when it comes to promoting your books?
I chose to go exclusive with Amazon in terms of promoting my three Burnside novels. My reasons were fairly simple. Amazon is the largest digital publisher and they also offer KDP Select, which has been a successful tool for me because of the free days. Post Pattern launched in February 2013, and in the first few months I sold very few copies. In September 2013,  I made Post Pattern available for free for four days. I promoted it heavily, and was able to generate 53,000 free downloads. I also began using Twitter and Facebook frequently during those days as well. Post Pattern reached #2 in Amazon's overall free book rankings, as well as #1 in all mysteries and #1 in private investigator mysteries. But that and $5 would get me a latte at Starbucks! What happened next was interesting. Amazon began promoting Post Pattern on their site, in the area of "those who viewed the book you're looking at also viewed…" As a result, I sold hundreds of additional books over the next month. And just recently I took advantage of Amazon's Countdown Promotion and lowered the price of Post Pattern to 99 cents for a week. The results were remarkable. Within two days, I was ranked in the Top 100 of Amazon's best seller list. I know that at some point I'll be tempted to expand into Nook,  Google Play, iTunes and other platforms, but for a new writer, Amazon offers many advantages that the others do not.

Do you have any advice for new authors?
While you can't ignore the old adage to write about what you know, there are limits to that approach. We only know so much! I would submit that new authors should write about those things which they feel passionate. It's important to remember that when writing a book, you will be living with the story in a very intimate way for many months — or possibly years. Having strong feelings about your subject matter will get you through those dark days when you are troubled by the self-doubt and writer's block that most writers have to endure at some point.
What is the best advice you have ever heard?
Shakespeare said it best: to thine own self be true. This carries over in your writing and in your life. You don't have to be part of the crowd or do what others say you should do. We all know people who are pretending to be something they are not, maybe living out someone else's dreams. Eventually that catches up with them. Deep down, we know what's best for us and tapping into that inner-knowledge provides a unique and serene peace In the end we have to live with the consequences of our decisions and our actions. Following the path that our hearts carve out for us makes the journey so much easier.
What are you reading now?
I always have three or four books going at one time and this is most likely due to my difficulty in focusing. I am reading a wonderful family saga called Maine by J. Courtney Sullivan, an intensely personal and introspective  story called You Should Have Known by Jean Hanff Korelitz,  and an old novel, South of No North by one of my favorite authors, Charles Bukowski.  And I often have a mystery novel in the mix; I just re-read the very first Stephanie Plum novel, One For The Money.
What's next for you as a writer?
I am debating as to whether I should take a break from Burnside and write a standalone mystery or continue documenting the exploits of my alter ego, and the best character I have ever created. The next step is never an easy decision, so I am again trying to tap into my inner feelings and do what feels right. Sometimes I make a decision but then have to do a course correction and change projects because the inspiration isn't there. Finding the right project takes some hard thinking and hard decisions. It has to feel right, and be something I feel strongly about.
What is your favorite book of all time?
Oh my! I'm not sure I could narrow it down to my Top 20 favorite books. Certain books have influenced me greatly, but at different points in my life. From The Outsiders to A Clockwork Orange to Thus Spoke Zarathustra to Farewell My Lovely to Tattoos On The Heart, all have been important to me because they were so unique and original and showed me a part of the world I did not know existed. But if forced to choose one, I would have to go with Catch-22 by Joseph Heller. I don't think I have ever read a book that was so brilliantly written, so strikingly original, so monumentally complex, and so undeniably life changing. Joseph Heller took the experience of war and pulled back the curtain to reveal many shocking truths. And to do this in such a humorous way was a grand achievement. I've read and re-read Catch-22 many times and it never fails to amaze and inspire me.
Author Websites and Profiles
David Chill Website
David Chill Amazon Profile
David Chill's Social Media Links
Goodreads Profile
Facebook Profile
Twitter Account