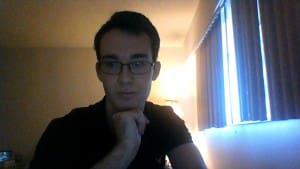 Tell us about yourself and how many books you have written.
I am a hard working SFU student, hoping to get a bachelor of Arts degree in History in order to be a high school History teacher. I come from a very rough family background, and if I do say so myself, rougher than most. I grew up in the Foster Care system of Maple Ridge/Pitt Meadows area, as my biological parents were unable to do so as they are mentally challenged or ill. There really wasn't much of anything for me regarding my future, so I constantly had to prove myself against the odds. When I was only twelve, I made the decision to leave a horrible situation behind and into a chosen foster family. I have written two books thus far about the memories of that past.
What is the name of your latest book and what inspired it?
A Walk of Many Paths is the name of my latest book. It is a compilation of poems that I wrote during the latter years of high school at Pitt Meadows Secondary School. I was told by a very wise woman to write from the heart and that was the only way to write, so I decided to base my poetry on the trauma of my past, from physical and mental abuse to the neglect and to the brief periods of happiness.
Do you have any unusual writing habits?
I can't write unless I am in the right spot at the right time. For example: when I leave and actually want to get some fresh air I will go to a specific Starbucks coffee shop at SFU in the morning to sit a specific chair to write. Otherwise I go to the six floor of the SFU library and find a spot near the window. I need to be next to a window. I do have a tendency to be anti-social for periods of time when I am writing. I just don't want to talk, you know.
What authors, or books have influenced you?
J.K Rowling, Stephen King, J. R. R Tolkien
What are you working on now?
A novel called The Sixth World: Forgotten Children of Gildre Ample
What is your best method or website when it comes to promoting your books?
So far Facebook
Do you have any advice for new authors?
Read a lot and only write from the heart.
What are you reading now?
Stephen King's Doctor Sleep
What's next for you as a writer?
To continue writing novels relating to my past with a little fantasy mixed in.
If you were going to be stranded on a desert island and allowed to take 3 or 4 books with you what books would you bring?
Harry Potter and the Deathly Hallows, Carrie, The Shining, The Hobbit
Author Websites and Profiles
David Ferguson Amazon Profile
David Ferguson's Social Media Links
Facebook Profile
Twitter Account