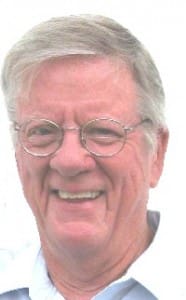 Tell us about yourself and how many books you have written.
Hi, this is David Tish, and today I am stepping out of my comfort zone – I usually am not much of a social creature. But I was told I had to learn to be one if I wanted to sell very many of my books. Well, I do want to sell very many of my books, so here I am dipping my toe into the social waters.
Maybe I should start by revealing what I consider an odd fact about me: I waited until I was 74 years old before I started writing children's books.
What took me so long?
Well, I've been busy. After I retired in 2007 following a 45-year career as a newspaper reporter and editor, my wife, Mary, and I left Seattle and moved to an acreage near Tieton, a tiny town in south-central Washington state.
Our new place had room for an agility course to exercise our four dogs, room for a few chickens, and room for a large garden.
And, most important, it had plenty of quiet time to devote to writing.
I loved being a newspaper reporter. I loved the people I worked with. Newspaper people are smart, skeptical, full of good humor and exceedingly dedicated to their profession. And most of all, I loved – and still love – to write.
So when retirement came along, I looked for a new outlet for my passion. As a father of four boys and the grandfather of nine, I finally decided that children's books might fit the bill.
Actually, the paragraph above might be a bit misleading. The fact that I have four sons and nine grandchildren really had little to nothing to do with my decision to write children's books.
My own childhood had everything to do with it.
I don't need to tell you that it is impossible for writers to completely separate their own lives from what they write. To a greater or lesser degree, all writing is autobiographical.
Take Madame Charmaine, my latest book, for example. (At this writing, Oct. 19, 2013, Madame Charmaine has been on the market for exactly one day. I know, I know, I hear you all shouting your congratulations. I thank you for that.)
Madame Charmaine is set in small-town Nebraska. I was born and grew up in a small town in Nebraska. The four main characters in the book, three boys and a girl, are composites of kids I grew up with. And, I confess, there is a bit of the young David Tish in all of those characters.
All of the townspeople in the book also are based on people I knew back then, in the 1940s and '50s.
Moreover, the description of the Nebraska countryside in Madame Charmaine is real, as is the description of day-to-day life in rural Nebraska all those decades ago. The pancake-eating contest, for example, which is told in what I hope you will find to be hilarious detail in the book, actually took place. So did the building of the raft that the three boys took out on the Missouri River.
Madame Charmaine is part one of my two-part Sheldon Beasley Series. The second book in the series is Auntie Maim, Revenge of the Homophones.
Auntie Maim is set in the same town as Madame Charmaine and features the same four main characters a year later. The book will be released before the end of the year.
Madame Charmaine is important to me for a couple of reasons beyond the fact that it is my second children's book.
First, the characters in the book are not wizards or zombies, space aliens or superheroes, magicians or maniacs, or mutants living in some bizarre futuristic world. They are "real" believable people living "real" believable lives that you would recognize and be comfortable with.
But in Madame Charmaine, "real" and "believable" do not equate with boring. Even adults will enjoy this book.
Madame Charmaine chronicles the adventure one summer of four close friends, three boys and a girl, all 12 years old, who discover a locked "treasure chest" half buried in the sandy shore of the Missouri River following a spring flood. As they play detective and try to find out who buried the chest and what its mysterious content means, they soon find out that they are playing a dangerous game and are nearly buried alive in a grave of their own digging.
Second, Madame Charmaine proves what I have known all along – that one's age does not necessarily have much of anything to do with what one can accomplish. All you need is the right attitude and the willingness to let your imagination be your guide.
But if you are looking for boring, I have some of that too. The following is David Tish boilerplate:
After I graduated from the University of Missouri in 1965 with a Bachelor of Journalism degree, I went to work as a reporter for the Lincoln, Neb., Journal. About a year later, the Omaha World-Herald offered me a job. I accepted and worked at the World-Herald until 1971, when I made an abrupt, albeit brief, career change and moved to Washington, D.C., and went to work for a U.S. senator.
I spent two-and-a-half interesting years in the nation's capital, but in the end I missed writing so much that I left and went back to The World-Herald. Then, two years after that I got a job as a reporter with The News-Review in Roseburg, Oregon. I stayed at The News-Review until 1990, ultimately becoming managing editor.
On Halloween night of 1990, my EFL (Editor For Life), Mary Reynolds and I climbed into a rental truck and drove to Seattle, where we lived for the next 17 years. During that time we both worked for newspapers in the Seattle area. We also were married in 2003. And I spent the final five years of my career as a copy editor at the Seattle Post-Intelligencer.
Let's see, what else …
Well, I love music of all kinds. From Hoyt Axton to Beethoven. I love Steve Martin and Louis CK. I love Rachel Maddow. I love books, all kinds of books. (I never met a major Russian novel I didn't like, and I've read almost all of them.)
Oh, yes, other books I have written. My first children's book was Captain Cloud and the Dark Invader. It's all about clouds, rain, thunder and lightning. The target is kids age 4 to 7 or 8.
I wrote a play called Shakespeare Is Dead! that I like a lot. And I wrote a book called Silence, Please! The Little Book of Tinnitus. All of these books can be found on Amazon.
OK, that's about it. I know I'm going to learn a lot from you folks. So have at it – I'm all ears!
What is the name of your latest book and what inspired it?
Madame Charmaine. My own childhood inspired it. I talked about it in some length above.
Do you have any unusual writing habits?
Define "unusual." 🙂
Sometimes I imagine I am channeling Chekhov. That would be a dream come true if it should ever happen.
What authors, or books have influenced you?
Chekhov. Above all, Chekhov. Then Tolstoy, Dostoyevsky, Gogol. The list goes on. I love the Russians.
What are you working on now?
A romance novel tentatively titled The Mention of Her Name. It revisits the four main characters in The Sheldon Beasley Series 10 years after their graduation from high school. The book is not technically a part of the series, but I loved those characters so much I couldn't resist catching up to them as adults.
I'm also researching a book about a foster child. So I'm reading books on that subject and wiping away the tears at the same time.
What is your best method or website when it comes to promoting your books?
Check back with me in six months.
Do you have any advice for new authors?
I am so new to this business I wouldn't dare offer any advice. Maybe some day.
What is the best advice you have ever heard?
Know thyself. — Ancient Greek aphorism
What are you reading now?
Growing Up in the Care of Strangers, by Waln Brown and John Seita
Foster Parenting: A Personal Journey Through a Nightmarish System
Incidents in the Life of a Slave Girl, by Linda Brent
What's next for you as a writer?
See above.
What is your favorite book of all time?
OMG, what a question. I'll have to think about that and get back to you.
I will say that Generation of Vipers by Philip Wylie had a profound effect on me. It's kind of a second-rate book, but I read it as a teenager, and it stripped away the comfort and safety one has as a child and gave me a pre-introduction to the adult world.
Author Websites and Profiles
David Tish Website
David Tish's Social Media Links
Goodreads Profile
Twitter Account