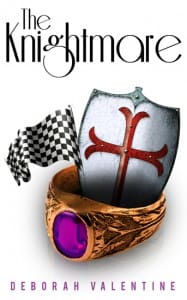 Tell us about yourself and how many books you have written.
I was once asked to describe myself in 140 characters and I don't think I can make a better introduction, so here goes: 'Battered by life, but reasonably cheerful about it. A typical Gemini, running on two courses at the same time. Obsessive about writing.' If you're American and notice any funny spellings, that's because I'm British and we are, indeed, divided by a common language—or at least, by some peculiar spelling.
I've written a series of crime novels featuring the characters of former California sheriff Kevin Bryce and his artist girlfriend, Katharine Craig. (I did once live in the US.) There are three novels in the series published by Victor Gollancz in the UK, and Bantam and Avon in the US, and they're soon to be eBooks on Orion's The Murder Room imprint. I also wrote two more in the series. One was never intended for publication, it was an experimental comic turn which I enjoyed writing and kept me busy between the publication of A Collector of Photographs and doing the research in Ireland for Fine Distinctions. I also wrote another in the series which was commissioned but never saw print because of oddball circumstances I can't even remember now. I'm writing a new series of loosely-linked novels, each with its own supernatural theme. The Knightmare is the first. They will be a kind of social network with the same characters dipping in and out of the stories.
This is a long-winded way of saying I've written six novels! I've also been a freelance writer and the editor of a number of niche-market journals, some of which I really enjoyed and others, it's fair to say, made me lose the will to live. But they were all great learning experiences. One of my favourite freelance assignments was writing 50 articles for a paranormal magazine. I knew nothing about the subject when I started but found it fascinating—and, in a roundabout fashion, was the beginning of the kind of novels I write now. Our relationship with ghost stories and paranormal experience, whether you believe in them or not, are deeply psychological and fundamentally human.
What is the name of your latest book and what inspired it?
My latest is The Knightmare and it was inspired by a collision of influences. The strongest was the medieval love story of Abelard and Heloise, which I read as a teenager and has stuck me all these years. If you're interested in medieval history, if you want your image of the women of the time completely shaken up, I recommend you read their collected letters, published by Penguin. They're an eye-opener. Without going into the whole story, let's just say it was a tragedy with a very bittersweet twist at the end. They had a son and I'd always wondered what happened to him and what his psychology would be, knowing his father had been castrated (yes, you read that right—I said it was a tragedy) for loving his mother. What would his attitude to love be? Not good, was my assumption. Like a lot of us, I thought he would be intent on avoiding what he saw as his parents' mistakes.
Another strong influence was a friend of mine who wanted to be a Formula 1 racing driver. He was a great guy but I always thought a bit (sorry, darling) light-weight. Until I saw him race. He changed in an instant into a man with incredible focus, a real strategist. Somehow this merged in my mind with the possible psychology of the son, making him a man with just such focus, a medieval workaholic keeping at bay any personal life. And so my Knight Templar was born in a reincarnation adventure story of a Formula 1 racing driver who must relive a past life to find his future.
Do you have any unusual writing habits?
I don't know how unusual this is, but I smoke incessantly. A terrible example and not PC but the truth. I also play the same CD over and over again, usually some kind of medieval chant. Bonkers, I know, but it keeps me focused and the cat has got used to it. That's another thing I need, an animal to hand. When I need a mental refresh I either brush her, or do sit-ups or physio.
What authors, or books have influenced you?
The Brontës. They created whole worlds, places to live in. Another great influence was John Fowles' The Collector. I didn't realise at the time I read it, when I was about 15, that it was 'literary' fiction. I just thought it was a great a crime story! And, of course, Jane Austen, for her humour, irony and clear-eyed view of the world.
What are you working on now?
The sequel to The Knightmare. It follows the next stage of Conor and Mercedes' entanglement and introduces the story of Whit. He's a Welsh musician with the gift of second sight, which he finds more of a curse. It's not the epic adventure The Knightmare is, but a gentler, more comic tale about love gone wrong (or about to), sinister astrologers, weird fireplace mantles and the dynamics of old friends. It's a hoot to write when I'm not scratching my head wondering what's going to happen next.
What is your best method or website when it comes to promoting your books?
I'm still in the process of finding that out! But I love writing guest blogs and doing interviews. They're great fun. I'm just coming to grips with Twitter, which is turning out to be much more enjoyable than I thought it would be.
Do you have any advice for new authors?
Read voraciously. Write obsessively. If at all possible, get a job somewhere within publishing for awhile so you'll know a bit about the business itself and approach it with discipline and intelligence. Learn about editing—and I don't mean just 'proofreading'— and never, ever, think you don't need it. Love what you do or don't do it at all.
What is the best advice you have ever heard?
Keep writing.
What are you reading now?
In paperback, I'm just starting The Prague Cemetery by Umberto Eco. On my Kindle, I'm reading The Thirty-Nine Steps by John Buchan. For non-fiction I'm re-reading The Druids by Peter Berresford Ellis as part of research for the book I'm working on now.
What's next for you as a writer?
Finishing up the first draft of The Knightmare sequel. After that book is (finally) finished, I have two more clear in my mind, a ghost story and a period environmental thriller, all part of the same series. I wouldn't want to see any further than that! I also have co-written a screenplay that is in pre-production—very exciting!
What is your favorite book of all time?
It's a close run between Jane Eyre by Charlotte Brontë and I Capture The Castle by Dodie Smith.
Author Websites and Profiles
Deborah Valentine Website
Deborah Valentine Amazon Profile
Deborah Valentine's Social Media Links
Goodreads Profile
Facebook Profile
Twitter Account