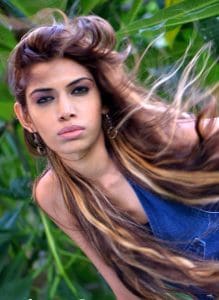 Tell us about yourself and how many books you have written.
Born and raised in Al-Sabah, Kuwait. But, spent my growing years straddling between Kuwait and Birmingham-England, after the early demise of my mother.
Writing creative stories and clicking pictures always seemed to fascinate me as a young girl, and I suppose, I just went with the flow.
I started out with theater very early on in my life, being a part of noteworthy plays as an actor and writer, like 'Four Wonders', 'Ms. Brown', 'The Drunkard', 'Murder Mystery', 'Schizophrenia', 'The Prostitute' and 'Money makes the world go round'.
I then progressed to Short films, TV shows, Commercials and Music videos; before embracing the modeling world in its entirety, which happened after I took home the title of ROCK Calendar Model 2012 and made it through to the Femina beauty pageant in 2013.
While the modeling world is certainly beautiful in all its glamour and glitter, a part of me always felt empty.
And writing strangely completes me, which is rather bizarre considering that one of my passions involves tons of people and the other is performed in solidarity.
But, having found a way to balance them both is extremely satisfying.
Although I've moved to New York, I still turn to my haven in England from time to time, when I need an escape from all the noise in my head.
What is the name of your latest book and what inspired it?
The Maze (Dark Shadows)
Volume 1 of 'The Maze' series
My biggest inspiration has been my mother, who loved reading mystery/romance novels and always dreamed of writing one but, passed away before she could bring herself to do it. She had this idea that she once shared with me that a novel should appeal to people on every level-mystery, romance, action and humor. So, in a huge way, this is me fulfilling her dream for her and I hope she's as proud of it as I am.
Do you have any unusual writing habits?
I can't stream my creative line of thought during the day. But, come nightfall, my train of thought works like a lightning bolt!
What authors, or books have influenced you?
J.K.Rowling, Sydney Sheldon, John Green, Nicholas Sparks, Miranda Hart, Michael McIntyre, Jack Whitehall & Michael Whitehall.
What are you working on now?
The Maze (Dark Shadows) is my debut novel. It's just volume 1 of 'The Maze' Series, so there's a lot more that shall follow suit.
What is your best method or website when it comes to promoting your books?
I've had a few interviews with papers, magazines and radio. However, on a personal note, I think the Social Media platform brings you the best way of connecting with people and getting to know your readers.
Do you have any advice for new authors?
Well, it isn't all that easy as easy as it appears.
And, if you're a first time writer, with absolutely no influence in the industry, you've got quite the load of work cut out for you.
Hard work, determination, perseverance, motivation and belief needs to run strongly and in equal measure through every fiber of your being. You can't give up, even when you strongly believe you've reached the end of the tunnel.
You need to keep walking through the rough storms and wild winds until you see the rainbow at the end of the lane sparkling.
What is the best advice you have ever heard?
Dreams don't just happen to come true. You have to go out there and make them happen for you. You need to find your voice in this world where billions of people are trying to find their own.
What are you reading now?
A book by Miranda Hart. After working in a dark world with heavy emotions of my creation, I need to tip the scales towards some light comedy.
What's next for you as a writer?
The Maze – Volume 2
If you were going to be stranded on a desert island and allowed to take 3 or 4 books with you what books would you bring?
Romance novels, Comedy books and a Notepad.
Author Websites and Profiles
Delilah Alvares Website
Delilah Alvares Amazon Profile
Delilah Alvares's Social Media Links
Facebook Profile
Twitter Account