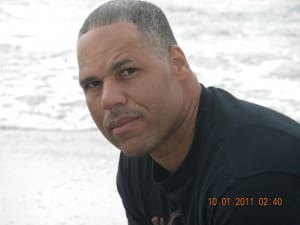 Tell us about yourself and how many books you have written.
I was born in northern New Jersey, I am the 7th of 8 siblings. Raised in the inner city section of Plainfield New Jersey, my life was anything but a Norman Rockwell portrait; life was hard, cold and — at times — cruel. The environment I grew up in was crime and drug-ridden, for the most part I managed to avoid the lures of both. I came from a family where mostly everyone was either dealing drugs or using them. At first I somehow managed to have the force of will to step outside his world as the first in his family history to go to college. I attended NJIT (college) to pursue a chemical engineering degree.
That got sidetracked however when in my late teens I felt the pull from the large wake my brother was creating in the world of hip hop music. My older brother Robert, the legendary Dee Jay Cheese – better known as King Kut, by his late teens was already a multi-award winning DJ World Champion, and later and inductee to the DMC Hall of Fame.
I had always been inspired to write, and recorded my first song " He's Phenomenal" through CSI Entertainment. The record was a tribute to my older brother's talents. Two years later I formed Third Street productions and recorded the singles Third Street, Come On Everybody, Kick The Habit, and Leading The pack — released on Big City Records. I then performed live at countless festivals, as well as did shows at The Strand Theater in Plainfield New Jersey [headlined by E.M.P.D], and Newark Symphony Hall [headlined by BDP, and Poor Righteous Teachers].
With a stake in Big City Records, after the initial release of my single Third Street, the company I helped create established distribution through Schwartz Brothers, one of the largest independent national distributors at that time.
I was also the first Hip Hop artist to appear on the cover of Teen Machine Magazine; and I also appeared on the cover of Black Beat, with Black Beat article articles in both written about myself. This provided exposure that became leverage to attract new artists to the label. In turn, I spearheaded the effort to sign new talent, and added Nick D, A/K/A Soul King, and City E to the Big City roster.
My eye for talent was confirmed when Billboard featured Big City Records and our release of the album SOUL KING on the home page. And my partner Bruce leveraged that exposure to get the label invited to represent independent music as one of only 7 indie labels to the Jack The Rapper, the black music convention in Atlanta, Georgia. We were in good company along side indie label powerhouses such as Tommy Boy (Naughty by Nature), and Ruff House Records (Cypress Hill). The convention also had all the big names of the time present: Prince, MC Hammer, and more.
When Schwartz Brothers expanded into video it caused their financial woes that led them into bankruptcy. Without a distribution pipeline, or the ability to collect monies owed, Big City was forced to shut down operations.
Finally, I did succumb to the pressures and all-to-familiar modus operendi of my neighborhood, and began dealing drugs to finance my vision of the record enterprise I wanted to build. I went quickly from small-time dealer to wholesaler. When I was snitched out, the wholesaling carried the heavy jail term of 25 years.
After 15, I am finally out, and the newest chapter of my self-determined begins … I have written four books that are all intertwined with my first book Who Am I? The Chronicles of Cain, and it's second series The Chronicles of Cain Conspiracy Theories. However, they involve different topics and introduce some of the characters within such as Roscoe 'Baretta' James whose story is based on a detective who hates gun violence, and my other book which I plan on releasing next year entitled Explain It To Her Momma which takes a new look on sexual misbehavior and the consequences thereof. In this upcoming novel many of the characters problems stem from living vicariously as a mother tries to protect her daughter from becoming pregnant at a very young age from charismatic men such as DJ and his main man Dick Johnson. I also have many other ideas on the shelf as well.
What is the name of your latest book and what inspired it?
The name of my latest book is Who Am I? The Chronicles of Cain, and what inspired it was basically my life's experience, my environment, and namely my friend Antwon whom I helped to pen a chapter of a book he was writing for serving disciplinary time at FCI Gilmer. I wanted to write a book that would become a deterrent and warning sign for those who would dare to sell, or use dangerous, illicit drugs, and for those who are curious to what really goes on in the minds of individuals who rule the underworld.
Do you have any unusual writing habits?
Not really, for I love writing. It's natural to me. I never have experienced writers block.
What authors, or books have influenced you?
The authors who influenced me the most are Stephen King, Dean Koontz, Laura K Hamilton, James Patterson, Michael Crichton, and Donald Goines.
What are you working on now?
I am currently working on my next book Explain It To Her Momma, and fine tuning it so that it will make a great impression on my reading fans. I wrote the book mainly for women, and it is very unique as most will soon see. I am also planning on building a site called Author Homefront which will hopefully help other aspiring authors such as you have helped me.
What is your best method or website when it comes to promoting your books?
The best method I have found is to keep researching, look for jewels such as your website that truly make a difference. Promote with all you've got inside. Believe, hope , and pray. But never allow anyone to discourage you from your dreams. I believe if one can write something as complex as a book. He or she can definitely come up with a strategy to self promote which is usually by word of mouth.
Do you have any advice for new authors?
My word for new authors would be for them to keep pushing forward. Work effortlessly day and night. For example, I have to get up for work at 5 o'clock am and yet it's one thirty am.I don't have a major publicist but what must be done will get done. Tell yourself that everyday and you will succeed.
What is the best advice you have ever heard?
Keep the Heavenly Father's commandments. Live righteously, and get a night of sound sleep.
What are you reading now?
At the moment I am not reading any book in particular but I do plan on reading Laura K Hamilton's new book Affliction from the Anita Blake series.
What's next for you as a writer?
What's next for me as a writer is to establish myself as a name brand and a serious contender within the writing arena. To share my writing talents among the masses. Keep a humble demeanor, give back to my community which at one time I helped to destroy, and to always be grateful to my audience.
What is your favorite book of all time?
My favorite book of all time would have to be Stephan King's The Stand because it was a story that brought all walks of life together. The story personified evil and righteous, and made one think about what side of the fence are we really on. The story said make a moral choice, which we all have to do every day.
Author Websites and Profiles
Dion Cheese Website
Dion Cheese Amazon Profile
Dion Cheese's Social Media Links
Goodreads Profile
Facebook Profile
Twitter Account
Pinterest Account