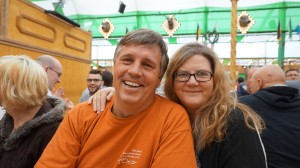 Tell us about yourself and how many books you have written.
We (Husband and Wife author team) have written two novels in the Hank Rangar Series. DK Halling is the husband and wife team of Kaila and Dale Halling, who raised their kids in Colorado where they enjoy camping, hiking and skiing. Both of them grew up in Midwestern small towns where they could bike wherever they needed to go, Kaila in Iowa and Dale in Kansas. They are entrepreneurs at heart; Dale started a water sprinkling business right out of high school. They both share a love of books and you'll often find them, when not in Colorado, writing on the wild beaches of Baja, Mexico. They are passionate about everyday heroes of advancing technology, which lifts the standard of living and quality of life for all. When they are not writing books, Dale is a patent attorney, engineer, inventor, and entrepreneur.
What is the name of your latest book and what inspired it?
Trails of Injustice (2nd Hank Rangar Thriller). We were inspired by the ATF (bureau of alcohol tobacco and firearms) gun running scandal. Hank Rangar, the hero of the series, is a thinking man's hero and is laying low in Mexico when the death of an ATF agent draws him into a global conspiracy to disarm the world. This is the second book in the Hank Rangar series, ripped from today's headlines. Hank discovers an ATF agent has been murdered to cover-up a Fast and Furious type scandal and now he knows too much.
Do you have any unusual writing habits?
We are a husband and wife writing team.
What authors, or books have influenced you?
Micheal Critchon, Tom Clancy, Ayn Rand, Mark Twain, Edgar Allan Poe, David Morrell, Walter Donway
What are you working on now?
We are working on a prequel to the Hank Rangar series entitled "Love and Justice". We are also working on the third Hank Rangar novel set around EPA wetlands land grab.
What is your best method or website when it comes to promoting your books?
https://www.galtsgulchonline.com/hot
Do you have any advice for new authors?
I think the writing books by David Morrell and Stephen King are must reads.
What is the best advice you have ever heard?
Be sure to use professional editors for both developmental editing and line editing.
What are you reading now?
Cryptonomicon
What's next for you as a writer?
Publishing the Hank Rangar prequel and writing the third Hank Rangar thriller
If you were going to be stranded on a desert island and allowed to take 3 or 4 books with you what books would you bring?
Complete works of Mark Twain, Atlas Shrugged, Complete works of Shakespeare,
Author Websites and Profiles
DK Halling Website