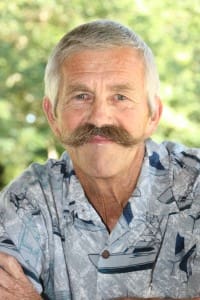 Tell us about yourself and how many books you have written.
I am Doug Oudin, a semi-retired harbormaster from Catalina Island, California. I have written two books, a memoir of my 32 years living and working on Catalina Island, and my new adventure novel, 'Five Weeks to Jamaica'.
I now live in Grants Pass, Oregon, where I write, play volleyball, softball, fish, and enjoy the great outdoors. I am married to my darling little bride of 38 years, Maureen, and have two wonderful sons, Trevor and Troy, who have both followed in my steps into the marine industry.
What is the name of your latest book and what inspired it?
Five Weeks to Jamaica, is my new book. It's a rollicking seafaring adventure/romance that was inspired by my extensive travels in Mexico, Central America, and the Caribbean.
The journey follows four young friends aboard a 147′ so-called luxury yacht bound for Jamaica. Their experiences and discoveries along the way are nothing short of shockingly unique.
While the characters are fictional, many of the adventures and stories are all part of some of the things I lived, heard about, or shared during my own sea-going adventures.
Do you have any unusual writing habits?
I tend to just start writing and keep on going until I am done. Rarely re-write my material; at least until my wife gets her hands on the manuscript and strongly suggests cutting out or revising passages.
What authors, or books have influenced you?
I cannot honestly say that any person or book has directly influenced my writing. I write the way I like to write, and try to write clearly and smoothly.
I have loved several authors; Steinbeck, Melville, Hemmingway, Michener, and several current authors like Wilbur Smith, James Patterson, and King.
What are you working on now?
I'm working on a family bio, and also doing some short stories.
What is your best method or website when it comes to promoting your books?
Facebook has worked best for me, personally. I'm attempting now to 'spread my wings' and learn more about how to use other social media sites, such as Awesome Gang!
Do you have any advice for new authors?
Be patient. I was so anxious, excited, and eager to publish my first book, that it kind of backfired on me. I accepted a publishing offer from a 'self publishing' company that is very high priced, and basically useless post-production. I have had to struggle on my own to learn the fundamentals of promoting and marketing. Take your time. Do your research. Try very hard to find a 'traditional publisher', and if not, then use one of the 'self publishing' companies that other 'indie authors' suggest; like Create Space.
What is the best advice you have ever heard?
Be honest and be yourself.
What are you reading now?
'Judge and Jury', James Patterson and a co-author.
What's next for you as a writer?
Other than promoting and marketing my current books? Working on a family bio with my brothers and sisters.
If you were going to be stranded on a desert island and allowed to take 3 or 4 books with you what books would you bring?
Well, I suppose my two books, 'Five Weeks to Jamaica', and 'Between Two Harbors, Reflections of a Catalina Island Harbormaster', because of my own ego. Along with them, maybe Atlas Shrugged, because it's long and deep; and maybe 'The Day on Fire', because I found that book fascinating many years ago.
Author Websites and Profiles
doug oudin Website
doug oudin Amazon Profile
doug oudin's Social Media Links
Goodreads Profile
Facebook Profile