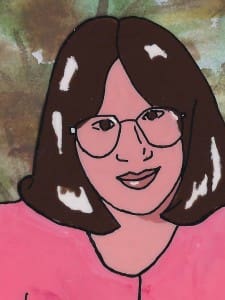 Tell us about yourself and how many books you have written.
Emma Carlyle is the pen name of award-winning author Lois Winston who writes the critically acclaimed Anastasia Pollack Crafting Mystery series, featuring magazine crafts editor and reluctant amateur sleuth Anastasia Pollack. ASSAULT WITH A DEADLY GLUE GUN, the first book in the series, received starred reviews from both Publishers Weekly and Booklist. Kirkus Reviews dubbed it, "North Jersey's more mature answer to Stephanie Plum." Other books in the series includes DEATH BY KILLER MOP DOLL, REVENGE OF THE CRAFTY CORPSE, and the mini-mystery CREWEL INTENTIONS. Under her own name Lois has also published the humorous women's fiction novel TALK GERTIE TO ME and ELEMENTARY, MY DEAR GERTIE, a mystery novella sequel; the romantic suspense LOVE, LIES AND A DOUBLE SHOT OF DECEPTION; ONCE UPON A ROMANCE, a collection of short stories; the non-fiction TOP TEN REASONS YOUR NOVEL IS REJECTED; and she contributed to HOUSE UNAUTHORIZED: VASCULITIS, CLINIC DUTY, AND BAD BEDSIDE MANNER.
Under her Emma Carlyle pen name she's published five novels: two contemporary romances, HOOKING MR. RIGHT and FINDING HOPE; two romantic suspense novels, LOST IN MANHATTAN and SOMEONE TO WATCH OVER ME; and the chick-lit novel FOUR UNCLES AND A WEDDING.
Visit Lois at http://www.loiswinston.com, visit Emma at http://www.emmacarlyle.com, and visit Anastasia at the Killer Crafts & Crafty Killers character blog, www.anastasiapollack.blogspot.com.
What is the name of your latest book and what inspired it?
My most recent release, which came out in January 2013, is REVENGE OF THE CRAFTY CORPSE, the third full-length novel in my Anastasia Pollack Crafting Mystery series and written as Lois Winston. I was inspired to write the series by my background as a crafts and needlework designer.
Do you have any unusual writing habits?
I can't fall asleep at night until I've plotted out the next scene I need to write in my current manuscript.
What authors, or books have influenced you?
I love authors who make me laugh. Janet Evanovich has been a strong influence, and I was thrilled when reviewers began comparing my books favorably to hers.
What are you working on now?
I just began writing a new Anastasia Pollack Crafting Mini-Mystery. These are ebook-only novelettes that are coming out in-between the releases of my full-length mysteries.
What is your best method or website when it comes to promoting your books?
Well, I'm certainly hoping awesomegang.com will be at the head of the list! Other than that, I try to take advantage of any opportunity that comes along. I'm always happy to guest blog, and that's helped me find new readers. I also tweet (@Anasleuth) but word-of-mouth is what really helps authors sell books, and the best way to get that is to write books people want to read. I hope that if someone reads one of my books and likes it, that person will both read my other titles and tell others about my books. I cross my fingers a lot (which makes typing difficult!)
Do you have any advice for new authors?
Don't give up! It took me ten years of writing before I sold my first book.
What is the best advice you have ever heard?
Every scene must have a purpose, and the only two purposes are either to advance the plot or tell the reader something she needs to know about the character AT THAT MOMENT. If the scene does neither of these, it's filler and doesn't belong in your book.
What are you reading now?
TAKING LIBERTIES by Diana Norman
What's next for you as a writer?
To keep writing. I have lots of stories to tell. And hopefully, someday I'll make it to the New York Times bestseller list!
What is your favorite book of all time?
Now that's a tough question! It really depends on my mood, so it's hard to come up with only one. Two books from my school days that I've gone back and reread multiple times are William Faulkner's THE SOUND AND THE FURY and Charles Dickens' A TALE OF TWO CITIES. Some of my more favorite recent reads are Ariana Franklin's Mistress of the Art of Death series, WINTER GARDEN by Kristin Hannah, and SARAH'S KEY by Tatiana de Rosnay.
Author Websites and Profiles
Emma Carlyle Website
Emma Carlyle Amazon Profile
Emma Carlyle Author Profile Other Bookseller
Emma Carlyle's Social Media Links
Twitter Account
Pinterest Account